Sweet Balsamic Glaze Recipe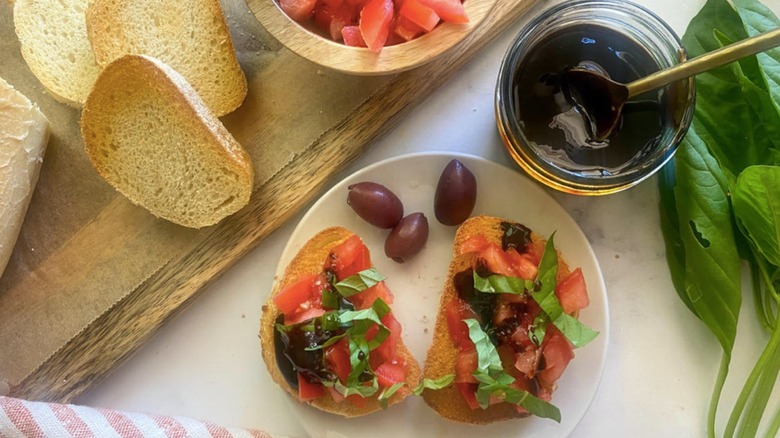 Miriam Hahn/Mashed
Recipe developer and health coach Miriam Hahn brings us this recipe for a super easy sweet balsamic glaze, which is quite the versatile topping. "You can use it on meat, chicken or fish, on salads, over grilled or roasted vegetables," Hahn says. "It is great on bruschetta, tomato mozzarella skewers or pesto vegetable sandwiches. It is even good on pizza!"
Hahn notes that this glaze is "definitely versatile and can really dress up a basic appetizer, main or side dish." Plus it is a heck of a lot easier to make than you'd ever expect. This recipe only requires two ingredients. Yep, you read that right! And it only involves one main step: simmering. While you can easily buy premade balsamic glaze, there's nothing like a fresh, homemade version. It's subtly sweet, tangy, and your caprese salad is just begging for a drizzle. And, since this glaze is so easy to make, you can't go wrong with giving this recipe a shot!
Gather your ingredients for sweet balsamic glaze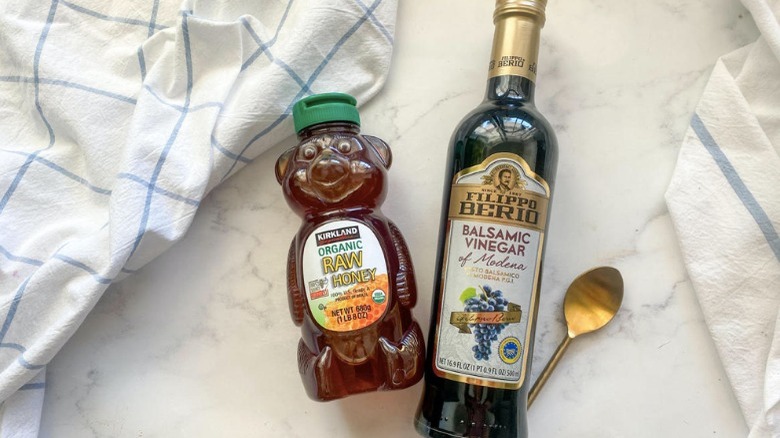 Miriam Hahn/Mashed
To make this sweet balsamic glaze, you can start by gathering your ingredients. For this recipe, you will need only balsamic vinegar and honey. Hahn likes to add honey to this glaze because "it really helps balance out the vinegar taste and is a really nice complement to the glaze. Plus most people have it on hand so it is handy to add."
Add the balsamic vinegar and honey to saucepan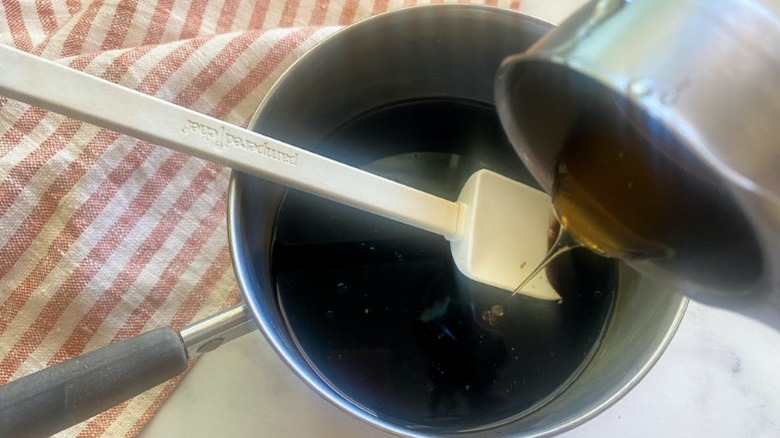 Miriam Hahn/Mashed
Into a small saucepan, add both the balsamic vinegar and the honey. Stir this combination well and then place the saucepan on the stovetop over medium heat. By heating the balsamic vinegar, you can get it to reduce, concentrating the flavor and thickening the consistency.
Simmer and stir occasionally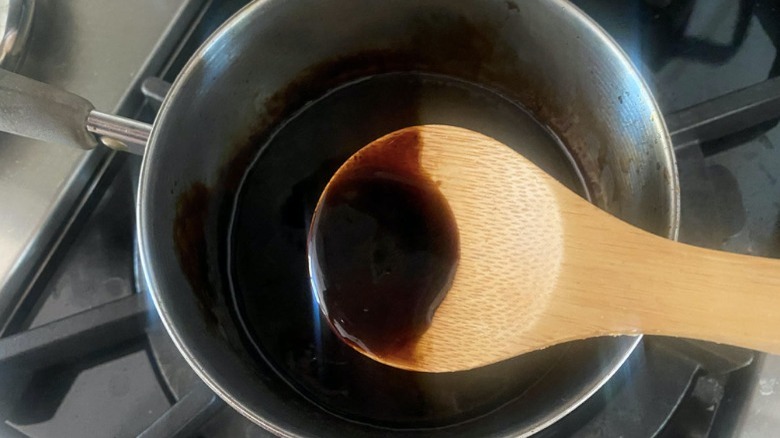 Miriam Hahn/Mashed
Stir the balsamic and honey frequently to avoid burning. After a few minutes over medium heat, the mixture will begin to bubble. Once this happens, reduce the heat to low. Allow the contents to simmer for about 15 minutes, stirring occasionally. Once the 15 minutes are up, test the consistency by removing the spoon. The glaze should be thick enough to coat the back of the spoon.
Cool the glaze and serve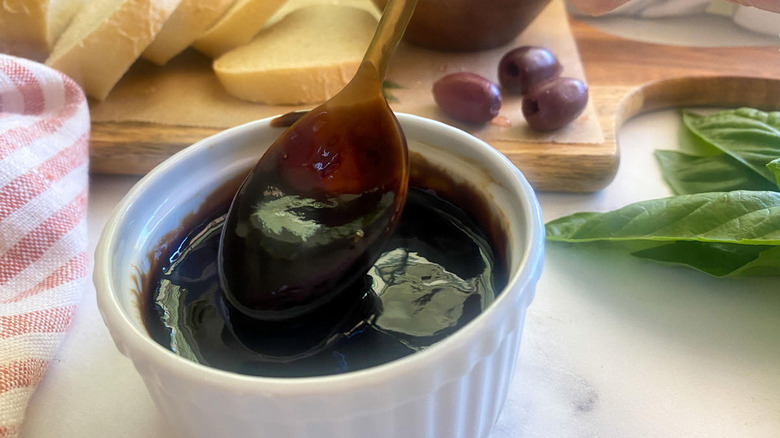 Miriam Hahn/Mashed
Now, remove the saucepan from the heat. Allow the glaze to cool for at least 15 minutes. During this time, it will continue to thicken. Then, once it is cooled, you are free to use this as you wish. Hahn notes that if you have any leftovers of the glaze, "it keeps well for up to a week. I usually store it in a mason jar with a lid in the fridge."
Sweet Balsamic Glaze Recipe
This sweet balsamic glaze has that tangy bite that you'd expect from balsamic vinegar, along with the sweet touch of honey.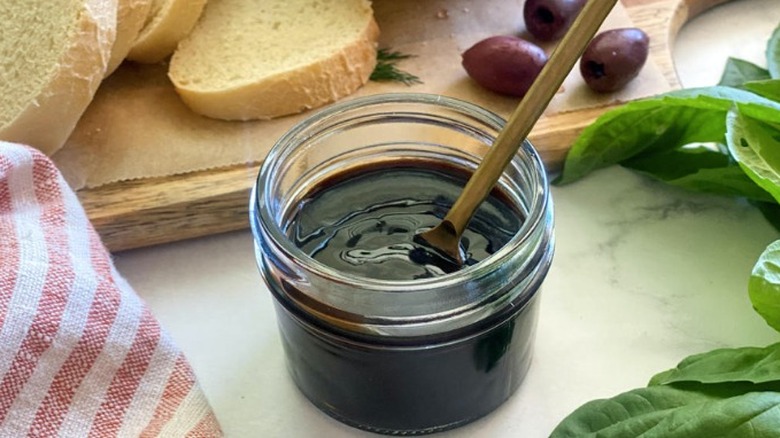 Ingredients
½ cup balsamic vinegar
¼ cup honey
Directions
Add the balsamic vinegar and honey to a small saucepan and set the temperature to medium heat.
Stir the mixture frequently and in a few minutes, it will start to bubble. When this happens, reduce the heat to simmer and cook for 15 more minutes stirring occasionally. It should coat the back of a spoon when you are done cooking.
Remove from heat and let it cool for about 15 minutes. It will thicken up more as it cools.
Nutrition
| | |
| --- | --- |
| Calories per Serving | 62 |
| Total Fat | 0.0 g |
| Saturated Fat | 0.0 g |
| Trans Fat | 0.0 g |
| Cholesterol | 0.0 mg |
| | |
| --- | --- |
| Total Carbohydrates | 15.3 g |
| Dietary Fiber | 0.0 g |
| Total Sugars | 14.8 g |
| Sodium | 5.5 mg |
| Protein | 0.1 g |