Trader Joe's Long-Awaited Ube Treat Is Finally Back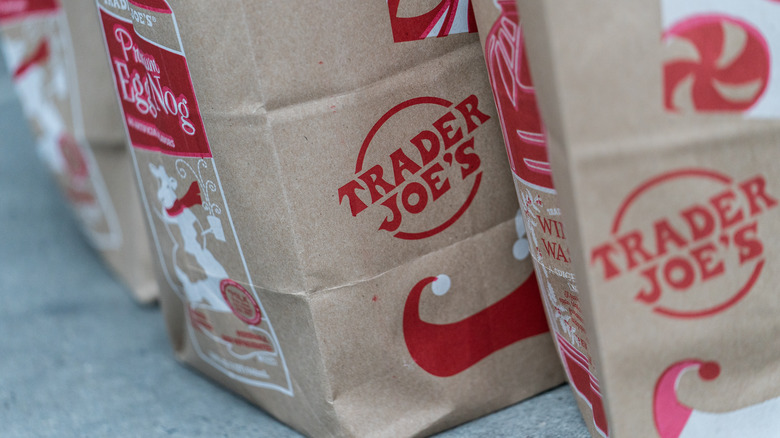 Bloomberg/Getty Images
Trader Joe's always seems to have its legion of fans spreading the word about exciting new product arrivals. From the retailer's cold brew coffee concentrate that tastes like summer in a bottle to the returning spicy pickle snack that has shoppers cheering, the California-based grocery chain keeps tongues wagging with fresh finds. And now, with summer in high gear, TJ aficionados have their attention turned to all things frozen to help beat the heat, including the return of a long-awaited Ube treat. 
If you are unfamiliar, per Women's Health, Ube is a purple root vegetable similar to sweet potato and often used in the Filipino culture to make desserts like shaved ice dessert called Halo-Halo. But this treat isn't just another purple color ice cream: This frozen dessert envelops it in sweet, sticky rice dough. That's right, the returning dessert is one of the grocery store's popular mochi treats. Since mochi became a trendy dessert, Trader Joe's has featured flavors like green tea, chocolate, strawberry, pumpkin pie, and Thai tea mint (via Trader Joe's), but this Ube variety has captured TJ shoppers' hearts and they've created a social media mosh pit, sharing their excitement that this treat is finally back.
Ube Mochi sighting
According to Instagrammer Trader Joe's List, there has been an Ube Mochi sighting in the frozen section of Trader Joe's. From some of the comments, you would think the Beatles or Destiny's Child announced they were getting back together. The eagle-eyed IGer who made the discovery posted a photo of the mochi ice cream and wrote, "UBE MOCHI, $4.79. I have been waiting for these to return! UBE mochi ice cream surrounded by sweet rice dough. UBE is a pistachio/vanilla flavor and when it's included in one of my favorite desserts, sign me up!"
The post has received thousands of likes and comments of pure joy. One of the TJ social media influencer's followers enthusiastically wrote, "Yes! I've been waiting for this to return!" Another jokingly responded with, "Shhhh you weren't supposed to tell anyone. I bought 15 boxes today. I cleared more room and have room for approximately 20 more. I have a serious addiction to these." Per Trader Joe's, the product which contains 80 calories per piece and is sold in boxes of 6. This treat was created specifically for the retailer by one of its suppliers and the descriptor notes that the combination of the taste and texture makes it unique. Instagram seems ready for this flavorful treat.