The Real Reason Kris Jenner Has 2 Refrigerators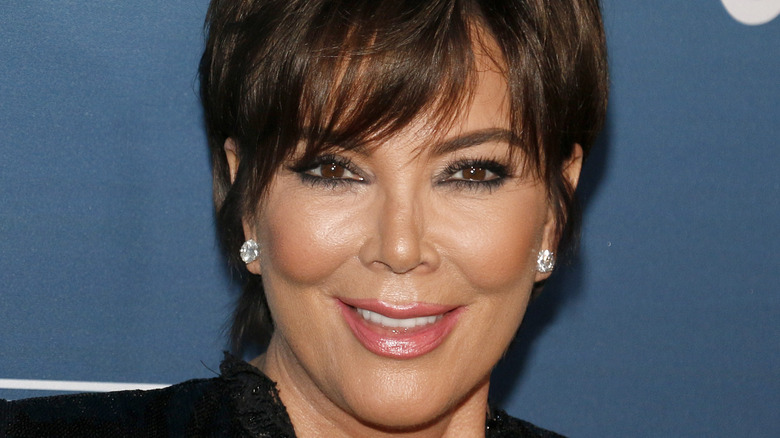 Tinseltown/Shutterstock
Kris Jenner is the ultimate mom-ager, not only a pro at keeping her children's massively successful careers organized; but also her fridge, too. Just as busy as ever, the first season of her family's new show, "The Kardashians," finished airing last month. The Hulu series details Jenner always on the go, busy keeping her businesses and family running. After a long day, Jenner returns to her Calabassas home full of luxuries, including a decked-out fridge.
Jenner's eldest, Kourtney Kardashian, is the Founder and CEO of wellness brand, Poosh, and a celebrity superfood aficionado. Mother-daughter duo gathered at Kris Jenner's home, where Jenner took Poosh inside her fridge. The reality TV star has two full-sized refrigerators and a full-sized freezer taking up a whole wall in her sprawling kitchen.
A piece of art, the fridge sandwiched in the middle has a full-length glass door, and we are seeing green. The glass door offers us more than a glimpse into what the business boss keeps stocked in her fridge (via People). And with how pristine those shelves are organized, her kitchen rivals those that hopped on the recent TikTok kitchen organization trend.
What Kris Jenner keeps in her 2 fridges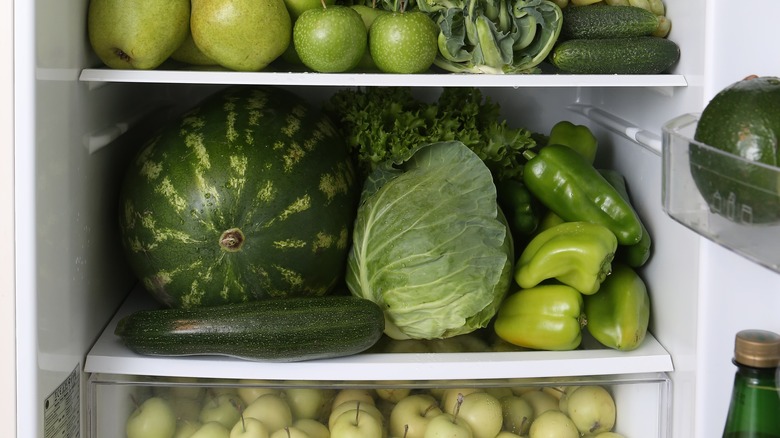 Sergey Bezgodov/Shutterstock
The first fridge is well-organized and full of an assortment of staples from eggs, berries, and sparkling waters. However, the show-stopper is her second fridge. Dedicated solely to fresh greens, a quick peek shows watermelon, asparagus, and broccoli heads, among a wide array of fresh herbs and leafy greens (via People). An entire produce aisle right in the comfort of her own home.
Life is about balance, and Jenner's freezer is devoted to sweet treats like ice cream and popsicles. The famous mom is ready for summer with Hӓagen-Dazs pints in a wide array of flavors perfectly stacked in her freezer. From green juice to ice cream sundaes, everything the Kardashian clan could want is behind those glass doors. Her setup truly has a fridge and freezer to rival any professional kitchen.
However, Jenner is not the first from the Kardashian-Jenner clan to show off their well-stocked kitchen. Kim Kardashian revealed her well-stocked pantry full of kids' snacks (via US Food).