The Best Steak Knives Of 2022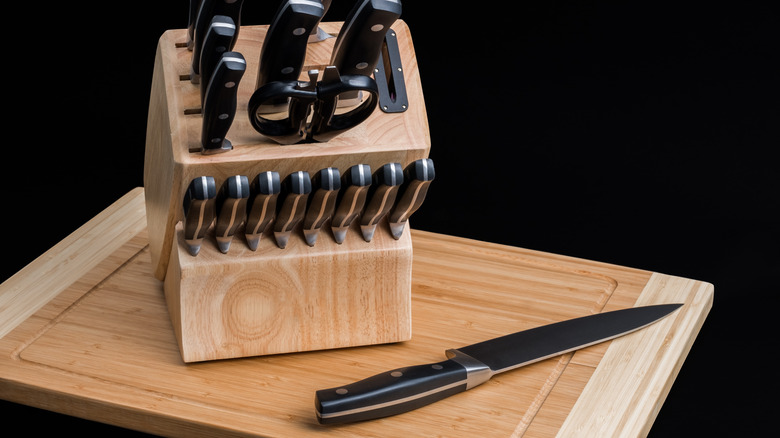 Bruce Peter/Shutterstock
We may receive a commission on purchases made from links.
Anyone who eats steak or really any sort of meat on a regular basis will need something with which to cut up that meat on their plate. Enter the humble steak knife. At its simplest, a steak kife is simply a small knife that can easily be held in the hand to cut off bite-sized pieces of a larger piece of meat. Thanks to trends and fashion, we tend to think of steak knives having a specific look, often either wood-handled and somewhat chunky or in line with the standard black riveted handle many expect of kitchen knives.
Luckily, there are just about as many types of steak knives as there are types of people. You can find a knife that fits your budget and your sensibilities if you look hard enough. Whether you're a stalwart traditionalist or a incurable modernist, a utilitarian who just wants to cut up some meat or an aesthete who wants even their knives to make a statement, there is a set of steak knives for you.
We dove into many different categories of steak knives that ought to cover just about any eventuality or preference. Read on to get to the bottom of which set of steak knives you ought to buy.
How we selected steak knives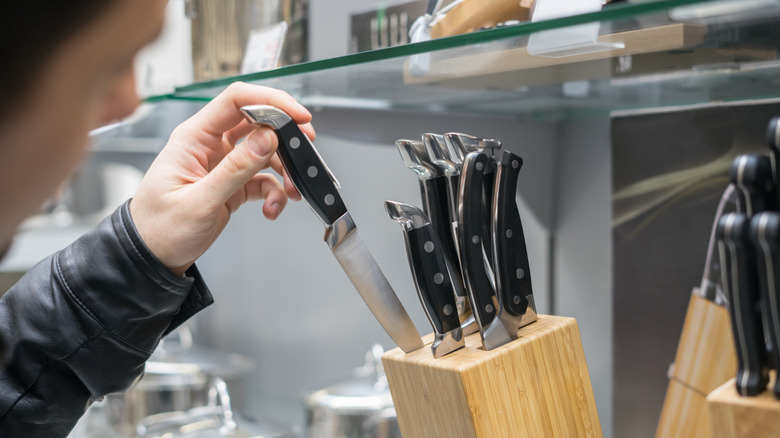 Kardasov Films/Shutterstock
The knives in this article were selected based on customer and professional views, as well as a manufacturer's reputation. Only knives sold as sets (yes, even if it's a set of two) were considered. Many of these sets went through exhaustive testing in order to give consumers more confidence in their particular choice. Meanwhile, customer-generated reviews provided insight into exactly how knives fared in real world, everyday applications in a variety of kitchens.
Ultimately, the best sets of steak knives are those that fit a person's unique needs. Those criteria could include a variety of factors, from the price of a set to the way it looks. We grouped knives into some of the most common categories and hunted down the best options in each. The prices range from reasonable to very expensive and everywhere in between, while factors like aesthetics and quality were also considered. All told, there should be something for everyone.
Best budget steak knives
Sometimes you only need the basics: a tool that will cut your steak and not much else. To that end, Chicago Cutlery is a brand that specializes in affordable, attainable, and simple knives. It's also accessible, given that Chicago Cutlery can be found at most big box stores.
These wood-handled steak knives are something of a bargain, since you get a quality set for much less than some premium brands. This set boasts no-nonsense handles that can look a little rough or unfinished next to fancier brands, but that doesn't take away from its usefulness or quality.
Most basic steak knives have serrated blades that can easily cut through meat or other foods. However, once such a blade gets dull, it's almost impossible to re-sharpen it. Yet Chicago Cutlery's set boasts straight, non-serrated edges. Just like your trusty chef's knife, these blades can be honed and sharpened as many times as needed, greatly extending the lifetime of this set. Not bad for a set of knives that will cost you less than a decent ribeye.
You can purchase Chicago Cutlery Walnut Tradition Steak Knives at Amazon for $22.99.
Best mid-range steak knives
Messermeister, a woman-owned family business, has built a name for itself as a stolidly dependable brand of cutlery ever since its 1980s debut. The company's manufacturing is based out of the legendary "city of blades," Solingen, Germany (via Princeton University). This comittment to high-quality, dependable steel has buoyed its reputation greatly and resulted in a set with lovely construction and short blades. This is another straight edge blade that will last much longer than the standard serrated alternative, assuming they are well-maintained.
While this set may not represent the cheapest steak knife collection out there, the quality-to-price ratio is spot-on. The average Amazon score of 4.7 out of 5 stars with over 1,000 reviews also speaks volumes of just how happy consumers are with this choice.
The attractive handles are actually made of pakkawood which, as My Kitchen Toolkit explains, is a composite material made of wood impregnated with resin for added durability. This dense material also discourages bacterial growth, which can be an issue in other wood-handled knives.
Buy the Messermeister Avanta set of knives on Amazon for $69.95.
Best high-end steak knives
Some people are happy to cut their meat with whatever is on hand. However, there are those who simply must have the best. For these, something as simple as a steak knife can become a statement about who they are as a cook, diner, and person. If you are this type of person, it stands to reason that you would appreciate the deluxe experience afforded by this pricey Wüsthof set.
Wüsthof is a very old brand with a history stretching back more than 200 years (per Wüsthof). This, along with high manufacturing standard, has allowed its blades and tools to become the gold standard for high-end cutlery.
These beautiful, extra-sharp knives will cut through even the toughest steak with ease (though, if you can afford them, you can probably spring for the more tender cut of meat). What's more, they look great doing it. Although the high price tag may be shocking, the combination of craftsmanship, ease of use, and a lifetime warranty — not to mention the decorative wooden box they come in — all mean that if you can afford this set, you won't be disappointed.
Purchase the Wüsthof Classic Steak Knife Set on Amazon for $345.
Best French steak knives
The Laguiole style of knife, with its elegant, thin handles and characteristic honeybee symbol, represents a style of knife that cares as much about looks as it does about a sharp edge. That bee symbol has a long pedigree. Legend has it that Napoleon himself granted the city of Laguiole the right to use the honeybee of his personal coat of arms in recognition of bravery. However, as Forge de Laguiole notes, there is no record of this proclamation and the story is likely apocryphal.
Similar to other very old manufacturing names, Laguiole is not a trademarked term, so anyone can slap it onto any product. When shopping for a high-end set of these knives it's important to try to find one manufactured in the French town of Thiers. This city, renowned for its bladesmiths, is the home of all the best makers of these stylish utensils.
This set of knives, housed in an attractive wooden box, is a perfect example of this iconic style. It isn't cheap, but who can argue with something that looks this good?
You can pick up a set of Jean Dubost Steak Knives for $179 on Amazon.
Best German steak knives
The high quality, German engineering of these Zwilling steak knives is obvious to anyone who picks one up. The thin, sharp blades will slice through any cut of meat with ease. Zwilling is a very old company, given that its original trademark was issued back in 1731 (per Zwilling). This pedigree means that the company has over 250 years of experience to draw upon as they continue to make reliable, top notch tools to this day.
The many gushing reviews on Amazon attest to many happy customers, who consistently talk about the sharpness and user-friendly nature of these German beauties. Sitting at an impressive 4.7 out of 5 stars, it seems the people have spoken and they love these knives. What's more, celebrity chef Ina Garten is a big fan of the brand, too.
If your tastes runs to the traditional, you could certainly do worse than these blades. The legacy of over two centuries of craftsmanship and quality really shows in these high-quality knives.
The Zwilling Steak Knife Set is available on Amazon for $49.95.
Best steak knives for buying in bulk
In an attempt to expand its company's reach, Zwilling has become the name of the knife manufacturer's premium brand, while J.A. Henckels International is the more accessible, entry-level line. As Prudent Reviews explains, Henckels knives are stamped, meaning they are punched out of one sheet of metal and then sharpened. Meanwhile, Zwilling knives are forged, a process that makes for a sturdier, heftier, and generally higher quality end product.
This set of Henckels steak knives is a boon for anyone who anticipates serving a crowd on a regular basis. SInce it contains eight knives instead of the more usual four or six, you're already starting with a leg up. That, plus the fact that these knives will last a very long time, means that you can acquire easily order another set as needed to serve steak to an army.
These boldly serrated knives have riveted black handles and sword-like points. That means that these knives punch above their price class, so you can feel comfortable deploying them even at formal events.
Get J Henckels International Steak Knives on Amazon for $44.99 for a set of eight.
Best classic steakhouse steak knives
Sometimes all you want is the experience of a great steakhouse, namely a giant slab of beef, a baked potato, and a scoop of creamed spinach to make everything all right. If you want to invoke that vibe at home, consider investing in Viking's set of steak knives. While Viking is probably best known for its high-end stoves and ovens, the company also makes other kitchen accessories including cutlery.
The beautiful pakkawood handles are a striking red color and just scream "steakhouse" (you can practically see the wood paneled walls and velvet banquette materializing around you). Most Amazon reviewers mention being impressed with the heft and weight of these serious knives, as well as their sharp serrated edges.
The wooden box it comes in is easy on the eyes, too, making it perfect for both storage and display. Anyone who sees this handsome set of utensils in your home will know that this is a house that cares about steak. If you want the deluxe experience, these are the tools for you.
This set of Viking Pakka Steak Knives can be found on Amazon for $119.95.
Best Japanese steak knives
Japanese knives have a reputation for excellence. With legacies that stretch back to samurai swords (per Martha Stewart), the dedicated craftsmen of Japan continue to make some of the sharpest and best-designed blades available today, with relatively hard steel and fine, delicate cutting edges.
These handsome knives from Shun are no exception. Shun is one of the best-known Japanese makers on the American market and its distinctive profile, with a pakkawood handle (per Shun) that is shaped to perfectly fit into a cook's hand, can be seen in the hands of professionals as well as serious home cooks. This pursuit of excellence extends throughout its vast collection, including these straightforward but beautiful steak knives.
Review after review on Amazon cites the knives' razor sharp edges, which effortlessly glides through even the toughest cuts in a testament to the set's superior craftsmanship. While this set is admittedly pretty expensive, you can think of it as a lifetime investment. That might make the hit on your wallet a little easier to swallow. Consider also the fact that they are not serrated, which means that they can be resharpened should the very keen edge ever fail you.
Get the Shun Classic Steak Knives on Amazon for $349.95.
Best modern steak knives
If you are decidedly not a classicist, you may want something more from your steak knives than the norm. In that case, it would be worth examining the Perceval 9.47 Table Knife for your dining room table. The minimalist design of this small set is the brainchild of renowned Michelin-starred French chef Yves Charles (per Perceval), who wanted the table knives at his restaurant to be of the same high quality as the knives he used in the kitchen.
To that end, he worked with the Perceval company — better known for its line of folding pocket knives — to come up with something as sharp and useful as it was beautiful and functional. The result is a simple but elegant knife that is the height of understated sophistication.
If you are in the market for a statement piece on your table that is sharp — in both edge and appearance — look no further than this beautiful set of blades. If you can swing the rather intimidating cost for two knives, the Perceval 9.47 pair will stylishly cut through a lifetime's worth of steak.
Ode to Things sells the chic Perceval 9.4 set of steak knives for $280 for a set of two.
Best gift set steak knives
If you are looking for a special gift for a pair of newlyweds or for a housewarming party for a dear friend, consider this set of Wüsthof steak knives. Set in an attractive olivewood box with each individual knife in its own slot, these all-metal knives are a boon to anyone who loves to entertain.
As previously mentioned, Wüsthof is practically synonymous with good kitchen knives. The company's market reach is aided by its huge range of styles and blade shapes. As Prudent Reviews explains, there are 37 sets of knives marketed in its flagship Classic line alone. One way to cut through all of the options available is to stick to a certain price point. While this set is far from cheap, the fact that you get a full 8-piece set for your money certainly helps.
The all-stainless steel look is somewhat unusual for Wüsthof, but that's actually not a bad thing. The simplicity of the design means that these blades will be at home on just about every type of table, from the very casual to the fanciest of modern settings. The handsome wooden box is also a display piece all by itself, while the Wüsthof trident that decorates the outside signals to those in the know that you care enough to outfit guests with the best.
The Wüsthof Stainless Mignon set can be found on Amazon for $130.
Best wood-handled steak knives
Victorinox is something of an internet darling. Its straightforward chef's knife is lauded as one of the best-valued sets of all, with an excellent performance to price ratio. America's Test Kitchen has therefore decided that this set of rosewood-handled steak knives is the one to beat. This recommendation does not come lightly, as ATK puts the equipment it reviews through a battery of exhaustive tests in order to suss out which ones are actually worth buying. With that reputation behind this recommendation, prospective buyers can feel confident in their choice.
Victorinox is a brand that most people probably know as the maker of the famous Swiss army knives. This versatility and history have endeared this knife maker to people across the globe for over 130 years (via Victorinox).
The sword-like shape of these simple but high-quality knives helps the blade find purchase in even a tough cut of meat, while the straight edge means that these knives can be resharpened for long term use. Hundreds of Amazon reviews attest to the set's ease of use as well as the knives' perfectly sharp edges.
Pick up the Victorinox Rosewood Steak Knives on Amazon for $218.97.
Best colorful steak knives
There is a knife out there for every style and sensibility, from the serious to the whimsical. This set of Opinel steak knives is decidedly in the latter camp. The bright, eye-catching colors on display in this set would be at home on a table prepared by someone who doesn't take themselves too seriously — but who also wants a high quality product for them and their guests.
Opinel has a history that stretches all the way back to 1800, when peddler Victor-Amédée Opinel learned how to work a blacksmith's forge and then passed the knowledge on to his son (via Opinel). Although the company is well-known for its folding pocket knives, it also makes top notch kitchen tools that capture the classic look made famous all those years ago.
While the overall shape and dimensions of these knives are well within what you might expect from a standard knife, the painted wooden handles take this set in a completely different direction. It's not hard to imagine these knives on a table arrayed with other non-traditional colors and patterns, where the classic profile and sharp edge add a certain seriousness to what is otherwise a flamboyant piece of cutlery.
The Opinel Appetit Table Knives can be bought for $49 on Amazon.