Simple Homemade Arepas Recipe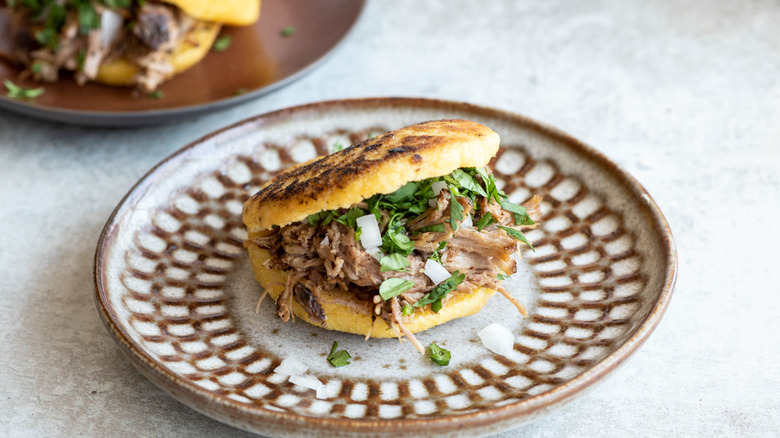 Michelle McGlinn/Mashed
Arepas might be compared to fat corn tortillas — they're made with similar (though not identical) ingredients, and are often topped or filled with meats and cheeses. They generally come in two varieties, Colombian and Venezuelan. The difference lies not so much in the arepa (although the Colombian kind can be a bit thinner and may include some sweetener), but in how they are used. Arepas in Colombia are usually topped with eggs or cheese, whereas in Venezuela, they're more likely to be split open and stuffed with whatever's on hand.
This simple recipe from recipe developer Michelle McGlinn is just for the arepas themselves, so how you choose to eat them — Colombian, Venezuelan, or even American-style with peanut butter and jelly — is entirely up to you. McGlinn suggests that these arepas, while not difficult to make, "really elevate ... leftovers like pulled pork or simple black beans and cilantro." Her recipe includes an extra step not typically found in arepa recipes and one that she, in fact, discovered by accident: After frying the arepas, she bakes them for a few minutes. As she explains, "I ... found that the texture was even better after I reheated [the arepas], so I wanted to include it as a step." She does, however, note that "baking [the arepas] may not be necessary," but feels it "helps soften the insides that may not have been fully cooked over the stove."
Gather the ingredients for traditional arepas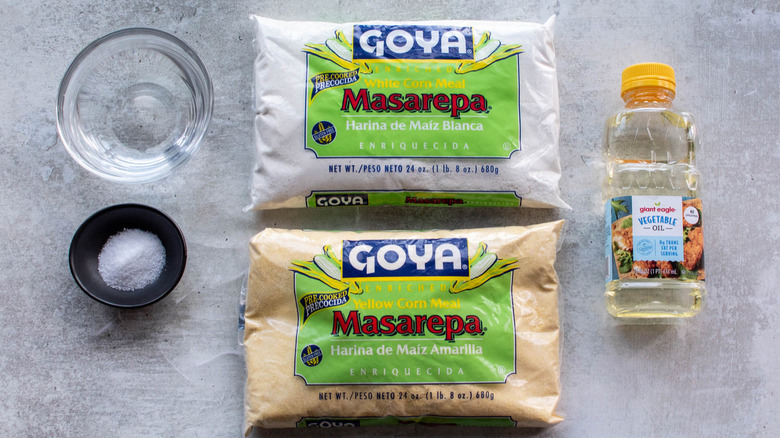 Michelle McGlinn/Mashed
The main ingredient in arepas is something called masarepa, which is cooked cornmeal. McGlinn admits that it isn't always easy to find, and says that "masa harina ... can be used as a substitute in a pinch," although the texture and flavor will be slightly different, and you may have to adjust the amount of water in the recipe. She also says that you do not need to use both yellow and white masarepa if you can only find the one or the other, but tells us that "I prefer the taste of the yellow and the texture of the white," which is why she likes to use both.
The other ingredients you'll need aren't at all difficult to source, as they simply consist of water, salt, and vegetable oil for frying. You'll also definitely want some toppings, fillings, and condiments for your cooked arepas, so scout out your fridge for the best candidates
Make the arepa dough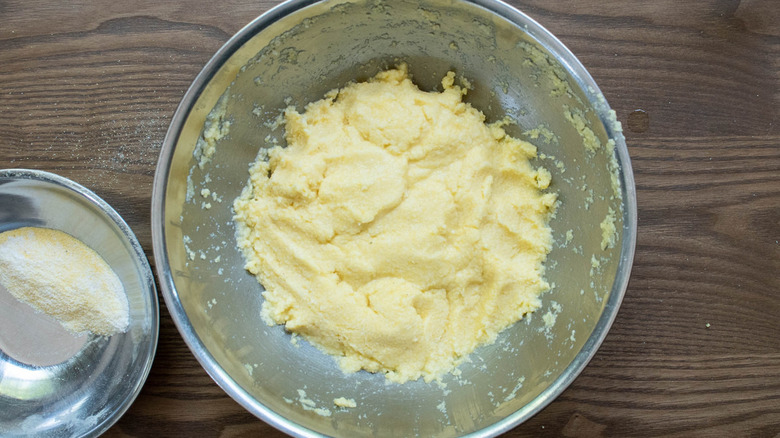 Michelle McGlinn/Mashed
If you're using both types of masarepa, mix them together. Combine the water with the salt and stir until the salt dissolves, then stir in the masarepa about ¼ cup at a time. McGlinn tells us that "The mixture will be very watery until almost all of the cornmeal is added, then will become very thick." Once the dough gets to the point where you can no longer stir with a utensil, you may need to finish mixing it with your hands. If you have some masarepa left over, don't worry, since McGlinn says this is normal and you can just save it for the next time you make arepas.
Once the arepa dough is so thick that you can roll it into balls, stop mixing it and cover it with a towel. Let the dough rest for 5 minutes.
Form and fry the arepas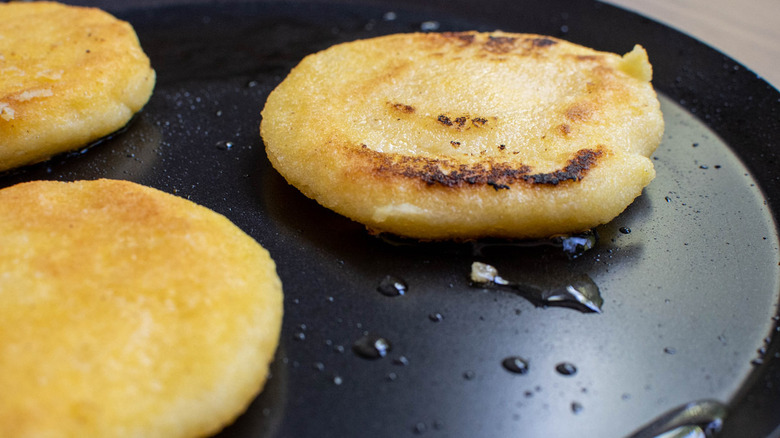 Michelle McGlinn/Mashed
McGlinn advises shaping each arepa into a disc about 3-inches in diameter and ½-inch thick right before you fry them as they tend to fall apart if left to sit too long. Shape as many arepas as will fit in a frying pan without crowding, then pour a little oil in the pan and heat it to medium. Fry the arepas for 5 minutes, then carefully turn them over and fry them for another 5 minutes. Once the arepas are firm and golden-brown on both sides, they are done and you can move on to shaping and cooking the next batch until all the arepas have been fried.
One note on the color of the arepas: McGlinn notes that "Browning is normal," but goes on to caution that "if [the] arepas are turning black quickly, [you should] add more oil to the pan." You do not need to use all of the oil at once, however, as the listed amount is suggested for frying all the arepas in however many batches it takes.
Fnish the arepas in the oven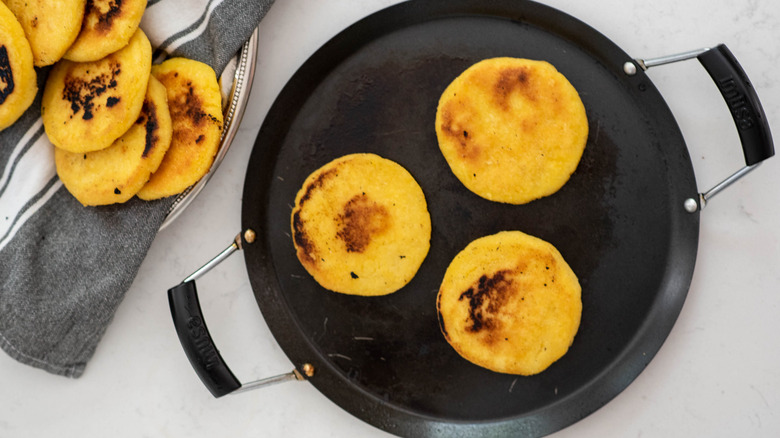 Michelle McGlinn/Mashed
After the arepas have been fried, your oven should be nice and hot. You can slide those arepas onto a baking sheet, then cook them for 5 minutes. Once again, as McGlinn points out, "This step is optional, but will give the arepas a soft inner texture."
Once the arepas are finished, you can top or fill them, as desired. In McGlinn's case, she opted for "pulled pork with cilantro and onion." She also suggests that chorizo, black beans, and shrimp make great arepa stuffers (or toppers), as well.
Simple Homemade Arepas Recipe
Skip the corn tortillas and make a batch of homemade arepas, instead. This South American staple is delicious topped with practically any protein or veggie.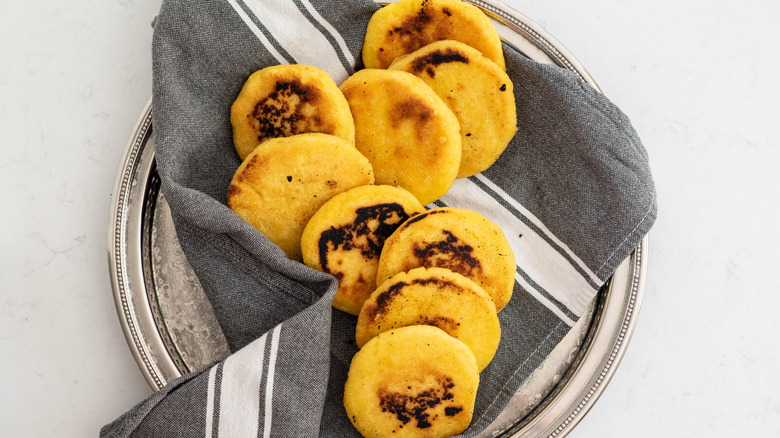 Ingredients
2 cups warm water
1 ½ teaspoon kosher salt
1 cup yellow cooked cornmeal (masarepa)
1 cup white cooked cornmeal (masarepa)
2 tablespoons oil, for frying
Directions
Preheat the oven to 325 F.
Whisk the yellow and white masarepa (cooked corn meal) together in a small bowl until well-combined.
Mix the warm water and salt together in a large bowl until the salt is dissolved.
Add the cornmeal mixture into the water about ¼ cup at a time. The mixture will be very watery until almost all of the cornmeal is added, then will become very thick. Once the mixture is too thick to whisk, use your hands to combine.
When the dough is thick enough to be formed into balls, cover it with a towel and let rest for 5 minutes. You may have cornmeal left over.
Heat a lightly-oiled flat skillet or budare over medium heat. After 5 minutes, remove the towel and form the arepas by shaping small balls of the masarepa mixture into 3-inch discs ½-nch thick. Place the formed arepas onto an oiled pan and cook them until firm and deeply golden, about 5 minutes per side. Browning is normal, but if the arepas are turning black, add more oil to the pan.
Keeping the pan well-oiled, shape and fry the arepas until all of the masarepa mixture is used. Once the arepas are golden and browned, transfer them to a baking sheet and warm them in the oven until soft and cooked through, about 5 minutes. This step is optional, but will give the arepas a soft inner texture.
To serve, eat them plain or cut them in half and stuff with meats, beans, or vegetables.
Nutrition
| | |
| --- | --- |
| Calories per Serving | 132 |
| Total Fat | 7.3 g |
| Saturated Fat | 0.5 g |
| Trans Fat | 0.0 g |
| Cholesterol | 0.0 mg |
| | |
| --- | --- |
| Total Carbohydrates | 15.0 g |
| Dietary Fiber | 0.7 g |
| Total Sugars | 0.3 g |
| Sodium | 570.9 mg |
| Protein | 1.3 g |