Dove Cameron's Favorite Snack Is A Bizarre Food Combination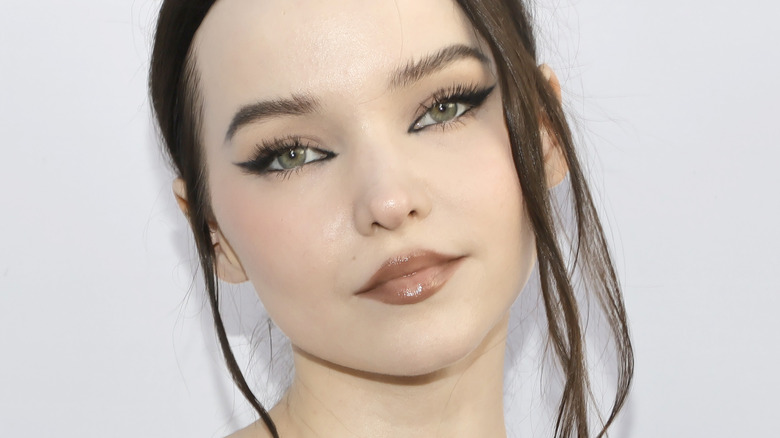 Kevin Winter/Getty Images
Dove Cameron has a, shall we say, unique, taste in snacks. The 26-year-old star isn't reaching for the glow-up smoothies you might expect from an actor in her mid-20s. Social media is full of celebs sharing their fave treats, such as Padma Lakshmi's soup hack or Olivia Rodrigo bringing national attention to dirty soda. But Cameron puts other stars to shame with her out-of-the-box creations.
In a July 26 First We Feast "Snacked" YouTube video, Cameron breaks down some of her favorite foods, ranging from the good-for-you (bell peppers and salsa) to the not-so-good for you (chili-cheese fries). She has eclectic taste, and she's not apologizing for it.
The "Boyfriend" singer has made every attempt to distance herself from the Disney image, even selling T-shirts that read "I am not here to preach bubblegum slogans to you." Are her unconventional snack takes another tool to distance herself from the image that catapulted her to fame?
Ranch, rainbow sprinkles, and chili-cheese fries
In the July 26 episode of First We Feast's "Snacked" on YouTube, Dove Cameron shared some of her favorite breakfasts and snacks. Some of them sound pretty good. She is, after all, what she calls a "Michelin-star" pandemic chef — a title best exemplified by her tasty-looking smoked salmon and smashed avocado on a rice cake. Top it with a little red pepper and you're good to go.
But then, things get ... weird. The "Breakfast" singer's next treat is a blueberry bagel smeared heavily with cream cheese and topped with a solid layer of rainbow sprinkles. That one will definitely wake up your morning with all that sugar and color. She follows it up with chili-cheese fries, calling them "the best combination of what humans have to offer." As she puts it, "anything's breakfast if you try hard enough." 
The moment fans were waiting for, though, comes when Cameron reveals her preferred snack of choice:  brownies and ranch dressing. That's right: sweet, chocolatey brownies and a tangy cream sauce. Cameron assures viewers the combination is good, but fans are probably skeptical. This isn't the "Descendants" star's first time promoting brownies and ranch — she also shared her love for the combo in a 2018 Delish interview — but that doesn't make it any less shocking.