Chipotle Just Dropped A Guac Deal You Won't Want To Miss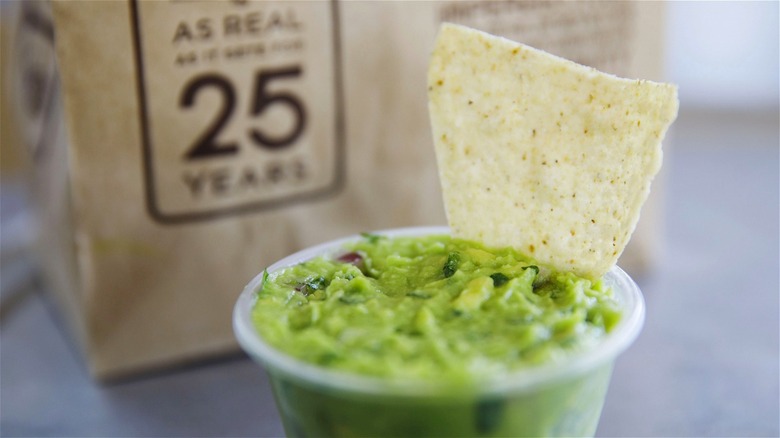 Bloomberg/Getty Images
When one of America's most popular restaurant chains promotes a deal to save us a few dollars, especially in our current financial climate, we listen.
Chipotle has been delivering that full-body experience the Reddit community often talks of with its worst, and sometimes best, food items ranging from chicken burritos to its well-loved guacamole since 1993 (per CNBC). What sets Chipotle apart from other leading restaurant brands is its dedication to moving forward with digital marketing and sales to better understand customer needs (via NCR). In an interview with Forbes, Chief Technology Officer for the Mexican chain, Curt Garner, explains how Chipotle has a leg up over businesses operating within a franchised system. Since Chipotle is 100% owned by the company, digital efforts are easily streamlined.
Speaking of digital efforts, Chipotle has moved even further with the times by becoming the largest food chain to accept cryptocurrency as a form of payment through the Flexa platform (per Restaurant Business).
If you need a clue as to which direction the popular biz is going for its next deal, refamiliarize yourself with the company's National Burrito Day giveaway from last year. The food chain rewarded Chipotle app customers with $100,000 in free Bitcoin and food. A recent guac deal offers a new spin on Chipotle's newest form of acceptable payment.
Chipotle gets creative with cryptocurrency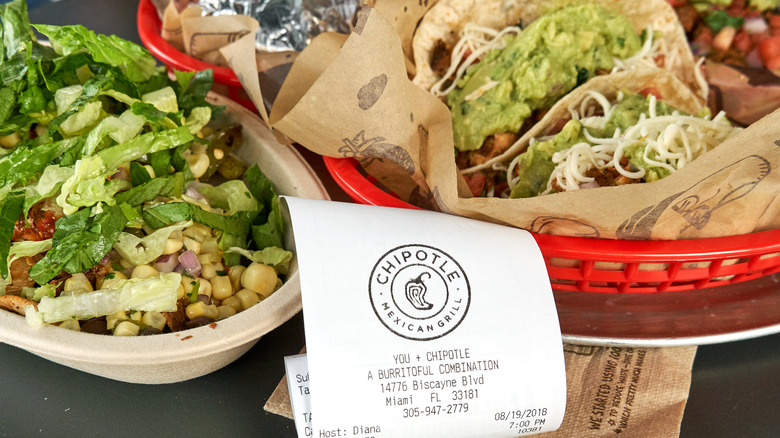 dennizn/Shutterstock
After seeing Chipotle release its robotic tortilla chip maker, you may not be surprised to hear about Chipotle's new digitized deal for National Avocado Day.
Chipotle released the details for its "Buy the Dip" giveaway on July 25th which includes $200,000 in free crypto and 1-cent promo codes for its infamous guac and queso Blanco through the avocado holiday on July 31st (per PR Newswire). In order to get in on this free crypto, you need to start playing the "Buy the Dip" game which is accessible from 10:00 am to 6:00 pm Pacific Time Monday through Friday. Specific details on how the game is played are accessible through the Chipotle website.
Beyond the unique crypto game experience, if cryptocurrency isn't your slice of quesadilla, by becoming a Chipotle rewards member and using the app or ordering online, you're able to score these free 1-cent guac and queso deals as well.
Chipotle is giving customers what they want since the company's rewards members reached a whopping 27 million in the last year (per Restaurant Business). Sure, you can always make your own copycat recipe of Chipotle guacamole, but most loyal customers believe the brand's version outweighs any you could possibly make at home.