Wingstop Fans Need To Know About Its National Chicken Wing Day Freebie
Proclaimed by Mayor Stan Makowski, the origins of National Chicken Wing Day can be traced back to Buffalo, New York. According to the National Chicken Wing Day website, the story of the first chicken wing began in Anchor Bar, which was owned by Frank and Teressa Bellisimo. When their son asked for snacks for him and his friends late at night, Teressa tossed some wings in the deep fryer, buttered them, and added hot sauce. Over the years, several Buffalo restaurants started serving their own renditions of the wings and today, an estimated 1.4 billion wings are consumed on Super Bowl Sunday alone — or at least this past Super Bowl (via Quartz).
Wings are now served in a multitude of flavors, though buffalo remains a classic. Wingsquad gathered its data to determine the most popular sauces on each coast. In the East Coast, the favorites are listed in order as buffalo, honey garlic, Cajun, sweet chili, and BBQ. The West Coast prefers buffalo, Cajun, honey garlic, BBQ, and sweet chili. No matter what you like, one restaurant will be serving up a sweet and saucy deal on National Chicken Wing Day.
Wingstop offers a cluckin' good deal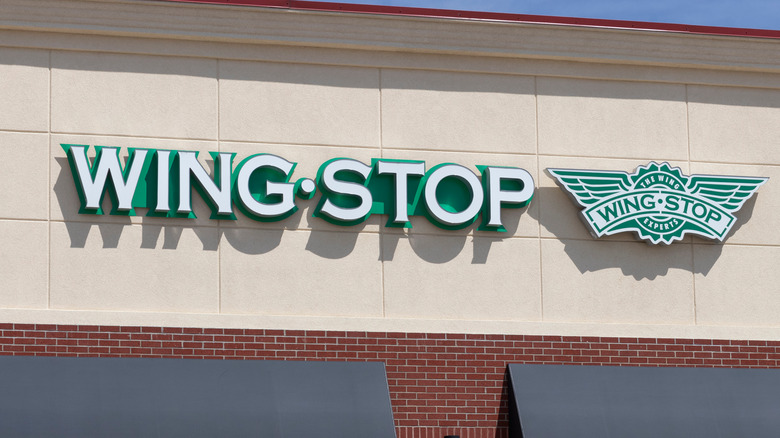 Jonathan Weiss/Shutterstock
This year for National Chicken Wing Day (July 29), Wingstop will be giving out five wings for free when a qualifying purchase is made (per Chew boom). Qualifying purchases include any wing combo, bundle offerings, a wing family pack, wings by the piece, tender combos, and tenders by the piece, thigh bites, and chicken sandwiches. You can choose between classic or boneless wings, which must be ordered on the app or the website. In order to take advantage of this deal, be sure to add the promo code FREEWINGS at checkout.
If you prefer to dine at home, simply spend $10 and you'll be eligible for the free five-count wings to be delivered with your order. Another advantage to ordering from Wingstop? You'll be directly contributing to making the world a better place. Per its website, "Wingstop Charities serves the community through engaging our youth in the pursuit of their passions," and will donate $1 for every order that uses the promo code FREEWINGS.
If you're in the mood for wings and could use five extra, today is the only day you can get this deal.