Baked Sweet Potatoes Recipe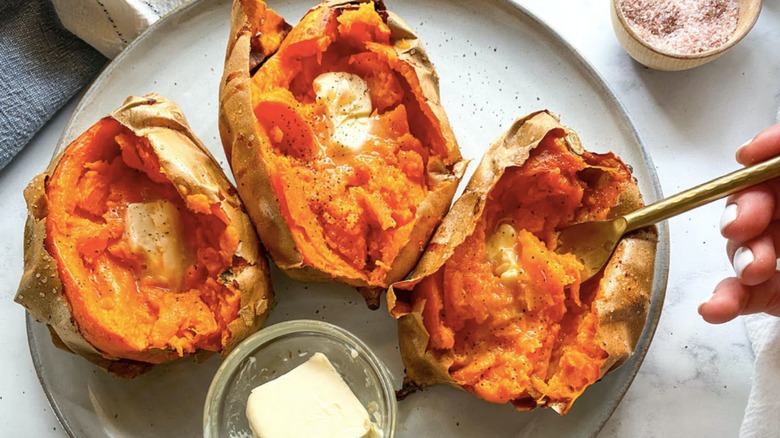 Miriam Hahn/Mashed
When you are looking for a nutritious, starchy side dish, simple baked sweet potatoes are the easiest go-to option. According to Healthline, sweet potatoes are packed with fiber, potassium, magnesium, incredible amounts of vitamin A. They're little nutrient-dense bundles of joy and wonderful flavor, and we don't know about you, but that's reason enough to choose sweet potatoes more often.
Recipe developer and health coach Miriam Hahn brings us this recipe for simple baked sweet potatoes with perfectly fluffy inside flesh. Hahn says, "I love serving these as a side dish to any type of meat, chicken or fish." She also suggests serving these along with a hearty fall salad or creamy mushroom barley soup. You can dress the sweet potatoes up as much or as little as you'd like, but for the sake of this easy recipe, Hahn keeps things classic and walks us through the basic steps of baking the perfect plain sweet potato. Once they're baked, there's no stopping what you can top them off with!
Gather your ingredients for baked sweet potatoes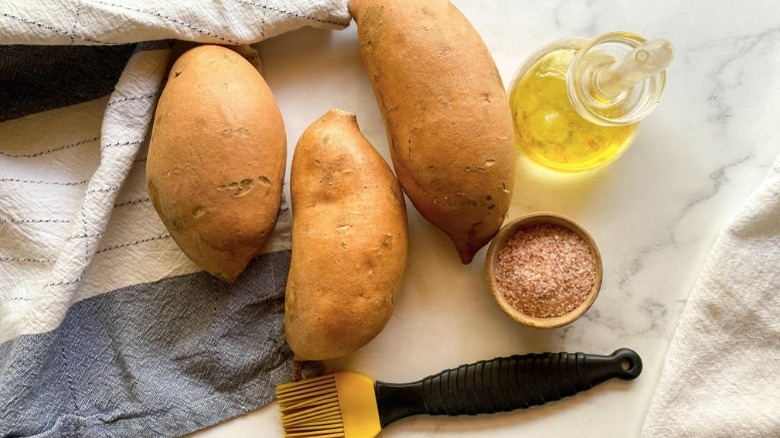 Miriam Hahn/Mashed
To make these baked sweet potatoes, you will need a couple of sweet potatoes, avocado oil, and sea salt. Hahn suggests choosing organic sweet potatoes. She says, "I love eating the skin of vegetables since that is where a high volume of the vitamins and minerals are concentrated. So, if we are eating the skin it is important to avoid pesticides if possible."
Wash and dry the sweet potatoes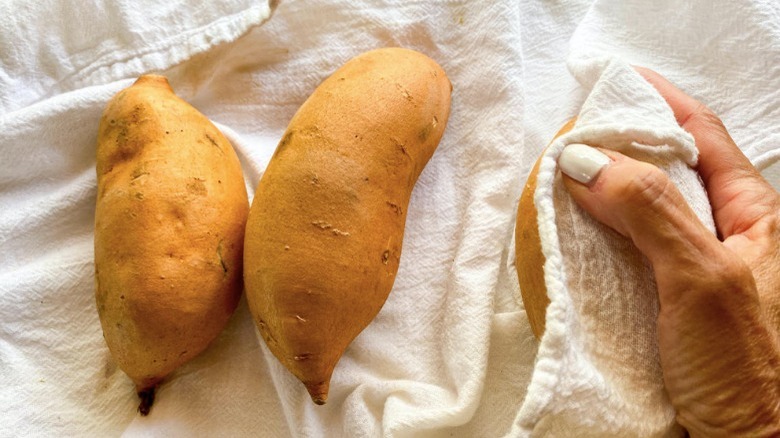 Miriam Hahn/Mashed
Those sweet potatoes will be fairly dirty since they are root vegetables, grown in the ground. Give them a good wash, scrubbing gently to remove the dirt. Then, dry them off with a paper towel or a tea towel.
Poke the sweet potatoes and brush with oil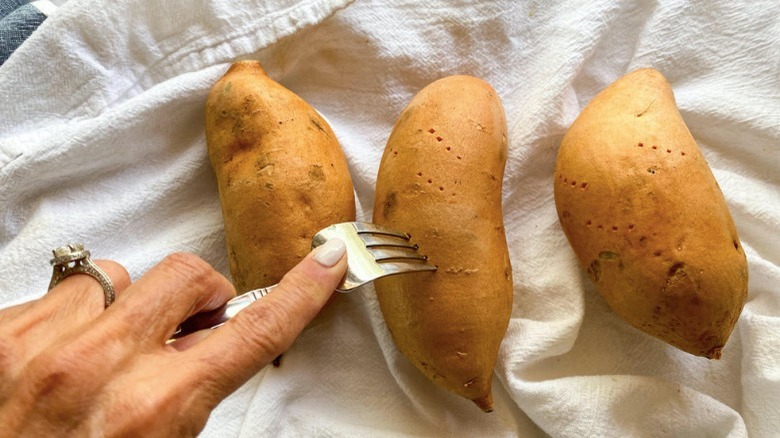 Miriam Hahn/Mashed
Using a fork, poke the sweet potatoes several times. This will allow the steam, which will build up in the oven, to escape. If you don't poke your sweet potatoes, you run the risk of the steam building up too much, causing the sweet potatoes to burst. Once they have been poked, use a pastry brush to coat the sweet potatoes with oil and a sprinkle of salt. Hahn notes that "this will make the outsides crispy and so tasty to eat. If you were to wrap them in foil while baking the skins will remain soft."
Bake the sweet potatoes before cooling and serving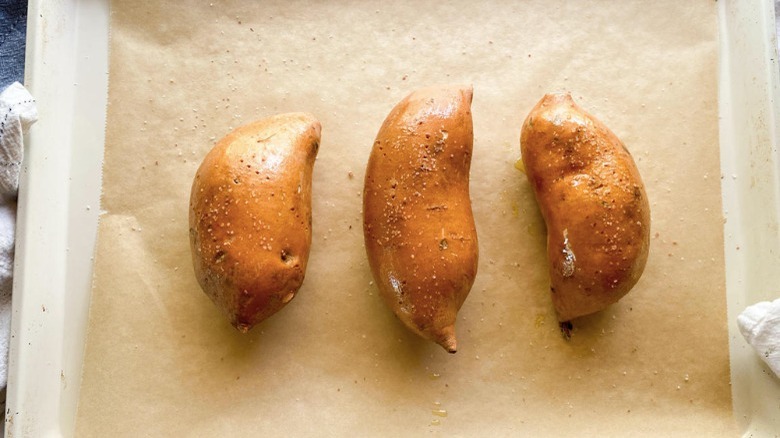 Miriam Hahn/Mashed
Place the sweet potatoes on a parchment paper-lined baking sheet. Bake in a 400 F preheated oven for 45 to 55 minutes. "The trick to getting the insides of a baked sweet potato perfectly fluffy is really just the cook time," Hahn explains. "Sweet potatoes vary in size so much so you really have to keep checking to make sure they are fully soft in the center." She suggests squeezing the cooked potato (with a pot holder, as it'll be hot) and, if it's very soft, then you'll know it's ready to go. Otherwise, you may need to tack on additional time in the oven if the sweet potatoes aren't yet soft.
Once the potatoes are thoroughly cooked, the only thing left to do is slice them open and serve as desired. Keep it simple with some butter and a sprinkle of salt, or get creative with herbs, dressings, and other delicious toppings.
Baked Sweet Potatoes Recipe
These baked sweet potatoes are simple and classic, and they make for the perfect side dish.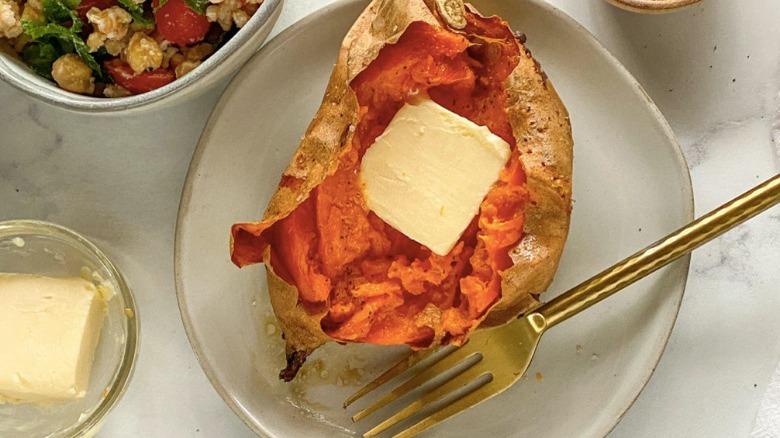 Ingredients
3 medium sweet potatoes
1 tablespoon of avocado oil
¼ teaspoon coarse sea salt
Directions
Preheat the oven to 400 F.
Wash the sweet potatoes and dry them with a paper towel or clean tea towel.
Poke each sweet potato 6 to 8 times with a fork.
Using a pastry brush, coat all sides of each sweet potato with oil and sprinkle with salt.
Line a sheet pan with parchment paper and place the sweet potatoes in the center.
Bake for 45 to 55 minutes. Test with a knife or fork in the center to see if glides in easily.
Let the potatoes cool for 10 minutes, then split open and serve.
Nutrition
| | |
| --- | --- |
| Calories per Serving | 153 |
| Total Fat | 4.7 g |
| Saturated Fat | 0.6 g |
| Trans Fat | 0.0 |
| Cholesterol | 0.0 mg |
| | |
| --- | --- |
| Total Carbohydrates | 26.2 g |
| Dietary Fiber | 3.9 g |
| Total Sugars | 5.4 g |
| Sodium | 228.3 mg |
| Protein | 2.0 g |