Hearty Fall Salad With Roasted Butternut Squash Recipe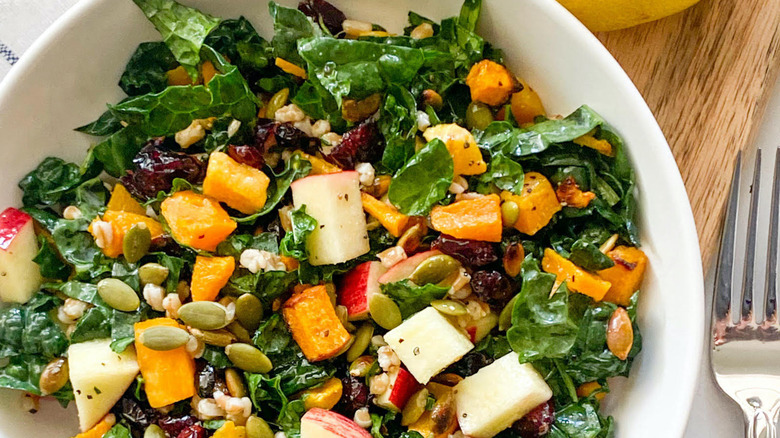 Miriam Hahn/Mashed
Summer is definitely the right time of year to use all of your produce to make refreshing salads that complement the hot temperatures. However, there are plenty of salads that are ideal to enjoy as the weather starts to cool down. Miriam Hahn, a wellness coach and owner of YouCare-SelfCare, is passionate about sharing ways to make healthy living a priority. This fall salad is colorful, nutritious, and packed with flavor. "My favorite thing about this salad is it's flavorful combination of fall flavors," says Hahn. 
You certainly won't feel like you're missing out with this dish which, as Hahn remarks, "is a great side salad for Thanksgiving!" But you don't have to wait for a holiday to cook this salad. It's an uncomplicated option if you're hosting. Says Hahn, "I also love how easy this recipe is especially if you buy pre-cut squash." 
Hahn also has ways to make this dish more versatile depending on the ingredients you have in your pantry, so you really can make it any time.
Gather the ingredients for this hearty fall salad with butternut squash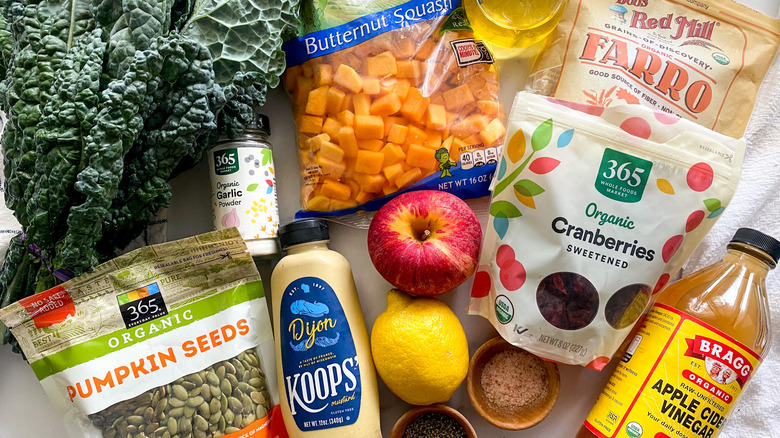 Miriam Hahn/Mashed
This recipe is brimming with fall flavors perfect for the season. For starters, Hahn uses butternut squash to add some heartiness and sweet earthy flavors. To simplify the recipe, she opts for packaged pre-cut squash, but you can prepare the gourd yourself if you prefer. Adding some cooking spray to the squash helps it roast thoroughly, but a drizzle of oil will also do the trick. 
Next, Hahn incorporates some dinosaur kale (aka Tuscan kale) into the salad for a touch of green. She notes, "You can substitute curly kale," although she mentions, "I do think the dinosaur [kale] is the best choice here." Hahn massages lemon juice, salt, and pepper into the kale, which helps soften the leaf's tough fibers.
Hahn keeps the dressing simple yet a few key elements add a burst of flavor — oil, apple cider vinegar, Dijon mustard, and garlic powder are all whisked together. The Dijon mustard adds a bit of spice and a pinch of garlic powder brings some complexity to the salad. She also adds toasted pumpkin seeds for a nutty crunch. "You can use any type of nut or seed in this salad," she says. An apple adds a juicy crunch and dried cranberries, cherries, or raisins add a chewy texture. Finally, Hahn includes some cooked farro into the salad, but says other grains work, noting, "I often make it with rice."  
Season and roast the cubed butternut squash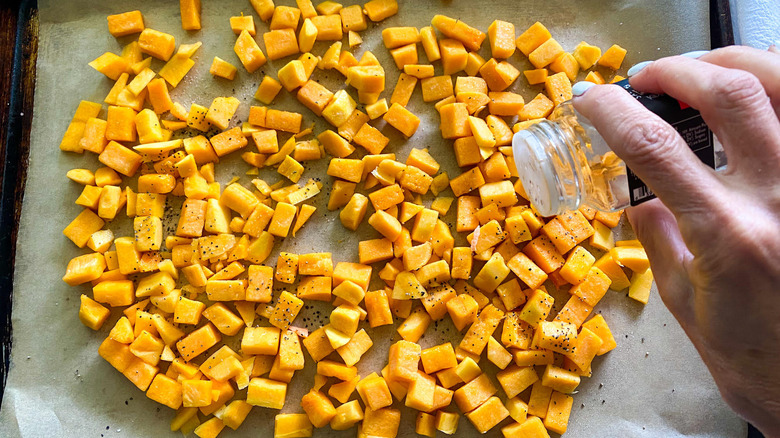 Miriam Hahn/Mashed
Begin by preheating your oven to 375 F and lining a baking sheet with parchment paper. Next, evenly spread the butternut squash across the surface of the baking sheet, avoiding too much overlap so that all of the pieces will roast evenly. Then, spray the squash with cooking spray or, alternatively, drizzle some olive oil evenly over the top. Finally, sprinkle ¼ teaspoon each of salt and black pepper across the squash.
Once your oven has preheated, transfer the squash to the oven and bake for 20 minutes, or until squash is dark to golden brown in color and fork tender. Remove the squash from the oven when it's done and set aside.
Massage the kale leaves with lemon and salt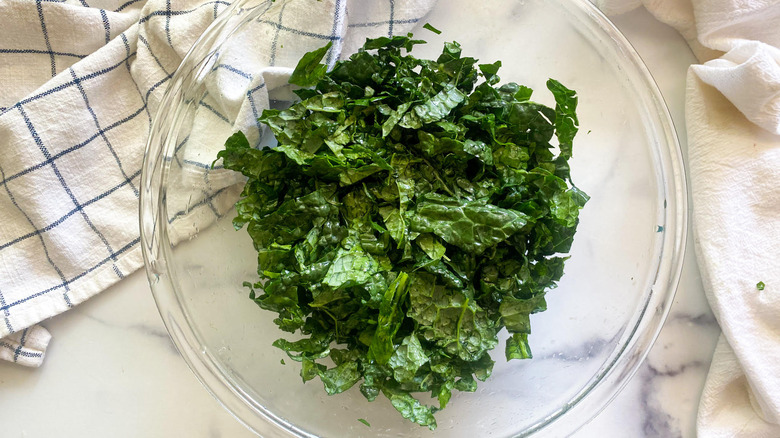 Miriam Hahn/Mashed
Next, take the kale and strip the leaves away from the stems using your hands or a knife. Slice the leafy greens into thin strips and transfer them to a large bowl. Squeeze the lemon juice on top of the kale and sprinkle it with ¼ teaspoon of salt. Massage the lemon juice and salt into the kale leaves with your hands for several minutes. As the kale absorbs the juice and becomes more tender, it will also reduce in size.
Prepared the salad dressing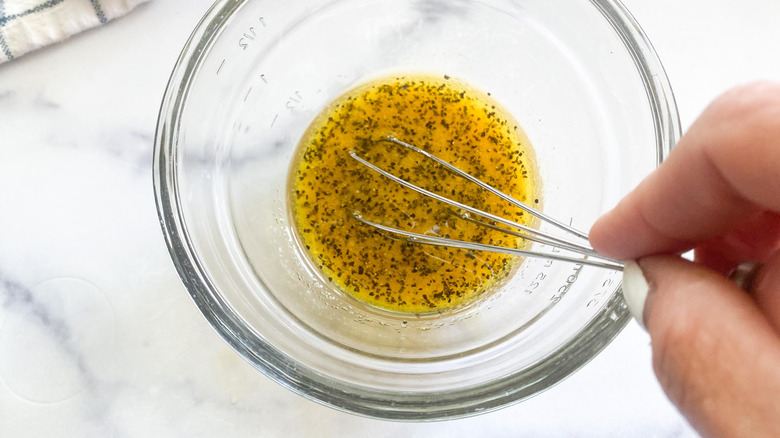 Miriam Hahn/Mashed
Now, it's time to whip up a super simple yet tasty dressing that will bring this salad to next-level goodness. Set out a small bowl, and pour in the oil, apple cider vinegar, Dijon mustard, ½ teaspoon of salt, ¼ teaspoon of black pepper, and the garlic powder. Whisk the ingredients together until the mixture is smooth and properly combined. Set aside until you are ready to dress the salad, and move on to the next step.
Toast the pumpkin seeds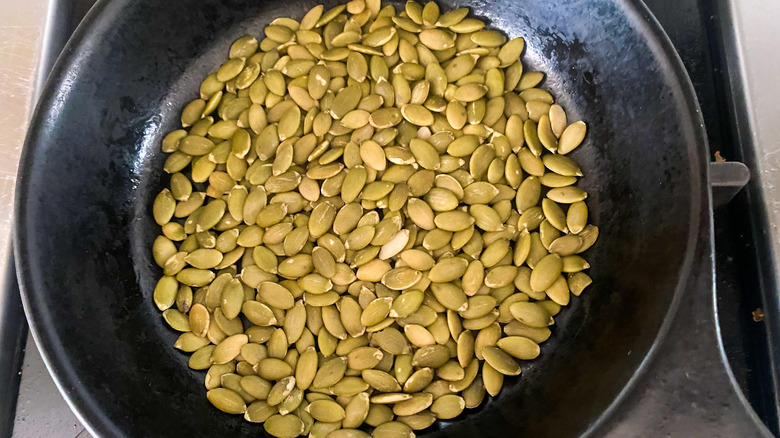 Miriam Hahn/Mashed
Although you can buy pumpkin seeds that are already toasted, doing it yourself really makes a difference. Place a small pan on the stovetop on medium heat and add the pumpkin seeds. Hahn indicates that it isn't necessary to add oil to the pan. Cook the seeds for three minutes until you hear a snapping noise as they start to pop. When the seeds look toasted and slightly browned, you can remove the pan from the heat. 
Combine the ingredients and serve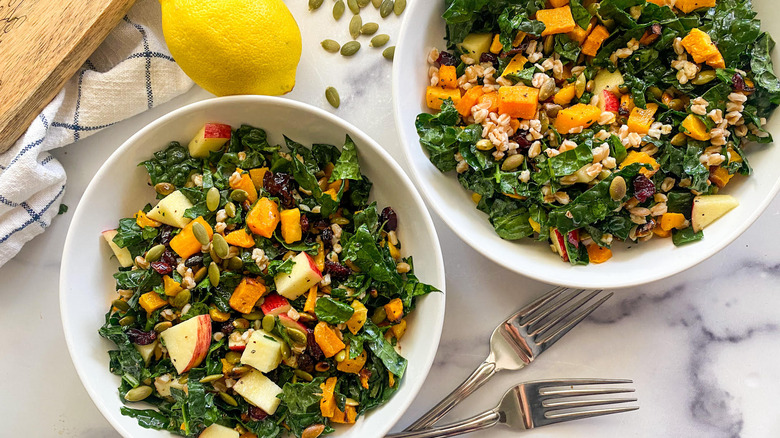 Miriam Hahn/Mashed
Add the cooked butternut squash, diced apple, dried cranberries, toasted pumpkin seeds, cooked farro, and salad dressing into the bowl with the kale. Mix everything together, evenly distributing the various ingredients for the perfect balance. Serve this delicious fall salad with roasted butternut squash for lunch or dinner, or whenever you need a nourishing boost. Hahn notes, "I usually serve this salad with a hearty soup like a fall chili or a lentil soup." If you want to bulk up the salad with some protein, she says that "you can easily add in some cooked chicken, salmon, or white beans to make it more of a meal on its own."
Although Hahn suggests enjoying this salad at its freshest right after dressing it, she points out that, "because we are using kale here, which holds up so well, leftovers the next day are great." As for the other ingredients, she says, "Because we have used lemon, the apples don't turn brown." Once you get a taste of this fall salad, chances are, you won't have too many leftovers!
Hearty Fall Salad With Roasted Butternut Squash Recipe
You won't miss summer with this salad brimming with fall flavors. Roasted butternut squash and farro make this a filling meal you can enjoy any time of day.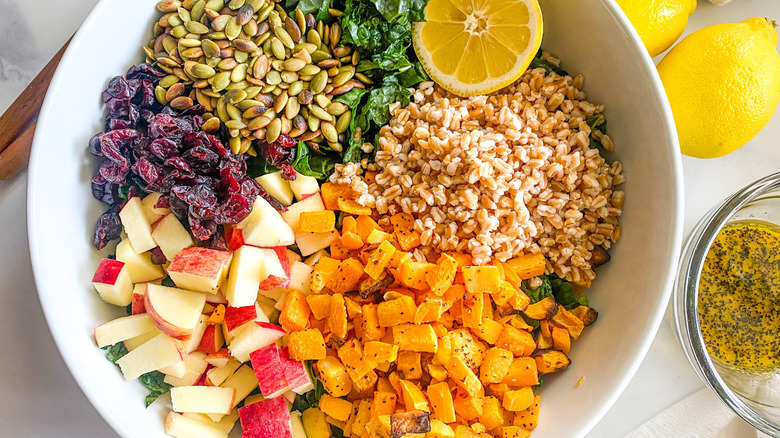 Ingredients
1 bag (16-ounce) pre-cut butternut squash
1 bunch dinosaur kale (aka Tuscan kale)
1 lemon, juiced
1 teaspoon salt, divided
½ teaspoon pepper, divided
2 tablespoons oil, plus extra for drizzling squash
3 tablespoons apple cider vinegar
½ teaspoon Dijon mustard
½ teaspoon garlic powder
½ cup pumpkin seeds, toasted
1 large apple, diced
½ cup dried cranberries or dried cherries
1 cup farro, cooked
Directions
Preheat the oven to 375 F and line a baking sheet with parchment paper.
Spread out the squash across the baking sheet.
Spray the squash with cooking spray and sprinkle on ¼ teaspoon each of salt and pepper.
Bake squash for 20 minutes, or until the squash is golden brown and fork tender.
Next, strip the stems from the kale, cut the leaves into thin strips, and add them to a large bowl.
Squeeze lemon juice over kale and sprinkle on ¼ teaspoon of salt.
With your hands, massage the kale for several minutes until it has reduced in size.
In a small bowl, stir together the oil, vinegar, Dijon mustard, remaining ½ teaspoon salt, ¼ teaspoon pepper, and garlic powder and set the mixture aside.
Add the pumpkin seeds to a small pan on the stovetop and cook on medium heat for three minutes until you hear a snapping noise and the seeds look toasted.
Toss the cooked squash, diced apple, dried cranberries, pumpkin seeds, farro, and dressing together with the kale.
The salad is ready to serve.
Nutrition
| | |
| --- | --- |
| Calories per Serving | 314 |
| Total Fat | 9.3 g |
| Saturated Fat | 1.5 g |
| Trans Fat | 0.0 g |
| Cholesterol | 0.0 mg |
| | |
| --- | --- |
| Total Carbohydrates | 54.8 g |
| Dietary Fiber | 9.8 g |
| Total Sugars | 19.9 g |
| Sodium | 617.8 mg |
| Protein | 11.3 g |