Creamy Mushroom Barley Soup Recipe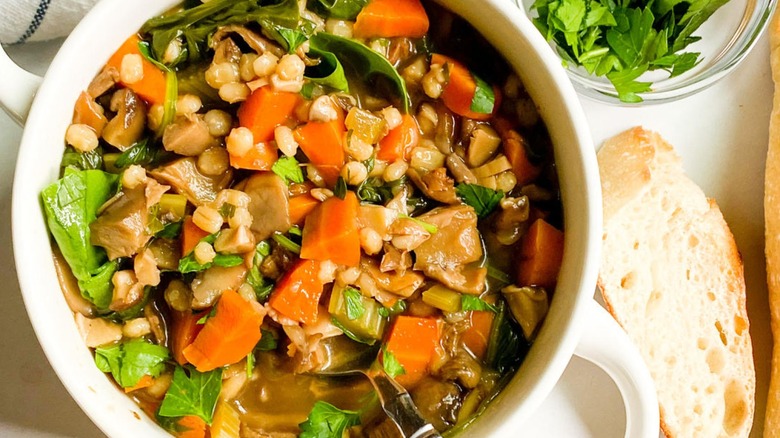 Miriam Hahn/Mashed
There are plenty of days where you just know nothing's going to hit the spot better than a piping hot bowl of creamy soup. But here's the thing: When you're trying to make all of those little decisions that are going to ultimately add up and lead to a healthier you, adding more cream to your meals isn't really on the menu.
That's where a recipe like Miriam Hahn's creamy mushroom barley soup comes in. Hahn is a wellness coach and recipe developer with a focus on plant-based goodness that's going to help you live — and look — your best, and she also knows how important a filling, comforting meal can be. That's why she came up with this delicious recipe that's everything you want in a hot and hearty soup, and here's the best news of all: It's super friendly to those members of your family who might wrinkle their noses at the idea of eating something with mushrooms.
Mushrooms can be polarizing, but Hahn says, "Cooked mushrooms are super healthy for you. Mushrooms contain several cancer-fighting compounds, such as a type of fiber called beta-glucan. They are loaded with vitamins and minerals, and they're great for the immune system."
Bottom line? Working more mushrooms into your family's diet is definitely one of those healthy choices, and this recipe is a great way to do exactly that.
Gather your ingredients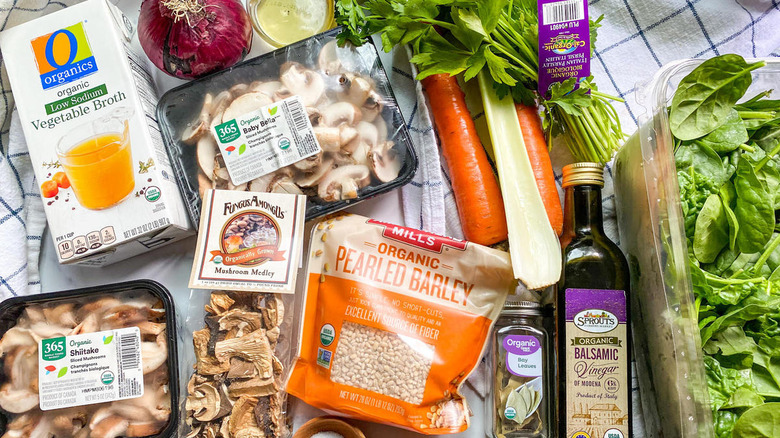 Miriam Hahn/Mashed
The best place to start is always making sure you have all your ducks in a row, so to speak — and for this recipe, that involves mushrooms! Hahn uses shiitake mushrooms, either bella or cremini mushrooms, and a package of dried porcini or a mushroom mix.
In addition, you'll need the cooking oil of your choice, red onion, carrots, celery, vegetable (or chicken) broth, pearled barley, a bay leaf, balsamic vinegar, Italian parsley, spinach, and salt.
Hahn says there's one optional ingredient here, and that's cream. You can include it at the end, but she says, "Personally, I like it best with just the creaminess of the mushrooms. They really make this soup silky, and it is so delicious. When I am looking for a heavier soup, I add the cream. To keep it dairy-free, for those that need it, you can even use canned, unsweetened coconut milk."
Soak the dried mushrooms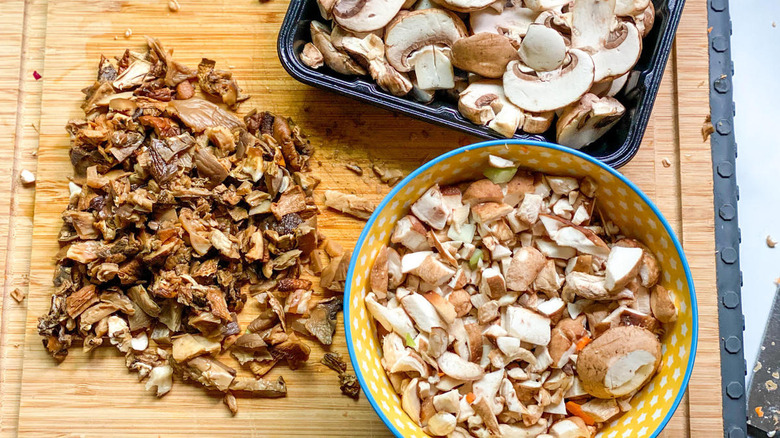 Miriam Hahn/Mashed
The first step in making the soup is one that you should plan to do ahead of time, or even while you're gathering the rest of your ingredients. Take your package of dried mushrooms and soak them in one cup of water for around 30 minutes.
It's an extra step, sure, but Hahn says it makes all the difference. "Dried mushrooms create such a mix of flavors, and all combined, the depth of flavor is incredible!"
Once your mushrooms have soaked, drain them, but be sure to keep the liquid they've been soaking in. Set that aside. Hahn says you'll use that later and adds that it's just like adding a mushroom broth to the soup along with the vegetable or chicken broth you've got lined up. Who'd have thought, right?
Chop your mushrooms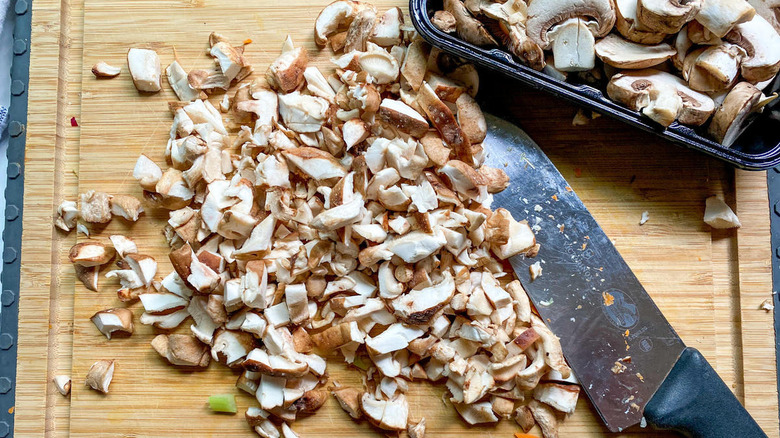 Miriam Hahn/Mashed
Hahn suggests chopping the dried mushrooms, slicing the bella or cremini mushrooms, and chopping the shiitake, but here's the thing: The texture of mushrooms can be an absolute deal breaker for some people, and if that sounds like any mushroom skeptics in your family, she has some invaluable advice.
"I like to chop the shiitake and dried mushrooms. Those can be pretty firm even after cooking — the other types will get softer — so chopping as opposed to slicing will help anyone who is concerned about texture."
Still not convinced? She adds: "You can dice those very fine if it is still a problem, and you can even dice the bella or cremini also to help with that issue." That way, you're getting all of the flavor — and benefits — while keeping even the pickiest of eaters happy.
Cook the onions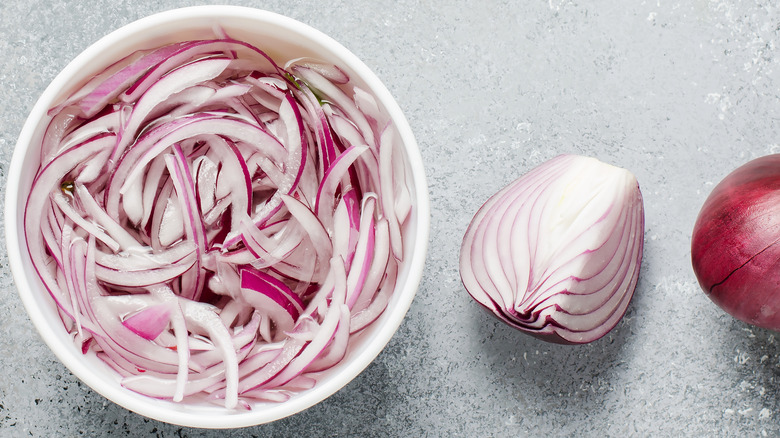 Shutterstock
This step will be a pretty familiar one, as a number of recipes include it: Add a tablespoon of oil to your soup pot, along with your chopped red onion. Cook on medium heat for around five minutes, and the onions should begin to get translucent. Make sure not to turn the heat on too high here, as you're not trying to get these onions brown and crispy.
It's time to add the mushrooms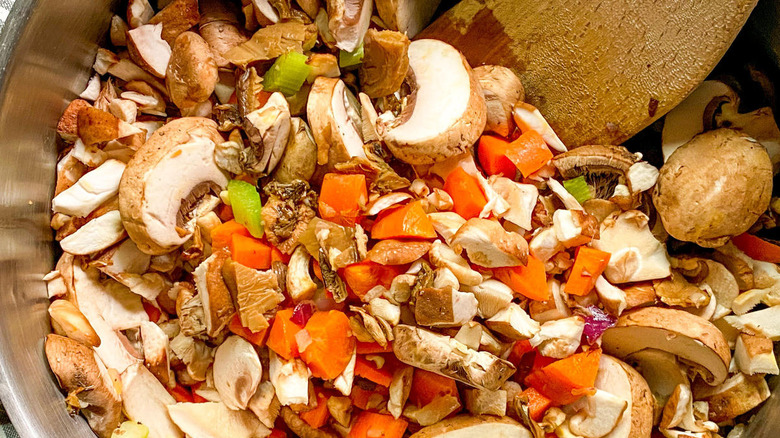 Miriam Hahn/Mashed
Next, add all three types of mushrooms along with the carrots and celery. Cook for eight minutes, and continue stirring to prevent anything from sticking or burning.
There's actually a bit of science behind what you're doing here, and it has to do with making sure you're not going end up with mushrooms that are, shall we say, texturally challenging. Mushrooms actually contain a decent amount of liquid, and cooking it all out over a high heat is the key to making them not just taste but feel delicious too. If you're not sure they've been cooked long enough, let them go just a few more minutes. 
Here's where everything else gets added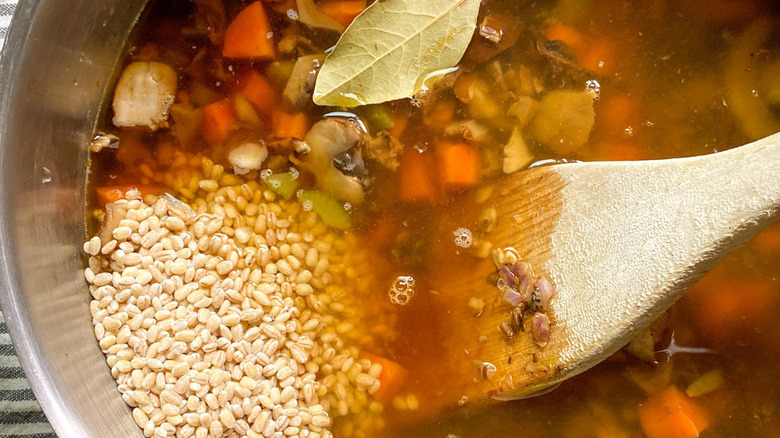 Miriam Hahn/Mashed
Once your mushrooms and veg have gotten a head start on cooking, it's time to add some more — but not all — of the ingredients you have left.
At this stage, add your barley, bay leaf, whichever type of broth you've chosen to use, and that mushroom broth you saved from soaking the dried mushrooms. By now, it's probably starting to smell pretty good already, but you're going to have to have patience: The next thing you'll do is bring everything to a boil, then turn the heat down and let it simmer for an hour.
Let's talk barley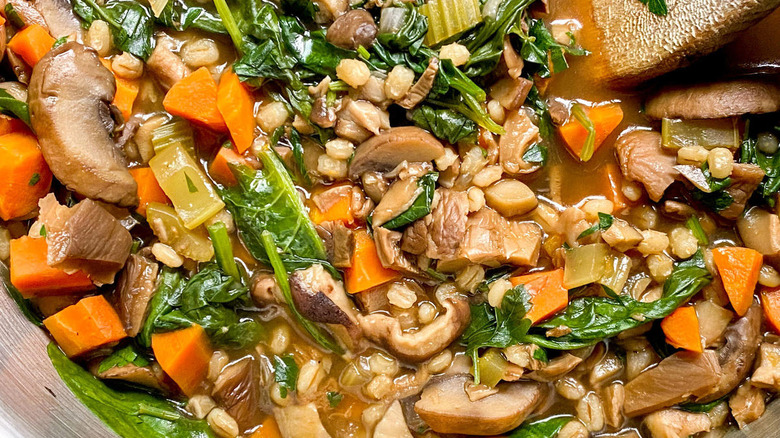 Miriam Hahn/Mashed
This hour-long cooking time is important, says Hahn, and that's why it's also important to make sure you're adding pearled barley instead of the quick-cooking version.
She says, "You want to cook the soup for an hour to blend all the flavors, and if you add quick-cooking barley, it will get overcooked. As an alternative, if that's all you have, you can simmer the soup (without the barley), and just add the quick-cooking barley in the last 10 minutes."
When it comes to choices, though, it's the pearled that she prefers. Why? "It is closer to its true form, making it less processed. I love how it tastes a little chewier, and it feels heartier."
Add the remaining ingredients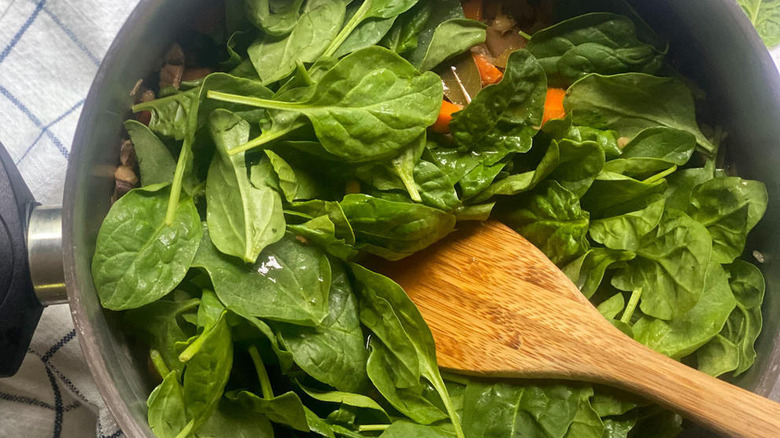 Miriam Hahn/Mashed
Once your soup has gone through the hour-long simmer, it's time to add everything that's left. Before you do, though, you should make sure you remove that whole bay leaf that's floating around in there. While bay leaves are considered to be good luck, no one's really keen on getting one in their dish!
Then, add the vinegar, parsley, spinach, and salt. Give the entire thing a good stir to not only combine the remaining ingredients but also to wilt all the greens. If you're planning on adding cream (or coconut milk), this is the time to do that too. Dish it up, and it's ready to serve.
Keep those leftovers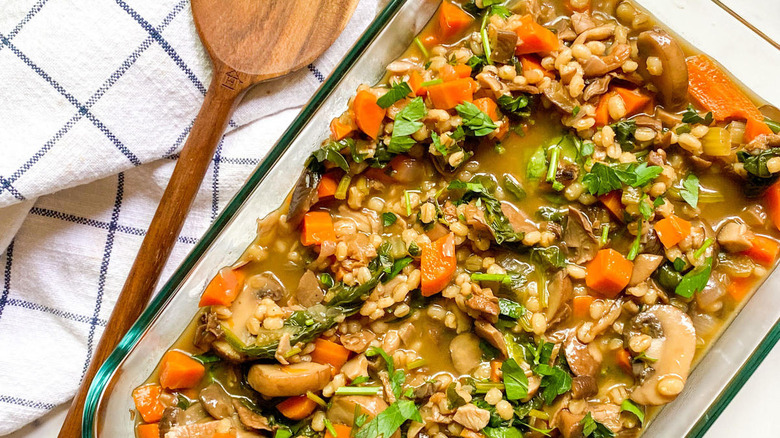 Miriam Hahn/Mashed
One of the great things about this soup is that not only is it hearty enough for a dinner (especially when you serve a few of our copycat Cracker Barrel biscuits along with it), but a smaller portion makes a great, filling lunch that will definitely keep you going until dinner time. On the off chance there are any leftovers from the first meal, Hahn says this soup can be stored in the fridge for up to five days. Just don't forget to keep it in a tightly sealed container, and it'll be just as delicious as it was on the first day. 
Canned soup for lunch? No, thanks!
Creamy Mushroom Barley Soup Recipe
Working more mushrooms into your family's diet is definitely one of those healthy choices, and this recipe is a great way to do exactly that.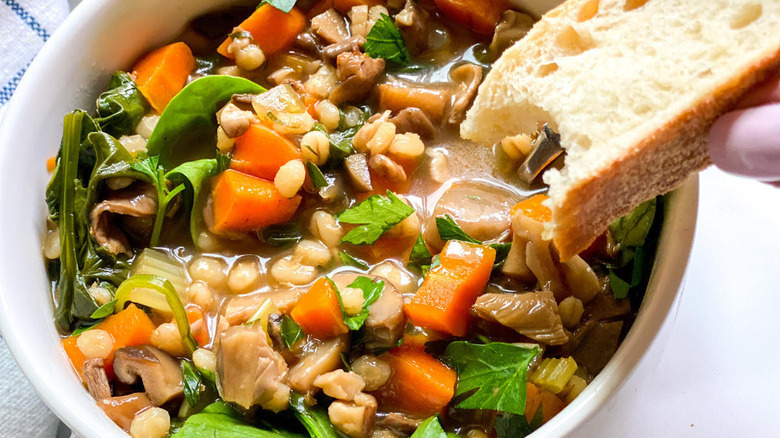 Ingredients
1 package (1 ounce) dried mushroom mix or dried porcini mushrooms
1 cup water
1 tablespoon oil
½ red onion, chopped
1 carton (8 ounces) bella or cremini mushrooms, sliced
1 carton (6 ounces) shiitake mushrooms, chopped
2 carrots, diced
1 celery rib, diced
4 cups vegetable broth (or chicken broth)
½ cup pearled barley
1 bay leaf
2 tablespoons balsamic vinegar
½ cup Italian parsley, chopped
4 cup spinach (large stems removed)
1 teaspoon salt
Optional Ingredients
½ cup cream or unsweetened coconut milk
Directions
Soak the dried mushrooms in 1 cup water for 30 minutes.
Drain them over a bowl to keep the liquid they have been soaking in.
Chop the soaked mushrooms.
Heat the oil in a soup pot, then add the onions. Cook on medium heat for 5 minutes.
Now add all 3 types of mushrooms, carrots, and celery, and cook for 8 minutes.
Add the reserved dried mushroom cooking liquid, broth, barley, and bay leaf. Bring to a boil and then simmer for 1 hour. Remove bay leaf.
Add vinegar, parsley, spinach, salt, and optional cream. (The soup will be creamy with the silkiness of the mushrooms and barley, so the cream is optional.) Stir to wilt the greens.
Ready to serve!
Nutrition
| | |
| --- | --- |
| Calories per Serving | 125 |
| Total Fat | 3.0 g |
| Saturated Fat | 0.3 g |
| Trans Fat | 0.0 g |
| Cholesterol | 0.0 mg |
| | |
| --- | --- |
| Total Carbohydrates | 22.3 g |
| Dietary Fiber | 5.2 g |
| Total Sugars | 4.0 g |
| Sodium | 459.1 mg |
| Protein | 4.4 g |