The Best Sous Vide Machines In 2022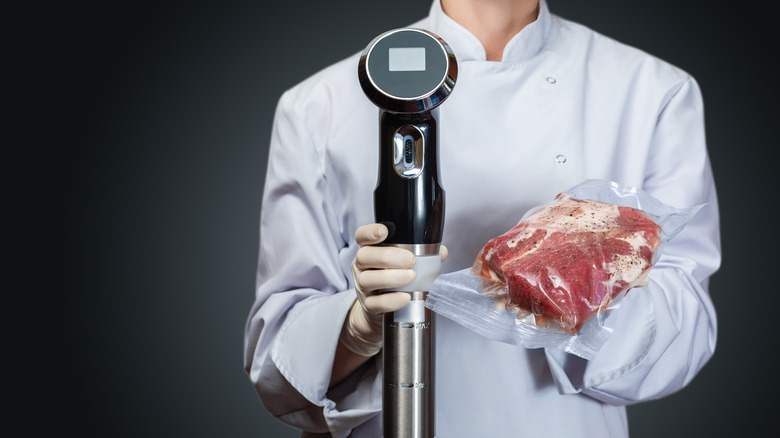 Natali _ Mis/Shutterstock
We may receive a commission on purchases made from links.
Sous vide is a method of cooking that involves vacuum sealing food and submerging it in warm water at a controlled temperature (via Anova). At first glance, this technique may seem complicated and intimidating, but the reality is that it actually simplifies the cooking process considerably. All you need to do is set the temperature on your sous vide machine and your food will be cooked perfectly. Professional chefs have been using this technique for a long time, but now that sous vide machines are more affordable and widely available to the public, home cooks are discovering the benefits of this method. If you love cooking at home but haven't experienced the delicious magic of sous vide, then it's about time to change that.
When you're shopping for a sous vide machine that will best suit your needs, there are plenty of features to consider. Sous vide machines come in two main categories: immersion circulators and water ovens. As per Anova, an immersion circulator is a sleek waterproof wand that heats the water up in a separate cooking container. A water oven is a large covered box that doesn't require a separate cooking vessel, since the unit is entirely self-contained. The main difference between these two options is how water is managed. Namely, a water oven does not circulate the fluid, while an immersion circulator does. Of course, there are other factors to weight, such as affordability and the space a machine takes up. Either way, you have great options.
How we selected products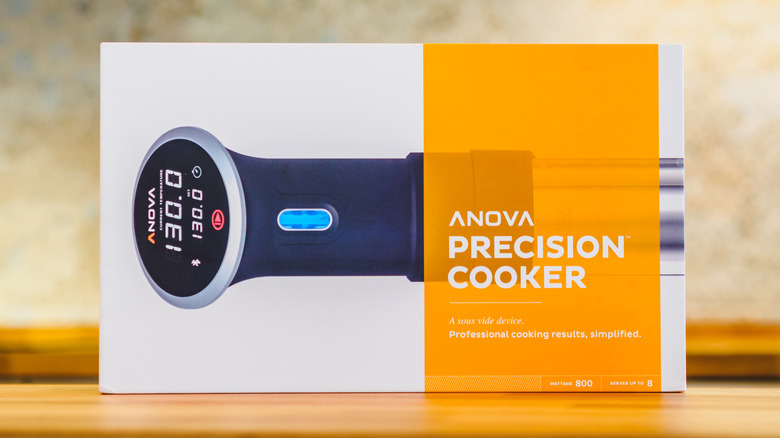 Pere Rubi/Shutterstock
A number of factors informed our selection process. Of course, one of the most important considerations was the level of quality each sous vide machine offers, which was determined through a careful and thorough analysis of user reviews and customer feedback. Rest assured that after meticulous research, we selected what are widely considered to be the best products available.
Another top priority throughout the curation process was affordability. After all, what good is a product if you can't actually buy it? We understand that everyone is working with a different budget, so we took care to provide options that span the spectrum of price. This means that here you'll find everything from basic sous vide immersion circulators for home cooks to luxurious, high-tech models designed for more serious foodies. Regardless of your experience in the kitchen or the size of your budget, you'll be able to find a high-quality sous vide machine on this list that suits your needs. Here are the best sous vide machines of 2022.
Best overall sous vide machine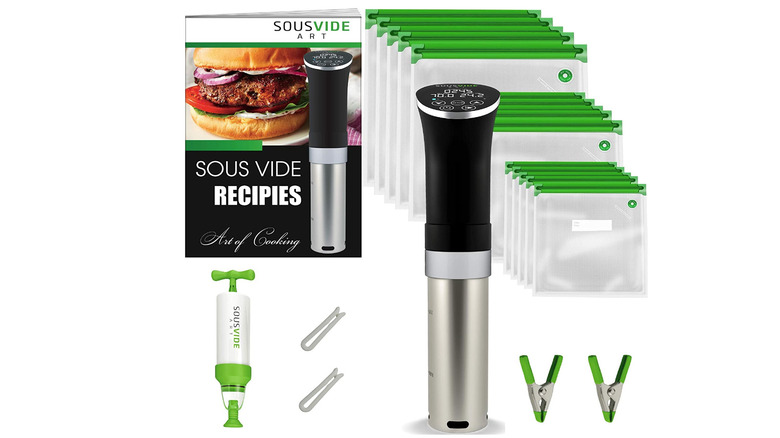 Sousvide Art
Let's cut right to the chase — this is one of the best deals out there right now for sous vide machines. If you're looking for a device that checks all the boxes, then this immersion circulator fits the bill. This has an easy-to-use LED touch panel that allows you to adjust cook time and temperature, a removable tube that's a breeze to clean (and can also attach to just about any pot), and intuitive built-in controls to help you get started cooking right away.
To sweeten the pot, this sous vide immersion circulator package also comes with 15 BPA-free bags, clips, clamps, a vacuum seal hand pump, and a recipe book for some guidance and inspiration. With over 4,000 reviews that average out to four-and-a-half stars, it's clear that just about everyone agrees this sous vide machine is well worth the purchase. 
You can buy the Sousvide Art cooker kit on Amazon for $100.
Best budget sous vide machine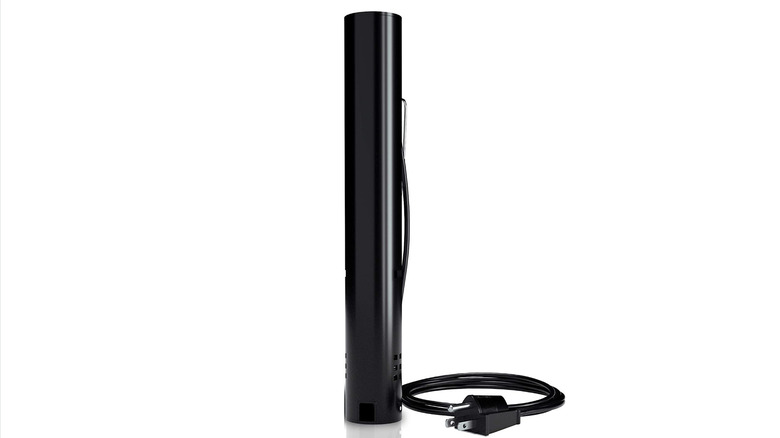 Dorini
The truth is that you don't have to break the bank to score a new sous vide machine. In fact, there is an abundance of affordable options on the market suited to even modest budgets. This Dorini sous vide immersion circulator is definitely one of the best bets for those who aren't willing to drop a ton of money on a new kitchen gadget.
This sous vide immersion circulator offers a high-quality design at just a fraction of the price of more expensive models. Made with durable stainless steel, this sleek immersion circulator remains lightweight at just over two pounds. It's also compact enough to be easily stored in even the smallest kitchen spaces. Even though this immersion blender can come up to heat remarkably fast, it's also impressively quiet during operation. And, given that it comes in at only 40 bucks, there's no doubt that this machine is a great deal that's easy on the wallet.
Purchase the Dorini immersion circulator sous vide machine on Amazon for only $40.
Best high-tech sous vide machine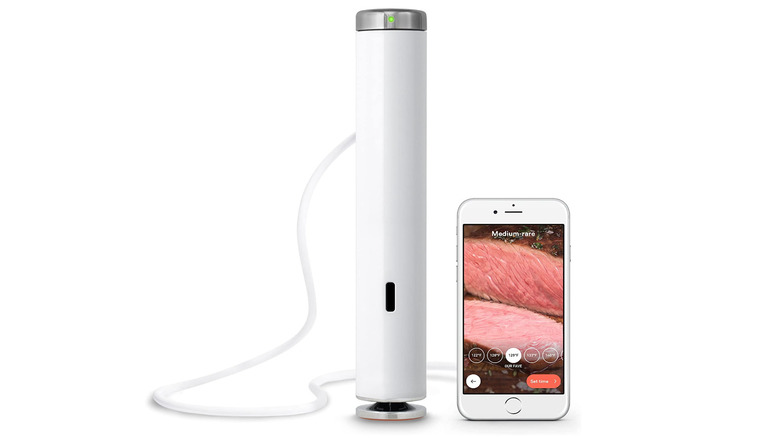 Breville
For those of you looking for a sous vide machine the comes with all of the high-tech bells and whistles, this Breville immersion circulator should do the trick. Though it's less than 11 inches tall and weighs just over a pound, this sous vide machine still packs a punch. With an ultra-fast heating capacity, it's also built to last, given that it's constructed with durable, corrosion-resistant stainless steel. But it's really the high-tech features on this sous vide machine that help it stand out.
Not only is this immersion circulator wi-fi ready and Bluetooth compatible, but it can also be controlled through an Amazon Alexa smart speaker. Picture this: You're relaxing on the sofa with a nice drink, watching your favorite show, monitoring your dish while it cooks perfectly to temperature through your phone. Need to make an adjustment? No need to get up — just make the temperature change through you phone. What's more, because this model is compatible with Amazon Alexa, you can even just use the voice command feature. It doesn't get much better than relaxing on the couch while robots help you finish cooking dinner, does it?
You can buy the Breville joule sous vide machine on Amazon for $250.
Best sous vide starter kit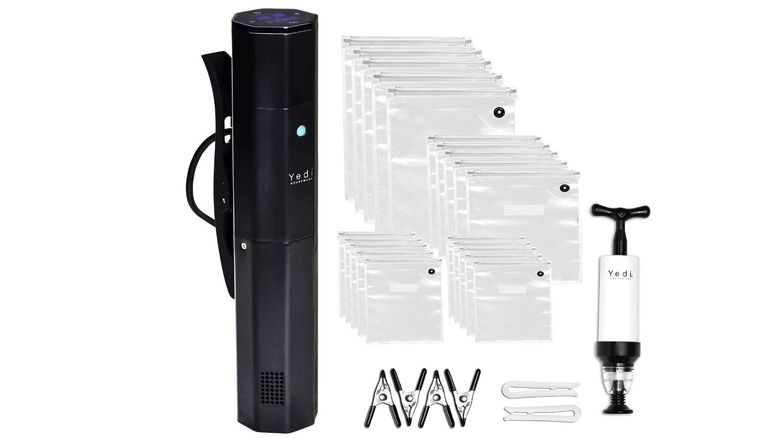 Yedi
If you're looking to get started using the sous vide cooking technique, it's can be much more convenient to pick up a bundle that has everything you need. Rather than having to purchase each item separately, buying everything together saves time and is just might be more cost-effective. This deluxe sous vide starter kit from Yedi will hook you up with a collection of high-quality gear that's sure to get you cooking top notch meals in no time.
This immersion circulator comes with a built-in clamp, a digital interface with bright lighting for maximum visibility, and a unique octagonal shape that promotes even heat distribution. This starter bundle also offers 20 reusable, BPA-free bags for vacuum-sealing food, as well as four container clips, two sous vide vacuum bag sealing clips, a recipe book, and a cheat sheet cooking timetable. 
With over 1,000 reviews that average out to a nearly perfect score on Amazon, it's clear that this package has left many customers very happy with their purchase. This deal is a real bargain that sets you up with everything you need to enter the wonderful world of sous vide cooking. Set this all up in one of your pots and you're good to go!
Purchase the Yedi sous vide starter kit on Amazon for $99.
Best water oven sous vide machine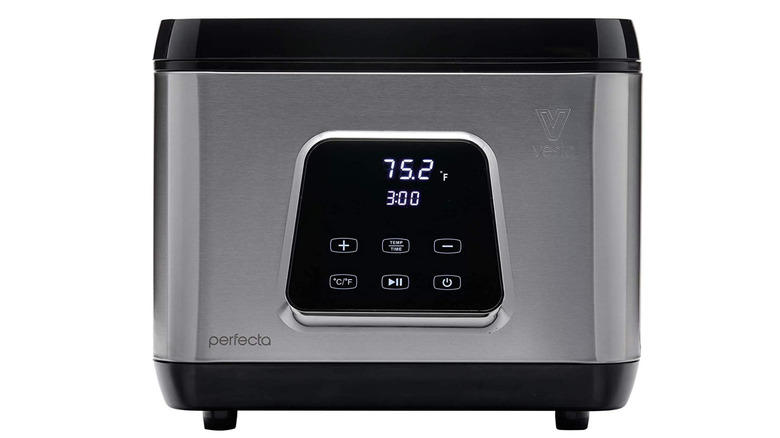 Vesta
There are some major advantages to having a water oven instead of an immersion circulator. For one, there's no need for a separate pot, since water ovens are totally self-contained. With a water oven, you also don't need to bother with any clamping of equipment to the side of a pot. Instead, all you have to do is drop your vacuum-sealed bag into the water and let your sous vide machine do the rest. While it's true that water ovens take up some real estate (about as much counter space as a toaster oven or a microwave), they also reward you with a simplified cooking process. 
This Vesta water oven comes with some other features that take convenience to a whole new level. With an easy-to-use touch panel and wi-fi capability, you can control the settings of this water oven through an app on your phone. The app allows you to adjust settings such as temperature, while also giving you access to recipes and a helpful cooking guide. This water oven also boasts a 10-liter capacity, weighs less than 10 pounds, and has a professional-looking stainless steel exterior that will add a touch of sophistication to any kitchen. All things considered, if you're going to score yourself a new water oven sous vide machine, this one is worth every penny.
You can buy the Vesta sous vide water oven on Amazon for $349.
Best versatile sous vide machine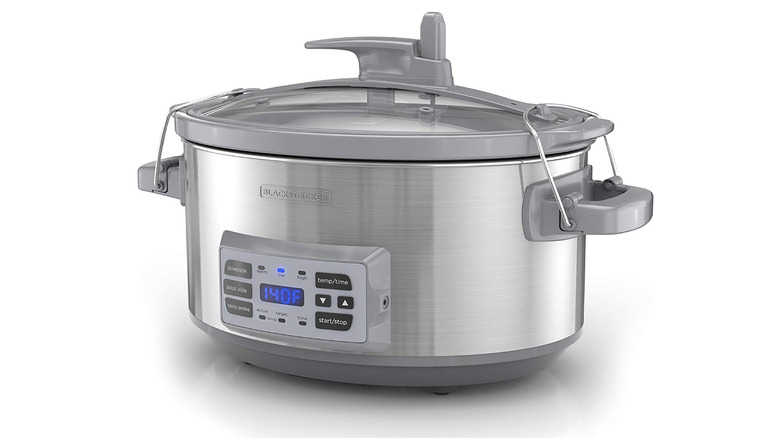 Black & Decker
It makes perfect sense for a sous vide machine to also function as a slow cooker. Both gadgets are essentially the same vessel with the same basic structure and end goal — that is, being a covered pot that can slowly cook food. This Black & Decker digital sous vide machine capitalizes on that possibility by offering a slow cooker setting to create a highly useful and versatile product that makes the most out of its design.
This sous vide machine has a temperature probe, a digital control panel that allows you to switch between sous vide and slow cooker settings, and a removable 7-quart stoneware crock pot that efficiently retains heat. It also includes an innovative sous vide rack to secure vacuum sealed bags of food while they cook. Another cool feature: this sous vide machine comes with built-in lid holders on each side of the pot, so you don't have to set the lid down and make a mess on your countertop. Whether you want to make sous vide steaks or slow cooker soups, this device can manage it. Really, the sky's the limit when you have this much versatility at your fingertips.
Purchase the Black & Decker sous vide/slow cooker machine on Amazon for $64.
Best mid-range sous vide machine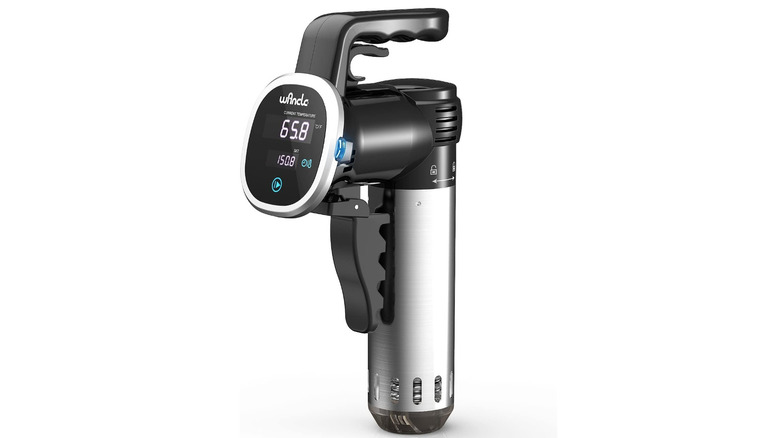 Wancle
For many savvy home cooks, it's often beneficial to look for something priced mid-range. While all of the products recommended on this list provide excellent value, the reality is that cheaper prices often equal lower quality. On the other hand, more expensive models can feel overpriced when inexpensive ones perform just as effectively and produce similar results. This immersion circulator from Wancle strikes the perfect balance between cost and quality, offering top-notch features for a reasonable price.
This immersion circulator has a stainless steel heating tube with impressively precise temperature control, a water pump that quietly and efficiently circulates water, and a digital interface control panel that's easy to see. That panel is also pretty user-friendly, with a curved screen that's angled to prevent steam buildup. You can also operate it with only one hand, while the machine itself will hit a temperature of 140 degrees in only 15 minutes. What's more, it's easily portable and comes with an ergonomic handle to maximize comfort. This immersion circulator is also a good choice for those of you who don't want to bother with an app — all of the settings and controls are easy to use and accessible right there on the device's display screen. With nearly 2,000 glowing reviews on Amazon, there's no doubt that this sous vide machine is one of the best on the market.
You can buy the Wancle sous vide cooking machine on Amazon for $90.
Best foolproof sous vide machine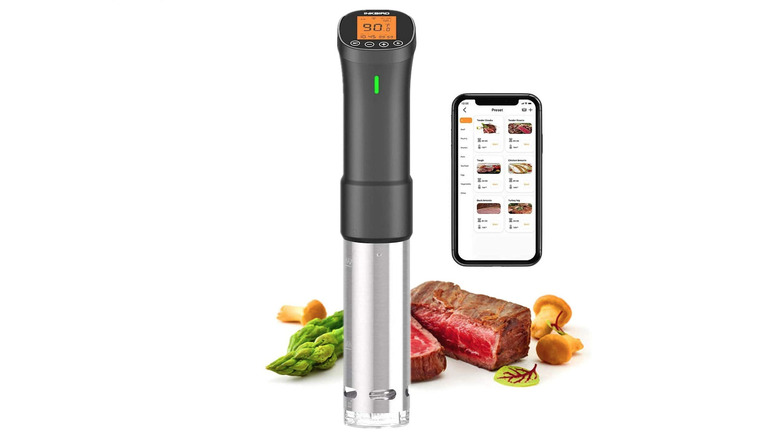 Inkbird
Mistakes happen in the kitchen, even to the best of us. But when you have an electric device submerged in water for long periods of time, you'll want to take every precaution you can to make sure nothing goes wrong. For the sake of safety, this immersion circulator from Inkbird comes with features like an alarm and a water level monitoring system that can prevent potentially dangerous mishaps during the cooking process.
One feature that sets this immersion circulator apart from the pack is the fact that, if the water level runs too low, the device will automatically shut off. The alarm will also alert you when your food has hit its target temperature to ensure that you aren't wasting any time (though one of the benefits of the sous vide process is that the temperature remains stable and it's difficult to overcook your food). It also converts your phone into a remote control through the sous vide machine's app. You can't go wrong with a top notch immersion circulator that includes both these safety features and such a reasonable price tag.
Purchase the Inkbird sous vide machine on Amazon for $88.
Best commercial grade water oven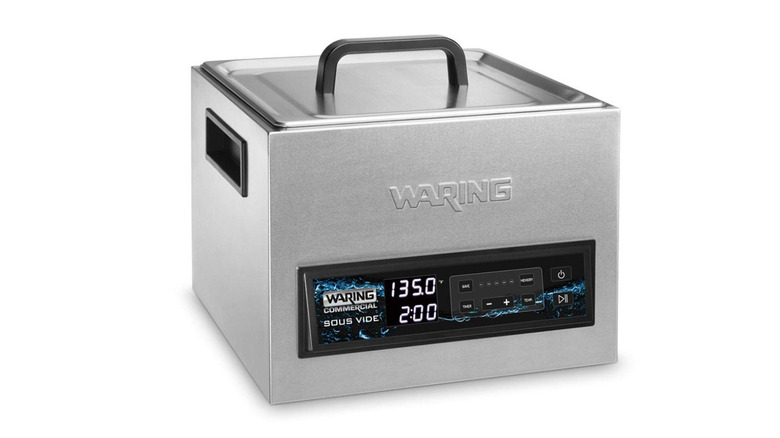 Waring
For those of you looking for a water oven with some serious capacity, then rest assured that this model by Waring should easily get the job done. With a capacity of up to 16 liters, this sous vide machine is designed to have plenty of space for larger-scale cooking applications. While it weighs in at a hefty 20 pounds, it's also made of highly durable stainless steel to ensure it will stick around for a long time.
This water oven has a few other commercial-level features, including a hose to assist with water removal, a user-friendly one-touch control system, and a timer that can be programmed to nearly 100 hours. Another reason to feel confident with your purchase: Waring has been in business for over 80 years and is one the leading producers of kitchen appliances. Powerful, sturdy, and built to last with 5 programmable settings, this Waring commercial grade water oven can help make your wildest sous vide dreams come true.
You can buy the Waring commercial grade sous vide machine on Amazon for $478.
Best immersion circulator sous vide machine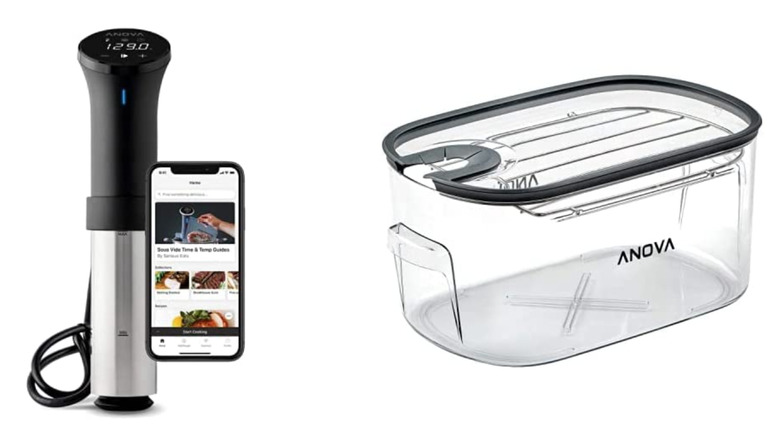 Anova
With so many immersion circulator sous vide machines on the market, how do you know which one to buy? If you're still not sure, then you're in luck. After we combed through many different models, this one from Anova rose to the top as one of the very best. One feature that makes this offer uniquely helpful is the addition of a large cooking container that's specifically designed for the accompanying immersion circulator.
The cooking container in this package is equipped with a rubber seal to properly keep in the heat. Meanwhile, the lid on the container has enough flexibility to cater to different sizes of immersion circulators, so you can use it with other sous vide machines. Even though this sous vide machine has manual controls on the device itself, it also comes with an app so you can adjust its settings from your phone. With a stellar five-star rating on Amazon after several hundred reviews, it's abundantly clear that there are plenty of satisfied customers out there who are very happy with this cooker.
Purchase the Anova sous vide machine on Amazon for $200.
Best ultra quiet immersion circulator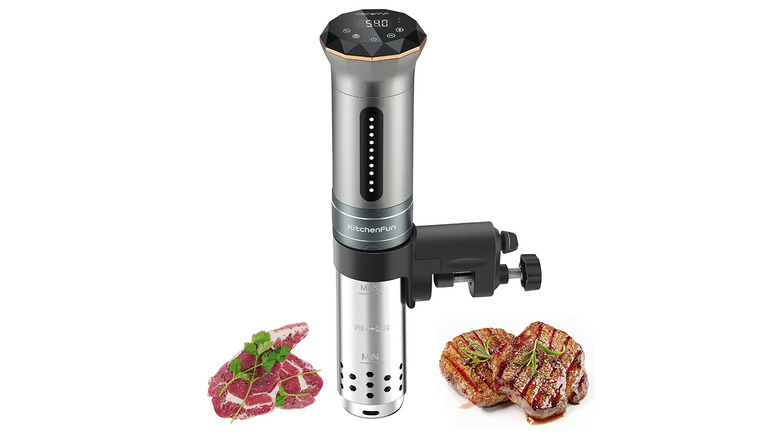 KitchenFun
No one likes a noisy kitchen, so it's important to take a product's noise-factor into consideration. The good news is that this immersion circulator from KitchenFun is designed to quietly operate with a brushless DC motor.
When this immersion circulator is running, it operates at 15.5 dB. To put that into a real-world context, that level of noise is even quieter than the sound of leaves rustling (via American Academy of Audiology). Aside from its relatively noiseless operation, this sous vide machine waterproof, made with stainless steel, and also capable of heating quickly. Not only is the digital touchscreen on this sous vide machine intuitive, it also has a modern design that's bound to add a touch of technological elegance to your kitchen. It also comes with access to an online cookbook to help spark your culinary imagination. Stylish, practical, and less audible than a whisper, this immersion circulator is one of the best on the market.
You can buy the KitchenFun sous vide machine on Amazon for $95.
Best commercial grade immersion circulator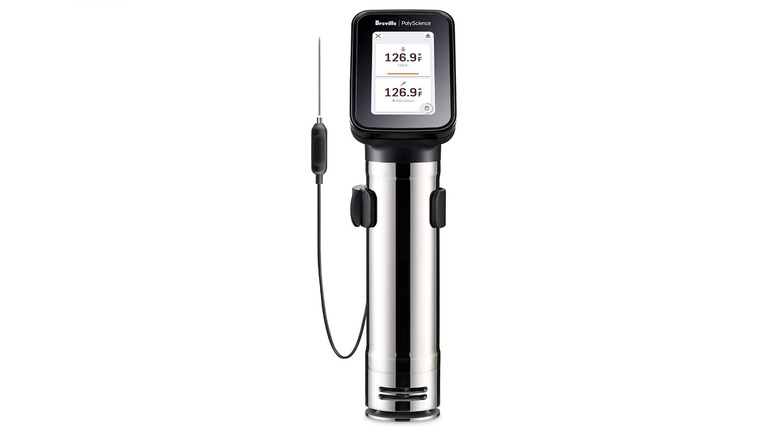 Breville
For larger-scale applications, this commercial grade immersion circulator from Breville won't let you down. With a 45-liter capacity, this sous vide machine's digital interface is also shielded with Gorilla Glass, which is so durable and scratch-resistant that it's often referred to as "unbreakable" (via Lifewire). For a more precise experience, the settings on this sous vide machine allow you to customize the cooking process by prompting you to select the type of food, its size, and your desired level of doneness.
In an especially professional touch, this immersion circulator automatically logs temperature data, which is transferred from the device itself to the PolyScience HACCP manager app. This model also comes with a built-in guidance program called the "sous vide toolbox" that streamlines the cooking process for more complex projects, such as pasteurization. Between its high-grade durability, fast heating capacity, and helpful operation system, this commercial grade immersion circulator can get the job done with maximum efficiency.
Purchase the Breville hydropro plus sous vide immersion circulator on Amazon for $600.