Slow Cooker Portuguese Bean Soup Recipe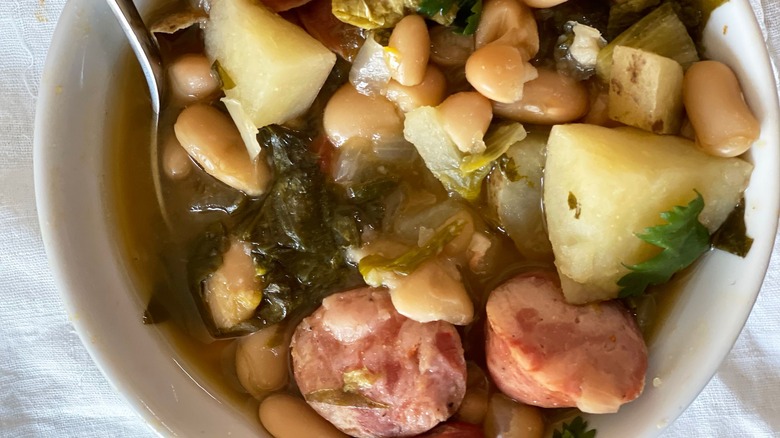 Jason Goldstein/Mashed
In the middle of winter when the frigid cold nips at you, there's nothing like soup to remove the weather's chill. Chef and recipe developer Jason Goldstein of Chop Happy, who grew up in New Jersey, fondly remembers soup as "a fun comfort food" when the world frosted over. But you don't have to wait for the snow to enjoy a good broth. This Portuguese bean soup makes a hearty meal that's wholesome and healthy.
Plus, since soup contains so much liquid, it fills you up quickly, which could mean eating fewer calories to feel satisfied. Best of all, this recipe is so easy to make, with just 10 minutes of prep time. Slow cookers act as your "personal chef," according to Goldstein, and all you need to do is put the ingredients in, set the timer, and six hours later, a hot meal is waiting for you.
This soup serves six. You can also make a vegetarian version, replacing the sausage with spinach and kale, suggested Goldstein. For a more Italian route, the recipe creator said, use spicy Italian sausage and Italian herbs.
Gather your soup ingredients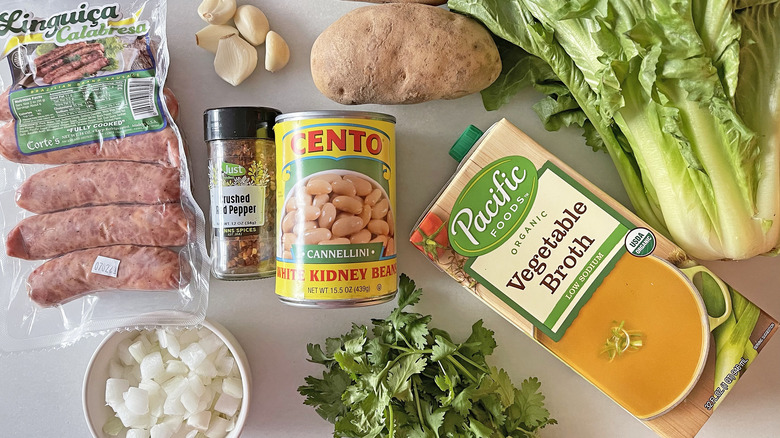 Jason Goldstein/Mashed
You can prepare your ingredients either the night before (so you're not so rushed in the morning) or on the day you make the soup. This recipe requires five linguine Portuguese sausage links, although you can substitute chorizo if that product isn't available in our area.
The dish also needs one chopped onion, two cans of pinto beans (be sure to drain before use), three small russet potatoes (diced), three garlic cloves, one handful cilantro, one bunch of chopped escarole, one teaspoon each of salt, pepper and onion powder, a half a teaspoon red pepper flakes (add an extra half teaspoon if you like it super spicy) and three cups vegetable broth.
A soup that takes just 10 minutes to prep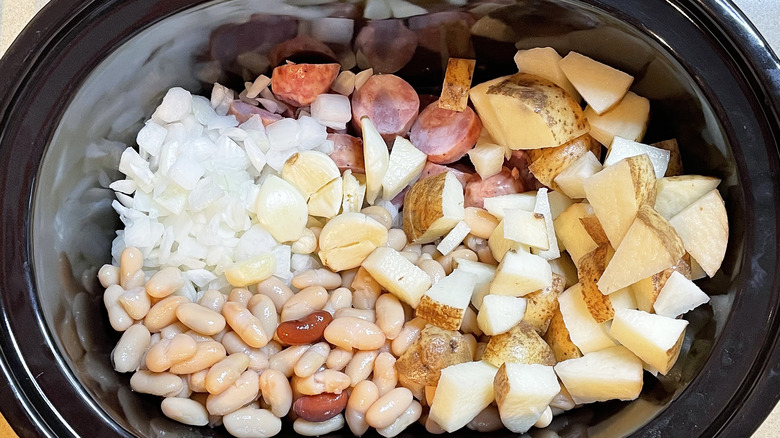 Jason Goldstein/Mashed
Slice the five linguine Portuguese sausage links or chorizo into circular chunks and place in the slow cooker. Next, add the chopped onion and two cans of pinto beans. Dice the potatoes, leaving the skin on, and put them in the pot, along with the three whole, peeled garlic cloves. 
Top with the chopped escarole, a handful of cilantro and one teaspoon each of salt, pepper and onion powder. Finish off with half a teaspoon of red pepper flakes (put in an extra half teaspoon if you want more heat) and three cups of vegetable broth.
Press cook and you're done. Yes, it's that easy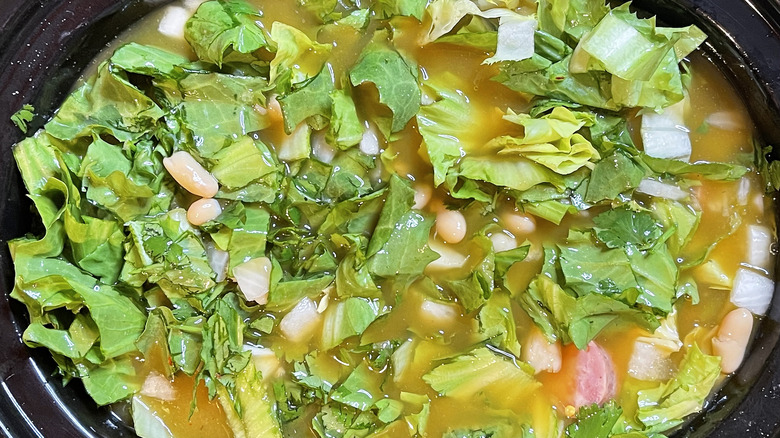 Jason Goldstein/Mashed
Stir well to combine and set the slow cooker on low for six hours. No worries about stirring the soup again once you've mixed the ingredients together and set the timer. Removing the lid can actually make the slow cooker lose some heat, which could extend your cooking time. So, resist the temptation — you can really step out of the kitchen and let the slow cooker do its magic. It really is that simple. In about six hours, during which you can enjoy the rest of your day, your dish will be done and your kitchen should welcome you with a fragrant aroma tinged with delicious spices.
How to turn your one-pot meal into fine dining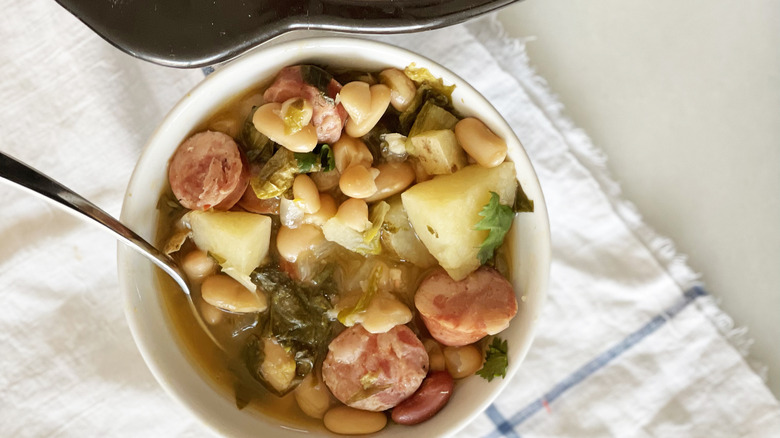 Jason Goldstein/Mashed
Mmm... your soup is done. Stir and taste it. If you feel it needs more heat, add another half teaspoon of red pepper flakes. Sometimes, the sausages can vary in spiciness, said recipe developer Jason Goldstein, and you might need to put in a dash more. 
Create a complete meal with some fresh crusty bread and a glass of red wine. You can even save the leftovers for up to six months if you freeze them, Goldstein advises. The slow cooker is also good for defrosting, and you can warm up the soup right where the dish began. 
Slow Cooker Portuguese Bean Soup Recipe
Portuguese bean soup is one of the easiest ways to have a hearty meal warm and ready from your slow cooker. Substitute Italian sausage and herbs if preferred.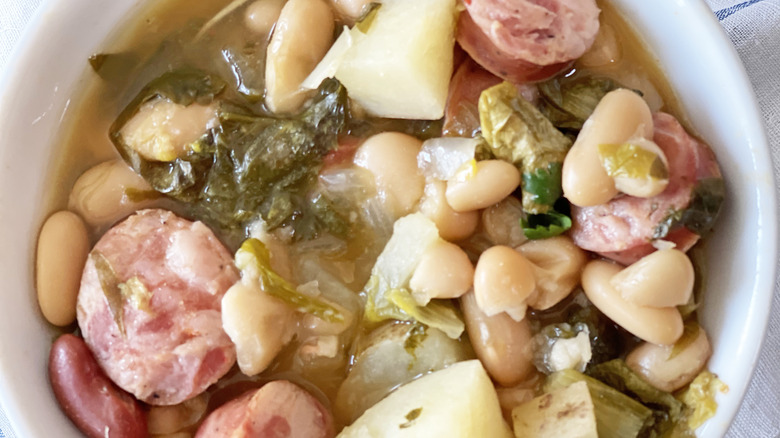 Ingredients
5 Portuguese sausage links
1 onion
2 cans of pinto beans
3 small russet potatoes
3 garlic cloves
1 handful cilantro
1 bunch of escarole
1 teaspoon salt
1 teaspoon pepper
1 teaspoon onion powder
½ teaspoon red pepper flakes
3 cups vegetable broth
Optional Ingredients
Extra ½ teaspoon of pepper flakes for more spice
Directions
Slice the chorizo
Chop the onions, potatoes, garlic cloves, and escarole
Chop the cilantro
Place the chorizo, onion, pinto beans, potatoes, garlic cloves, cilantro, escarole, salt, pepper, onion powder, red pepper flakes, and vegetable broth in a slow cooker. Stir to combine.
Set the slow cooker on low for 6 hours.
After cooking is complete, remove lid, stir, and enjoy!
Nutrition
| | |
| --- | --- |
| Calories per Serving | 250 |
| Total Fat | 6.2 g |
| Saturated Fat | 1.8 g |
| Trans Fat | 0.0 g |
| Cholesterol | 14.6 mg |
| | |
| --- | --- |
| Total Carbohydrates | 38.2 g |
| Dietary Fiber | 7.4 g |
| Total Sugars | 2.2 g |
| Sodium | 786.7 mg |
| Protein | 12.1 g |