The Best Vacuum Sealers Of 2022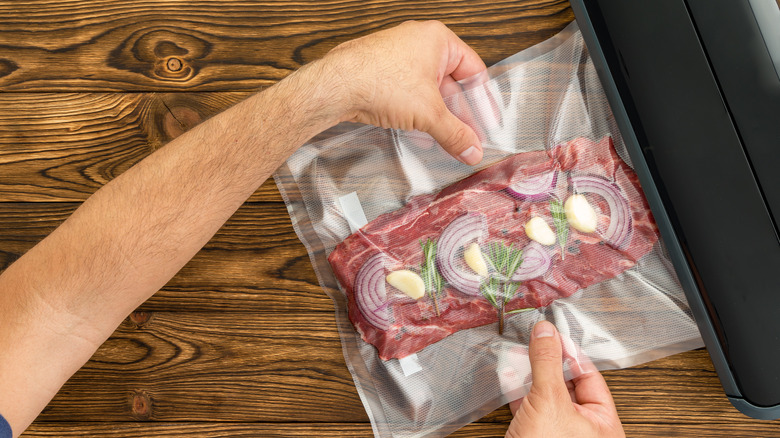 Elena_Gr/Shutterstock
We may receive a commission on purchases made from links.
Is there anything more devastating than opening up your fridge to find that a crucial ingredient you were counting on using has wasted away into inedible sludge? Vacuum sealers are an efficient solution to this problem. By effectively removing excess air, vacuum sealers can dramatically extend the shelf life of your food when compared to other common storage methods (via FoodSaver). Through the miraculous wonders of vacuum sealing, leftover cheese that once lasted only a week or two in the fridge can last four to eight months. Likewise, fresh fruits and veggies can keep well for weeks after being vacuum-sealed, which is a great improvement compared to other approaches that leave them wilted and withered after just a few days. Needless to say, vacuum sealing can clearly reduce your food waste and save you money in the long run.
Vacuum sealers have various features to take into consideration, such as size, bags that are safe for different reheating techniques, and bone guards to prevent punctures. Vacuum sealers often have reusable bags, which makes this preservation method much better for the environment. Considering that Americans use about 100 billion plastic bags every year and they last in a landfill for a millennium, vacuum sealing can be a more eco-friendly way of preparing and storing your food (via Center for Biological Diversity). Vacuum sealing is also a great path into sous vide cooking, which is an easy way to consistently cook restaurant-quality meals at home and advance your skills in the kitchen.  
How we selected prodcuts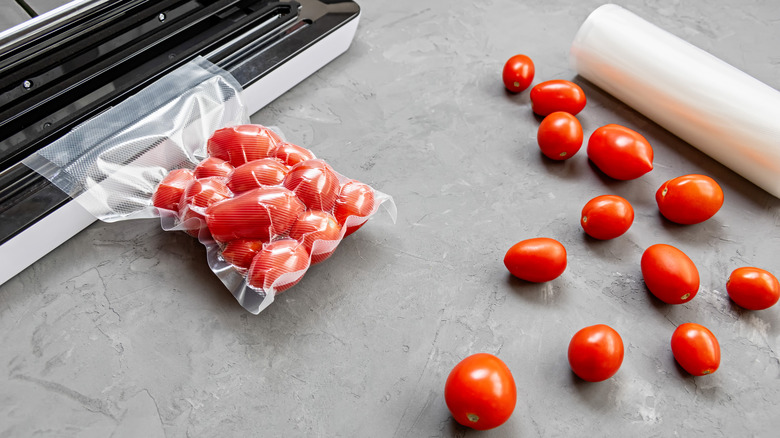 Ozgur Coskun/Shutterstock
This collection of vacuum sealers was carefully curated through meticulous research and analysis. Only the best products have been selected based on criteria that take consumer reviews, professional recommendations, and the product's general popularity into consideration. Each vacuum sealer has been thoughtfully examined for its overall design, ease of use, practicality, versatility, and value based on its particular category.
Even though all vacuum sealers are designed to achieve the same goal, there can be critical divergences in each model's effectiveness. Rest assured, only the finest models were chosen after sifting through a vast sea of vacuum sealers to provide you with a streamlined list that's been sorted with different needs in mind. Whether you're looking for a vacuum sealer on the smaller side for those little leftover scraps or if you work in a commercial kitchen and you're searching for a more heavy-duty model for bigger jobs, there should be a wide variety of well-vetted vacuum sealer models on this list with different price points for you to choose from.
Best overall vacuum sealer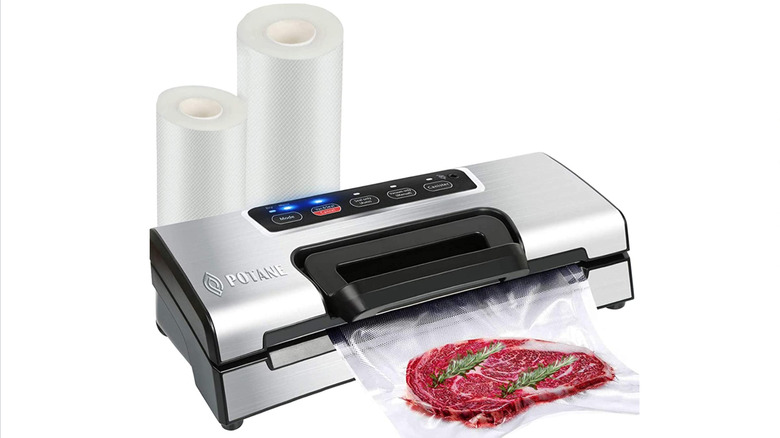 Potane
Vacuum sealers come equipped with a lot of features and components to take into consideration. There are different suction settings, bag cutters, noise levels, and size ranges to contemplate when you're in the market for a new vacuum sealer. It's important to purchase a vacuum sealer that hits all the marks you're looking for — and the Potane vacuum sealer does an exceptional job of providing you with some of the best features on the market.
The Potane precision vacuum sealer comes with different suction settings to cater to various foods. Providing a range of suction settings is a crucial feature that makes a big difference because every item has a unique texture and consistency. Sealing leftover blueberry muffins takes much less pressure than sealing a bone-in rib eye. For this reason, having different suction modes is critical. The Potane precision vacuum sealer wisely provides you with those choices and grants you even more control over your sealing sessions with automatic and manual modes. Beyond this, the Potane precision vacuum sealer is certified by nationally recognized test laboratories, has a two-year hassle-free return guarantee, a five-year warranty, and comes with two rolls of bags to get you started. What more could you possibly ask for?
You can buy the Potane precision vacuum sealer on Amazon for $150.
Best budget vacuum sealer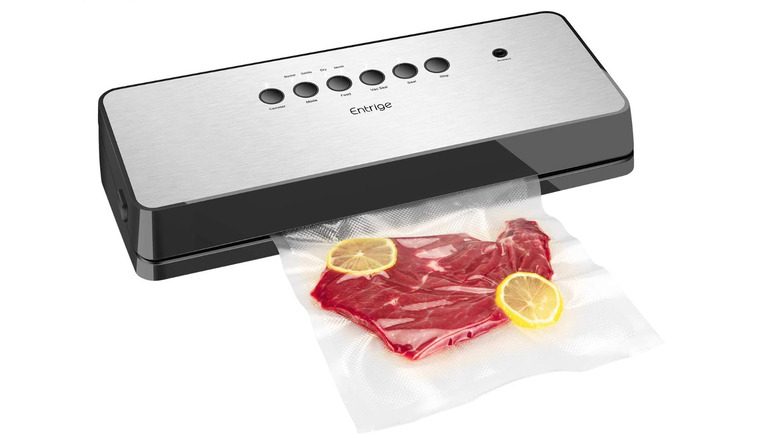 Entrige
Everyone deserves good quality appliances in the kitchen. That said, sometimes kitchen appliances can be quite pricey, which can make shopping for new tools in the kitchen difficult, especially if you're on a tight budget. The good news is that Entrige makes a wonderfully effective vacuum sealer at an inclusive price point that's highly affordable.
As of May 2022, the Entrige vacuum sealer is only about forty bucks, which is very hard to beat price-wise. For such a low price, this vacuum sealer offers a generous amount of great features that include different vacuum settings for moist and dry food products, a one-touch operating system, LED indicator lights, touch-sensitive buttons, a stainless steel panel, and re-usable and waterproof bags. The Entrige vacuum sealer is also lab-tested and certified to assure you that it's effectively designed and safe to use. The lid can be conveniently taken off to ensure a smooth and easy cleaning process. With all of these features at such a cheap price, it's no wonder that the Entrige vacuum sealer has a nearly five-star rating after over 7,500 reviews. If you're in the market for a solid vacuum sealer at a great value, then look no further. The Entrige vacuum sealer gives you everything you're looking for without breaking the bank.
Purchase the Entrige vacuum sealer on Amazon for $37.
Best portable vacuum sealer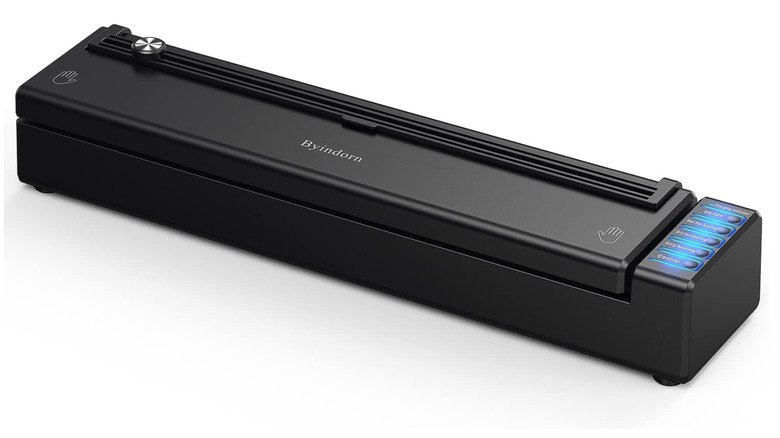 Byindorn
Mobility is always a good thing. Whether you're out camping, enjoying a picnic, or just want the ability to move your prep stations more easily around the kitchen, having convenient access to a portable vacuum sealer can be a total game changer. The Byindorn cordless vacuum sealer offers you endless possibilities through its lightweight USB rechargeable design. At just under three pounds, this cordless vacuum sealer can easily tag along with you on any adventure and guarantee maximum freshness for any leftover food that you want to save.
Some vacuum sealers have confusing control panels that complicate operation, but using the Byindorn cordless vacuum sealer is about as easy as it gets with a simplified design. All you need to do is open up the lid, insert the bag, lock the lid back down, and start the suction process with the touch of a button. With five easy-to-use buttons, this portable vacuum sealer can seal up food in only 10 to 20 seconds. Its sleek design makes it effortless to store, it has automatic and manual suction modes, and it's external safety cutter is smooth and straightforward. Using a vacuum sealer has never been easier or more mobile. Seal the deal with your food on-the-go and experience the unmatched convenience of the Byindorn cordless vacuum sealer.
You can buy the Byindorn cordless vacuum sealer on Amazon for $50.
Best vacuum sealer starter kit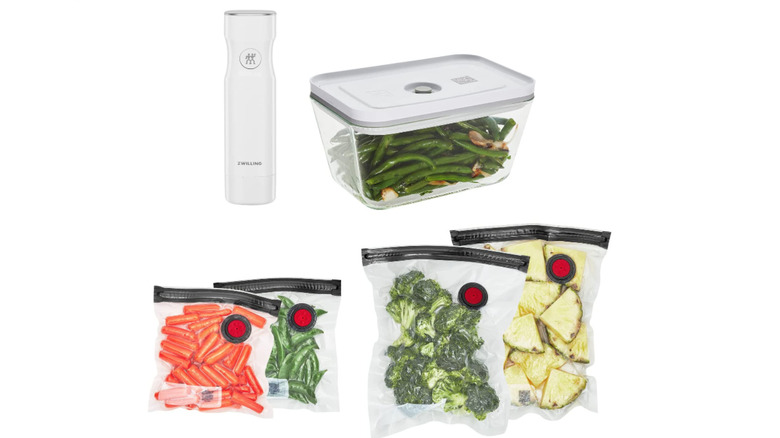 Zwilling
Are you new to vacuum sealing and thinking about taking a leap into a whole new world of freshness? The Zwilling vacuum sealer starter kit comes with everything you need to begin your journey with confidence. This six-piece set comes with a large glass food container, two small vacuum sealer bags, two large vacuum sealer bags, and a sleek rechargeable vacuum sealer pump.
Unlike most vacuum sealers, the Zwilling starter kit comes with reusable bags that have innovative air valves. Instead of suctioning air from the mouth of an open bag, the Zwilling works by simply positioning the vacuum pump over the air valve. This simplifies the process by allowing you to easily situate the pump and initiate the vacuum process with greater visibility. The glass container and bags are safe for the dishwasher and microwave once the vacuum seal has been removed. This vacuum sealer is also acclaimed for its quiet yet quick performance, removing air from containers in a matter of seconds. You don't have to just take our word for it — this model also comes tested and recommended by the Food Network kitchen (via Food Network). Still not sold? The pump is rechargeable and only weighs a couple of pounds, making it very easy to store in any kitchen space. The Zwilling starter kit is ready to make all of your food-saving dreams come true. What are you waiting for?
Purchase the Zwilling vacuum sealer starter kit on Amazon for $80.
Best chamber vacuum sealer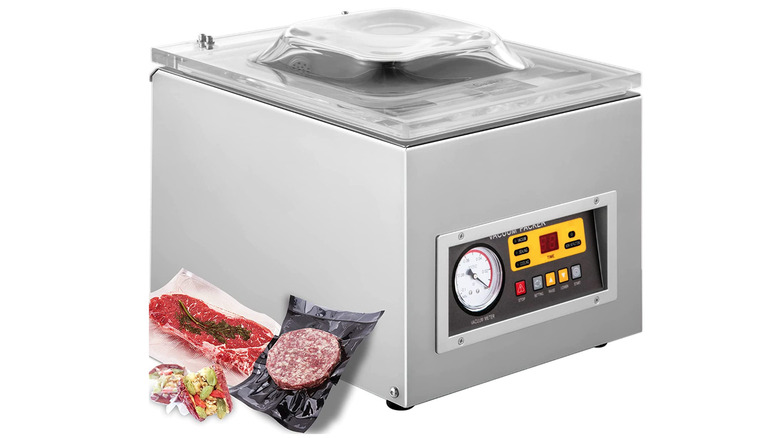 BestEquip
Looking for a serious vacuum sealer that can handle bigger batches and regular use? You can't do much better than the BestEquip chamber vacuum sealer. The BestEquip chamber vacuum sealer comes with a powerful vacuum pump that can provide you with the intensive seal you're looking for. With a built-in heated sealing bar that's temperature resistant, the BestEquip chamber vacuum ensures an impressive seal every time that will extract air and lock in freshness with amazing power and remarkable speed. The sealing temperature can be adjusted to suit a wide range of materials so that you are free to use a variety of sealing bags, liberating you from the limitation that can hold you back with many other models.
Capable of everything from vacuuming to sealing, printing, and cooling, the BestEquip's multifunctional control panel is operated by a micro-computer that can handle the entire process automatically. The BestEquip chamber vacuum sealer has a transparent glass lid for easy visibility, four rubber feet for maximum stability, and is made with food-grade stainless steel. Commercial-grade strength and durability make this model a great choice for small businesses or serious food preppers.
You can buy the BestEquip chamber vacuum sealer on Amazon for $417.
Best vacuum sealer for sous vide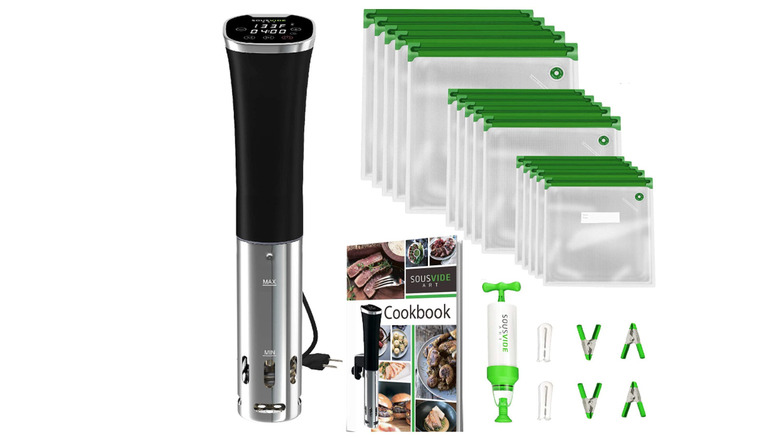 SOUSVIDE ART
For those unaware, sous vide cooking is a method of preparing food. By immersing tightly-sealed bags of ingredients into temperature-controlled water, sous vide cooking is an excellent way to induce mouth-watering tenderness in just about any food your heart desires. If you want a way to cook a foolproof steak that's guaranteed to come out with your preferred level of doneness, sous vide won't let you down. All you have to do is submerge your vacuum-sealed steak in water at the right temperature and then give it a quick char for some texture when it's done and you're all buckled in for some serious deliciousness.
The Sousvide art precision cooker kit is a great entry-point if you're interested in trying sous vide cooking. With a vacuum pump for sealing, 30 re-usable BPA-free vacuum bags, four clips, a sous vide pod, and a cookbook for some extra guidance and inspiration, the Sousvide art cooker kit comes with absolutely everything you need to get started. The sous vide pod has an LED touch panel that displays temperature and time and also functions as a circulator. There's no doubt that this sous vide starter kit is designed to set you up for success.
Purchase the Sousvide art precision cooker kit on Amazon for $136.
Best handheld vacuum sealer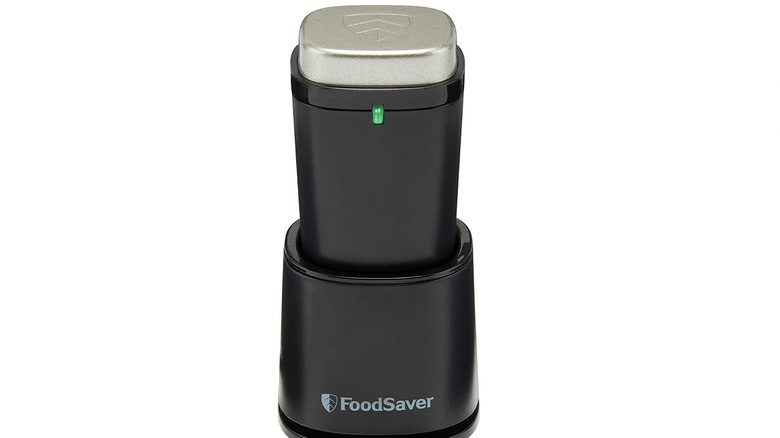 FoodSaver
Sometimes you don't need all the bells and whistles — you just need a simple, effective tool that you can hold in your hands that you know will get the job done. That's where the FoodSaver cordless vacuum sealer comes in. Small, efficient, and weighing less than a pound, this vacuum sealer model is extremely lightweight and can easily fit in the palm of your hand. But don't let its modest size fool you — the FoodSaver cordless vacuum sealer can seal up to 60 one-quart bags on a fully-charged battery.
Using the FoodSaver cordless vacuum sealer couldn't be any easier: Just line up the pump with the circular valve on the bag and press down on the button until the air leaves. This vacuum sealer model can easily fit inside of any kitchen drawer and its small dock station for charging can be placed on the counter for easy storage. This model comes with four 1-quart sealing bags to get you started. A smart, convenient, and powerful design makes this handheld vacuum sealer one of the best on the market. If you're looking for a vacuum sealer that's reliable and easy to use that won't clutter your kitchen counter, the FoodSaver cordless vacuum sealer is a top-tier choice.
You can buy the FoodSaver cordless vacuum sealer on Amazon for $38.
Best vacuum sealer for hunters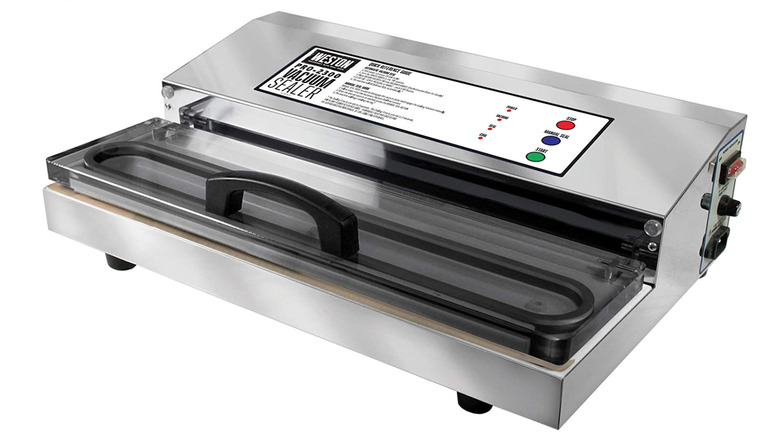 Weston
If you're a hunter, you know that preserving all of that fresh meat you worked so hard to track down is absolutely critical. The Weston Pro 2300 vacuum sealer is a sensible choice to upgrade your hunting game with a top-of-the-line seal that's nice and airtight.
Made with commercial-grade stainless steel, this durable vacuum sealer model packs over 900 watts of power and weighs 22 pounds. It has a powerful fan-cooled motor that's designed for repeated use without overheating, making it ideal for hunters who have a lot of fresh meat that needs to be quickly packed all at once. At 16 inches long, the Weston pro 2300 vacuum sealer is capable of sealing a whole chicken or two racks of ribs at a time. This vacuum sealer model can easily transition from automatic to manual modes with the push of a button, allowing you to have control over the sealing process. The transparent lid increases visibility and makes it easy for you to align bags with greater accuracy and observe the sealing process. It has a detachable power cord with a storage compartment that's built in to the machine for easy access.
Purchase the Weston Pro 2300 vacuum sealer on Amazon for $425.
Best compact vacuum sealer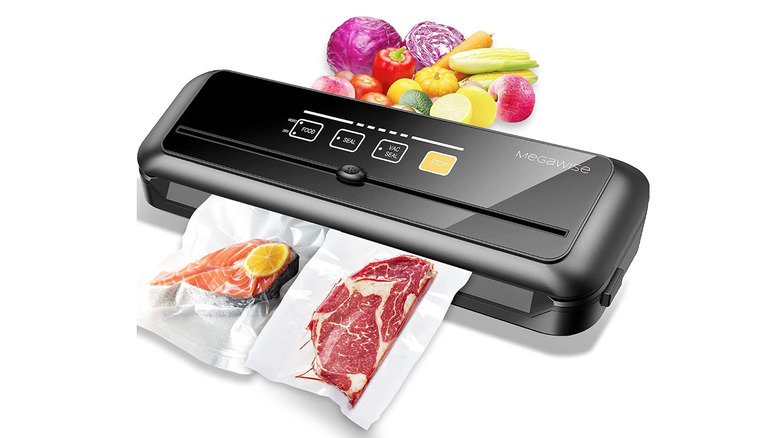 MegaWise
No one likes a cluttered kitchen. When kitchen counters are messy and crowded, it can ruin a potentially joyful cooking experience and turn it into an aggravating chore that leaves you no room to work comfortably. For those with limited counter space, using compact appliances can help free up more room and create a kitchen that feels more open and inviting instead of chaotic and disorganized.
At just over two pounds, the MegaWise vacuum sealer is light and compact and can be easily stored on the counter or tucked away in a cabinet. The MegaWise is strong, with an electromagnetic copper core that provides powerful suction that can finish the job in only 10 to 20 seconds. With just four easy-to-read buttons, this vacuum sealer is effortless to use and simple to operate. It comes with 10 high-quality BPA-free bags, two different food modes to choose from, a safe external cutter, and a one-touch operation system. If you're looking for a vacuum sealer with enough power to crush a can that's also sleek enough to stay out of the way, the MegaWise vacuum sealer was made with you in mind.
The MegaWise vacuum sealer is available on Amazon for $60.
Best commercial vacuum sealer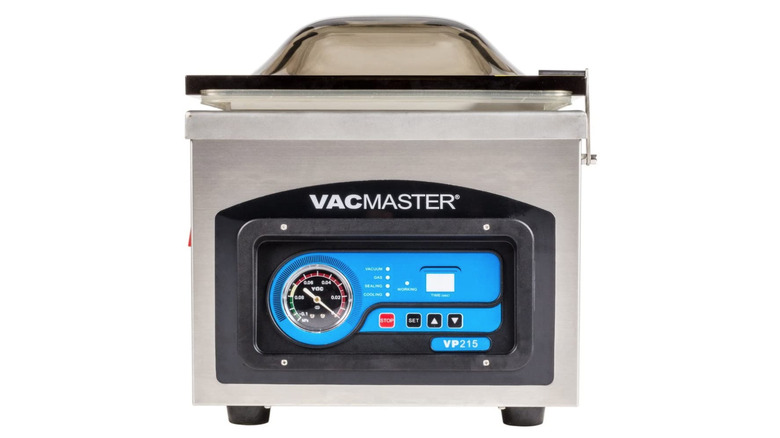 VacMaster
Commercial vacuum sealers are best for professional kitchens or anyone who preps their food in bulk. With a 1/4 horsepower rotary oil pump that's purposefully designed for big batches, the VacMaster chamber vacuum sealer is a heavy-duty machine that's intended for large-scale use. At over 80 pounds, the VacMaster is a sturdy and reliable beast that's capable of tightly sealing just about any food product and excels at masterfully enclosing liquids like soups, stews, and marinades with airtight efficiency.
What sets this vacuum sealer apart is how thorough the suction is. While most chamber vacuum sealers only extract the air from the sealing bag, the VacMaster actually removes all of the air from the entire chamber when in use, ensuring a much more comprehensive air extraction process that will leave your bags fully sealed and as airtight as possible. Even though this vacuum sealer is fast and heavy-duty, it's surprisingly quiet, making for a peaceful vacuum sealing experience. Another advantage is the fact that this model is designed to run continuously without overheating, which is a great benefit for any busy restaurants or food operations that require constant use of a vacuum sealer. If you run a restaurant or if you're a frequent hunter or serious cook who does a lot of food prep in bulk, the VacMaster chamber vacuum sealer is right up your alley.
Purchase the VacMaster chamber vacuum sealer on Amazon for $1,040.