Frozen Blue Hawaiian Cocktail Recipe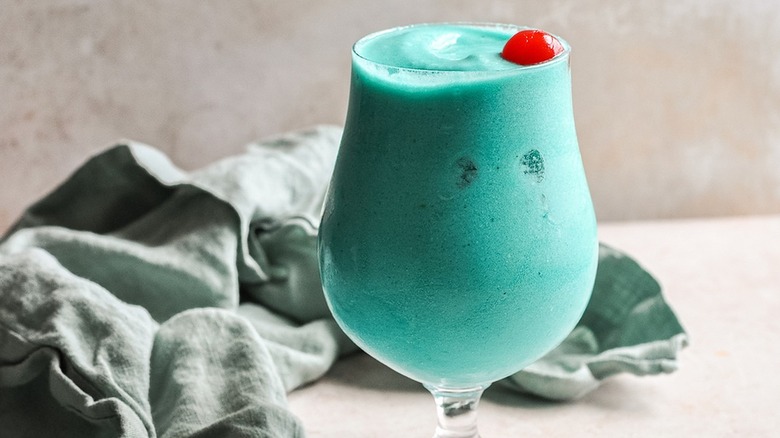 Christina Musgrave/Mashed
If you like piña coladas, then there's a pretty good chance that you'll also love this refreshing and vibrantly-colored frozen Blue Hawaiian cocktail as well. Like a piña colada, a Blue Hawaiian consists of rum, pineapple, and coconut, and you really can't go wrong with such a winning flavor combination. A Blue Hawaiian takes things a step further, however, thanks to the addition of blue Curaçao. As a result, the cocktail has a beautiful blue hue to it, and it becomes quite obvious where the name "Blue Hawaiian" comes from. 
Recipe developer Christina Musgrave describes her frozen Blue Hawaiian cocktail as "a tropical and fruity drink," and she notes that it "has a balance of fruit and coconut flavors." So, if you're a fan of tropical cocktails, then this one is definitely for you. Musgrave also can't help but rave about the refreshing aspect of the drink: "After one sip, you'll feel like you're sitting on a beach!" Even if you can't make it to a beach, just close your eyes and picture that you're there — with the help of this sweet, fruity, and tropical cocktail, it won't be too hard to imagine. 
Grab the right ingredients to make a frozen Blue Hawaiian cocktail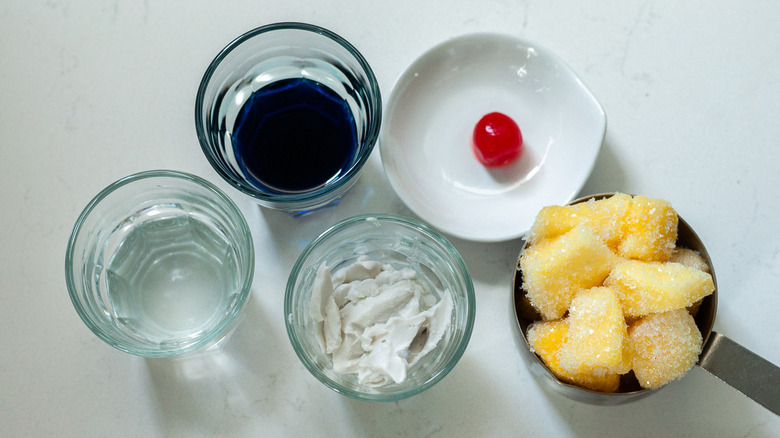 Christina Musgrave/Mashed
We've already covered the fact that there's rum in this recipe, but more specifically, you'll need white rum. You'll also need that blue Curaçao, some coconut cream, and frozen pineapple, which serves as Musgrave's special ingredient. "Instead of pineapple juice and ice," Musgrave explains, the frozen chunks help "create a thicker frozen drink without watering it down." Finally, no cocktail is complete without a good garnish, and you'll top this one off with a classic maraschino cherry. 
Blend it all up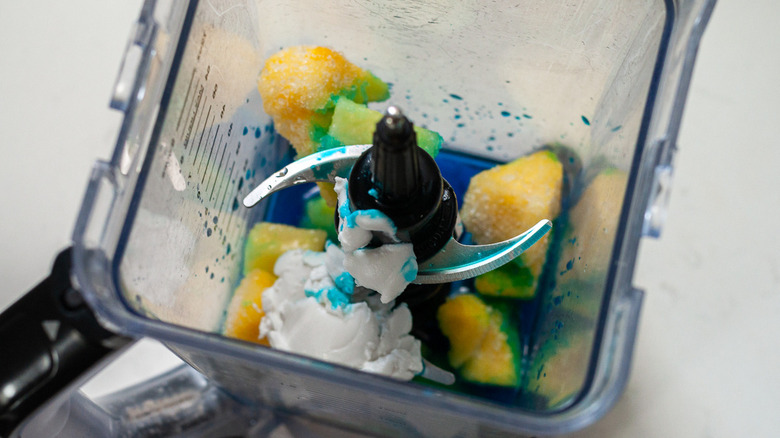 Christina Musgrave/Mashed
This recipe is for a frozen Blue Hawaiian, so you know the drill — bust out the blender! Into the blender, add the rum, blue Curaçao, frozen pineapple, and coconut cream. Pulse the ingredients together until they're creamy and you have a smooth, thick, and cohesive cocktail. 
Serve your Blue Hawaiian with a maraschino cherry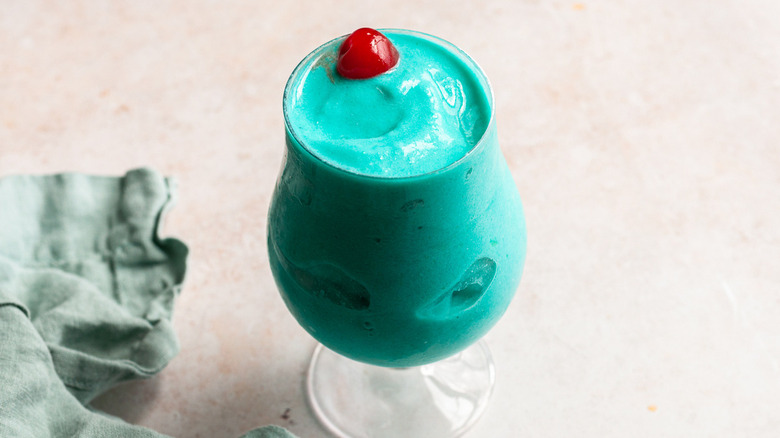 Christina Musgrave/Mashed
With your cocktail all blended up, you can pour it right into a large cocktail glass. Top it off with a maraschino cherry, then you're ready to escape into a tropical daydream. "This cocktail is best enjoyed on a hot summer day," Musgrave says. "It's especially refreshing as a poolside drink." Hey, if we can't sip this Blue Hawaiian on a Hawaiian beach, then the poolside sounds like a decent alternative. 
Frozen Blue Hawaiian Cocktail Recipe
Take your imagination to a tropical beach (even if you're in your own living room) with this simple recipe for a frozen blue Hawaiian cocktail.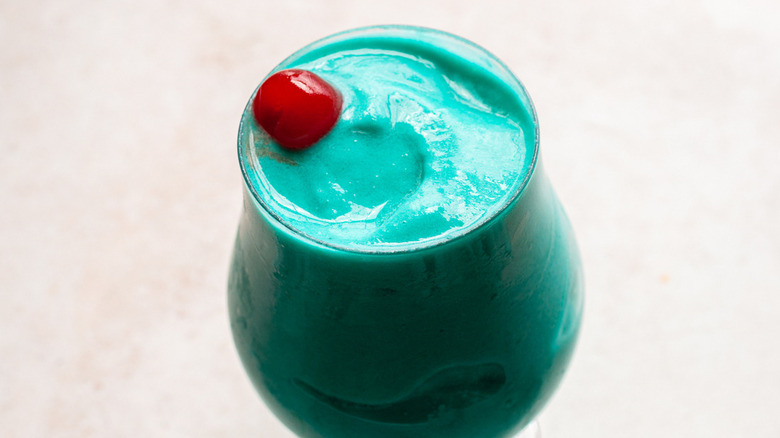 Ingredients
1 ounce white rum
1 ounce blue Curaçao
1 cup frozen pineapple
1 ounce coconut cream
1 maraschino cherry, for serving
Directions
Combine the white rum, blue Curaçao, frozen pineapple, and coconut cream in a blender.
Blend until creamy, and pour the drink into a large cocktail glass.
Garnish with a maraschino cherry, and serve.