What Happened To Pan's Mushroom Jerky After Shark Tank?
Stepping foot in front of the investors on ABC's "Shark Tank" takes a lot of courage; even if you make a deal on the show, there's a chance it won't carry through in the end (via The Motley Fool). Investor Robert Herjavec spoke to Motley Fool's podcast, "Industry Focus: Financials," to give insight on the actual statistics. "It changes from year to year, but I'll give you a macro view. In general, probably about 50% of the deals close ... As the show goes on, the reason they don't close has changed."
Per ABC, "Shark Tank" has surpassed $100 million in deals to help new and struggling businesses succeed. The tycoon investors include Mark Cuban, Barbara Corcoran, Lori Greiner, Daymond John, Kevin O'Leary, and Herjavec (as well as guest sharks each season). In late 2020, a company called Pan's Mushroom Jerky took a dive into the tank to see if it would sink or swim when surrounded by sharks.
The jerky story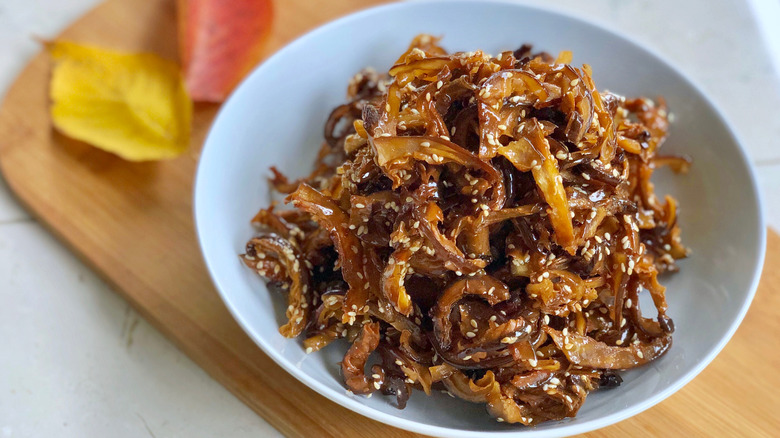 AlwaysOn/Shutterstock
When Michael Pan travelled to Malaysia, he learned that his family, many of which are vegetarian Buddhists, had been using mushrooms as a substitute for meat, according to the company's website. "Traveling to Malaysia was an opportunity to discover my family's history and traditions, which of course involves food," Pan wrote. Rich in vitamins, fiber, and antioxidants, mushrooms fit into the family's diet, and they enjoyed the texture and taste. The company officially launched in 2018 with four unique flavors.
On episode six during Season 12 of "Shark Tank," Pan presented his mushroom jerky to the panel of entrepreneurs (via Shark Tank Tales). The product was pushed as a vegan, vegetarian, and gluten-free snack made of Shiitake mushrooms in place of traditional beef jerky. Each shark tried a sample of the jerky, and they were all surprised by how much it tasted like "regular" jerky (per Shark Tank Recap). Soon, the offers began rolling in.
Set for success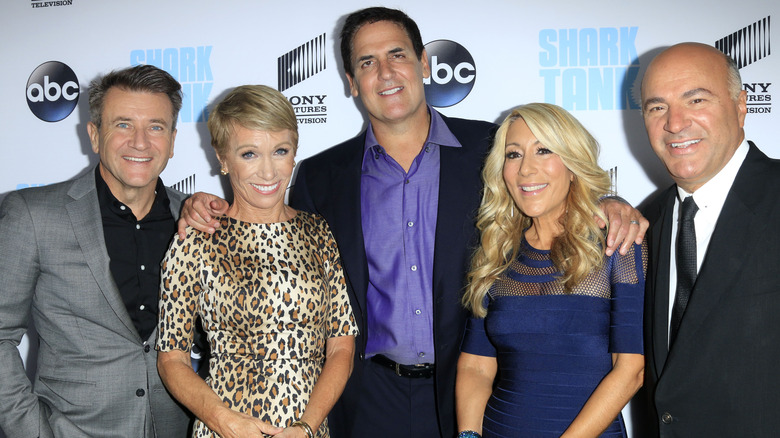 Kathy Hutchins/Shutterstock
When Michael Pan entered ABC's "Shark Tank," he asked for $300,000 for a 10% stake in his company. The snack caught the attention of Mark Cuban, who took an 18% share after Pan negotiated down from Cuban's original 25% ask. After signing a deal with the investor, Pan's Mushroom Jerky skyrocketed in popularity. Per Shark Tank Recap, the company sold $650,000 worth of jerky in the first 24 hours after the episode aired, and hit $1 million in sales within four days. According to the website, the company wasn't able to fulfill all 33,000 of the unexpected orders until March 2021.
Today, the treat is offered in more than 1,000 stores around the United States and produced out of Portland, Oregon. The company has increased from four to six flavors, including Original, Zesty Thai, Applewood BBQ, Salt & Pepper, Teriyaki, and Curry. Additionally, Pan's Mushroom Jerky has tripled its staff, doubled its manufacturing space, and produces four times more jerky than before. The company is now able to produce its product around the clock.