Beyond Meat Is Giving Jerky A Vegan Makeover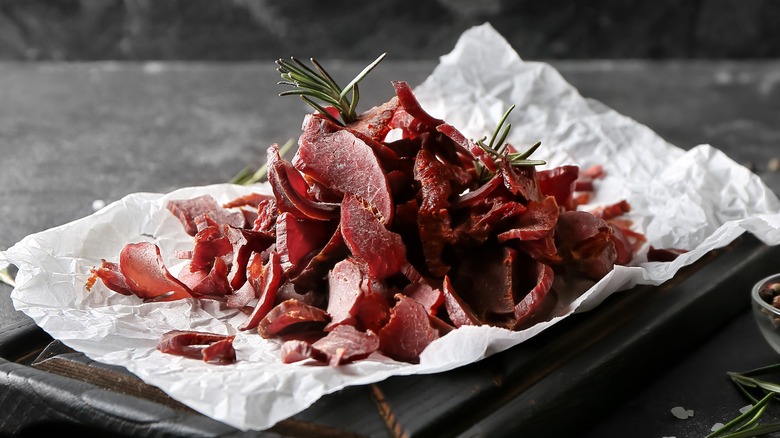 Pixel-Shot/Shutterstock
We may receive a commission on purchases made from links.
Jerky is such a popular snack that it even has its own holiday. According to National Today, Jack Link's Beef Jerky and the Wisconsin Beef Council joined forces back in 2012 to designate June 12 as National Jerky Day — an entire 24 hours dedicated to celebrating the savory snack. When it comes to jerky, those old-fashioned strips of chewy beef may be the first image that comes to mind, but there are plenty of other types of jerky on the market today.
Meat snack-slinging companies like Buffalo Bob's sell everything from alligator to ostrich jerky in addition to more commonplace types like buffalo and pork. Other companies, like Kaimana Jerky, specialize in fish jerky, creating the easy-to-travel-with snack from the sea, made with salmon and tuna. Vegans also have plenty of options and Prevention did a roundup of those that include jerky made from ingredients like kelp, bananas, and mushrooms. So, it was just a matter of time before Beyond Meat got in on the jerky action.
Beyond Meat is offering three flavors of jerky
Planet Partnership, a joint venture between Beyond Meat and PepsiCo, has announced its launch of Beyond Meat Jerky. According to a press release, the new snack is a plant-based product made from ingredients like peas and mung beans. Mung Beans, if you're wondering, are a member of the legume family from Asia and India (per Real Simple).
In addition to being vegan-friendly, Beyond Meat Jerky also ticks off some other boxes for health-conscious snackers. It's free of cholesterol, GMOs, soy, and gluten, and it's a good source of protein.
These products from Planet Partnership will be available in three flavors: Original, Hot & Spicy, and Teriyaki. Per the announcement, the jerky is "marinated and slow roasted to offer the savory experience of traditional beef jerky," and VegOut states the portable snack is comparable in taste and texture to traditional jerky. 
Beyond Meat Jerky is already available on Amazon in teriyaki and original flavor, which is described as "slightly smoky, slightly sweet with hints of onion and garlic." No word yet when the product will be popping up at gas stations across the country.