The Junior's Cake Flavor That Has Costco Fans Running To The Store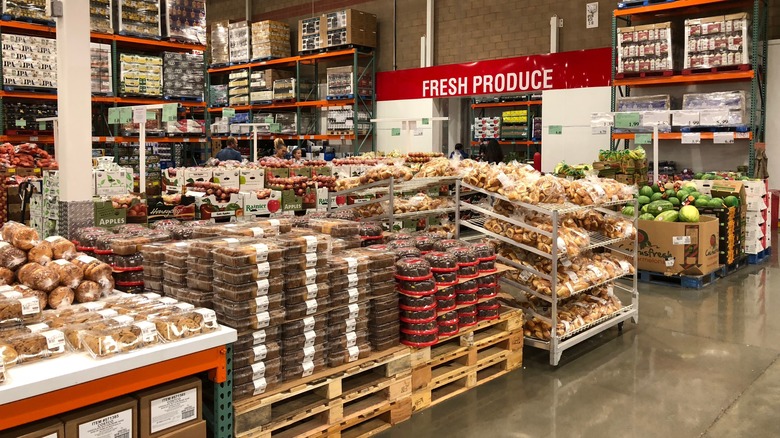 Cassiohabib/Shutterstock
From a fruity candy that shoppers swear are better than Starburst to raspberry crumble cookies with a cult following, Costco has plenty of desserts for its customers to treat themselves to. However, those who love cake may find that they always reach for one brand's treats in particular when shopping at the warehouse grocery store — and that's Junior's.
Aside from the beloved cheesecake that cemented it as a must-try dessert brand, per its website, the New York City born-and-bred cake business has become known for stocking grocery retailers like Costco with a variety of cake flavors. In the past, Junior's had red velvet fans jumping for joy with its decadent cream cheese-coated red velvet cake that weighed 3 pounds, and it also brought rainbow lovers the dessert of their dreams with a colorful sprinkle-dusted Celebration Cake (via Instagram). But now, Junior's is finally treating butter-enthused Costco customers with a slice of the something sweet: According to a video posted by Instagrammer @costcobuys, Junior's gooey butter cake is officially in stock at the grocery chain, and shoppers are eager to hit the store to try it.
Costco's Junior's cake flavor is all about butter
In their video, @costcobuys revealed that the Junior's gooey butter cake is essentially a take on a St. Louis gooey butter cake, a two-layered creation featuring yeasted dough on the bottom and a rich, almost molten topping of golden brown butter, sugar, and more on top. Costco's version has a cream cheese topping and is finished with powdered sugar. The whole cake can be found for around $15 and, according to the post, shoppers who buy the treat will be able to cut into 36 ounces of butter and cream cheese dessert.
​Costco shoppers in the comment section of the Instagram post made it clear that they are eager to try the butter-flavored Junior's creation. One user wrote, "#TAKEMYMONEY." Another posted, "Ummmm what? I need this asap." While many customers are jumping at the opportunity to bring one of the gooey butter cakes home, butter fans may not need to worry about missing out the treat. Unlike the limited-edition Junior's Chocolate Dream Easter Egg layer cake, it appears that the butter cake will be available at Costco as a bakery item for some time. For those who can't find it or don't want to drop the $15, some commenters pointed out that gooey butter cake is "incredibly easy and cheap to make" on your own — as long as you have lots of butter.