What Qdoba's Sale Really Means For Customers
The sale of your favorite restaurant can mean closures, rebranding, or an unrecognizable menu. Sometimes, changes don't necessarily work out all that well — take '90s chain Kenny Rogers Roasters, for example, which merged with Nathan's Famous Hot Dogs and ceased to exist in North America (via Kiplinger).
Restaurant sales and mergers can also bring small, positive changes, as in the case of the recent Panera Bread, Caribou Coffee, and Einstein Bros. Bagels merger. Fans might have noticed that Einstein Bros. just launched a new breakfast — and it's not a bagel! Since the three brands merged under the umbrella Panera Brands, the bagel chain has made small menu changes (as per Business Wire). The brand no longer sells exclusively bagel sandwiches, but no pre-existing sandwiches were cut from the menu and two breakfast burritos have been added since the beginning of 2022, expanding their appeal to new customers (via QSR). It seems the change in ownership resulted in subtle change that may appeal to many customers.
A recent acquisition that may have customers worried is the sale of fast-food Mexican chain Qdoba, but what will that mean for fans of the restaurant?
Qdoba sale: menu changes, major overhaul, or somewhere in between?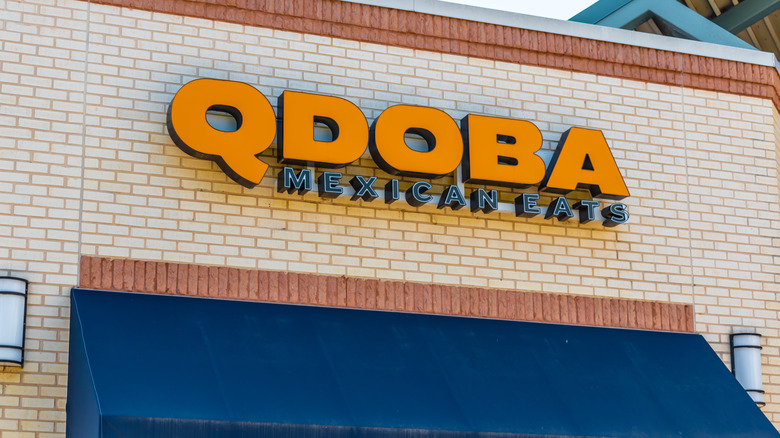 Bruce VanLoon/Shutterstock
From the information available now, it seems that the Qdoba merger can only mean good things for fans. On August 9, National Restaurant News announced that Butterfly Equity plans to acquire Qdoba Mexican Eats sometime between now and the end of September. Butterfly Equity is the parent company of Modern Markets and prides itself on its wholesome organic food focus. It plans to merge Modern Market Eatery, Lemonade, and Qdoba into a single restaurant platform, but all three will continue to operate as separate brands with separate locations.
In terms of how the merger will affect things at a day-to-day level, so far, it seems the only change customers of the Mexican fast-food chain will feel is growth and Qdoba is preparing to make a colossal comeback. Butterfly Equity plans to expand all three brands and is expecting to open more than 300 new Qdoba locations before 2027. Butterfly Equity CEO Adam Waglay described the three restaurants as "perfectly poised for the future with craveable food [and] flexible and affordable menu choices," so seems unlikely that the new owners will make much in the way of menu changes. While it is possible that Butterfly Equity may make some shifts, no announcements have been made. Overall, no drastic changes appear to be coming to Qdoba yet.