The McDonald's Cat Post That's Warming Instagram's Heart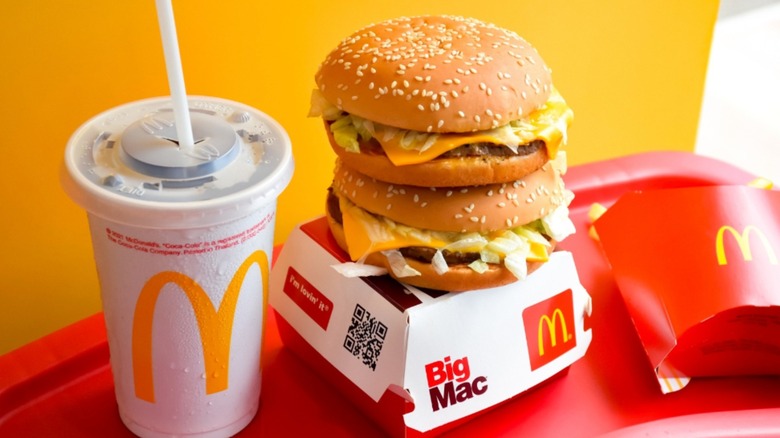 PJiiiJane/Shutterstock
McDonald's has posted a lot of stuff to their Instagram account this summer, and while some of those posts and reels are of their food, the company is also having a lot of non-food fun. In recent weeks they've invited Instagram followers to imagine what the Hamburglar's ginger locks might look like when he takes off his wide-brimmed hat. Several other posts invite followers to join Camp McDonald's, a virtual summer camp experience with musicians like BIBI and Omar Apollo for all kinds of deals and giveaways. They even joined in on the "Little Miss" trend with a post of a "Little Miss steal your fries" cartoon. 
Despite this varied content, no one could have prepared for what McDonald's shared in their most recent post, which was a total cuteness overload. Their Instagram followers got a glimpse of two little gray and white tabby kittens who were put up for adoption — and we think their names might be the reason they won this social media spotlight: McFlurry and McNugget.
These kitties are sweet, but what McDonald's did is even sweeter
McDonald's shared the kittens' portraits on Instagram with the caption, "What can i get u." Both kittens are described as 3-month-old tabby shorthairs. McFlurry looks bright-eyed and serene in her photo, but poor McNugget has a more bedraggled, world-weary look on his little face. His half-closed eyes give off an "I am so over this" vibe. 
The fast food chain's Instagram followers were clearly charmed, with one user pondering, "If I get both would it be considered a McDouble?" Commenters gave McNugget the cat several shout-outs, with one user saying, "I feel you McNugget," and another commenter suggested, "McNugget needs a Happy Meal." A follower also took a playful jab at McDonald's saying, "Sorry the cat machine is broken," referencing the company's drama with broken ice cream machines across their franchises. 
If these deliciously-named kitties are tugging at your heartstrings, you'll love this news: McDonald's commented on the post that the two cats have been adopted and will stay together. And here's some even sweeter news. The Alameda Animal Shelter in Alameda, California (where McNugget and McFlurry were living) shared on Facebook that after featuring the cats McDonald's made a donation to the shelter to help even more pets get adopted. The shelter responded by saying, "That's Frankly McAwesome."