What Happened To Baker's Edge After Shark Tank?
Ever since "Shark Tank" first aired, the show has given budding entrepreneurs and innovators a platform to showcase their business ideas, most of which aim to solve a problem of some kind. And when it comes to problem-solving, viewers have seen "Shark Tank" entrepreneurs successfully offer a solution to a whole world of kitchen troubles, some of which no one even thought existed.
Some inventions you might remember, or possibly have in your kitchen right now, include the famous sponge scrubber with a smiling face, washable paper towels, a tool that cuts instant ramen's cook time in half, and absorbent bags that make disposing of grease easier. Fans have seen all sorts of innovative kitchen tools on the show. But when entrepreneurs Matthew and Emily Griffin walked into the "Shark Tank" room in the Season 5 finale back in 2014 with their bakeware company, Baker's Edge, they had another novel kitchen tool to present to the sharks — a brownie pan designed to bake chewy corner crust brownies in each slice (per the Shark Tank Blog).
The sharks weren't too impressed with this brownie pan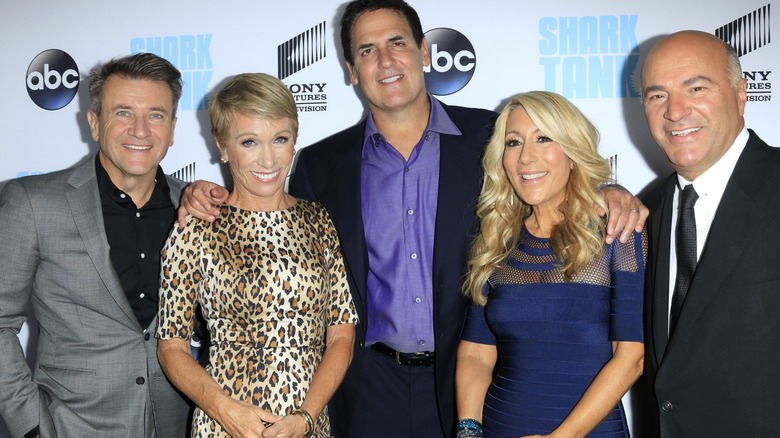 Kathy Hutchins/Shutterstock
Matthew Griffin first came up with the idea of inventing a pan that only baked corner crust brownies in 1998 (via Shark Tank Blog). It was not for another four years till the Griffins patented their Edge Brownie Pan and produced a prototype of their invention. The pan won the Griffins a contest in 2004, earning them a whopping $25,000, and by 2006, the duo had launched the Baker's Edge company.
The entrepreneurs presented took their product to Mark Cuban, Robert Herjavec, Lori Greiner, Barbara Corcoran, and Kevin O'Leary seeking a $400,000 investment in return for a 20% stake in their bakeware business. Although the company had $6 million in sales from 2006 to 2013 and was projected to make $250,000 in 2014 alone, the sharks had their doubts about the products.
The company's sales peaked when the Edge Brownie Pan was featured on "The Oprah Show." Much like the Shark Tank Effect, the boost in sales that came after the show — touted as The Oprah Effect – quickly dwindled back down to original numbers a few months later. For Herjavec, the decline in sales was a worrying red flag and for the other sharks, the problem of only corner crust brownies simply wasn't a big enough one to solve. Ultimately, the Griffins walked out of the room without a deal on the table but as it turns out, the couple is still in business, like Milk and Brookies, another company the sharks passed on.
Baker's Edge still sells corner crust bake pans
Although the Griffins walked out of "Shark Tank" without an investment in their line of only-crusty corner brownie pans, Baker's Edge is still very much in business. Besides selling brownie and lasagna pans on its website and through Amazon, Baker's Edge also seems to have followed through on its plan to launch the Better Muffin Pan as it claimed to on the show (via Shark Tank Blog). The muffin pan is not only thicker, more non-sticky, and easier to hold with handles on the edges of the pan, but is also made with less metal. Per Instagram, the muffin pan is so popular that it keeps selling out.
While the pans are certainly steep, with the brownie pan priced at $47.99 and the muffin one at $49.99, reviews say that Baker's Edge may be worth the investment even if the sharks didn't think so. Taste Of Home deemed it to be a "non-negotiable" essential in the kitchens of all "brownie-edge loving families," and POPSUGAR. said that the pan ticked all the boxes for brownie edge lovers. Wired gave the pan a six out of 10 in its review. 
Shark Tank Blog reports that Baker's Edge is making anywhere between one to two million dollars in revenue each year, and it seems the company plans on sticking around. If you're now in the mood to whip up some baked goods, here are some of the biggest muffin-making mistakes to avoid.