Instagram Is Stunned By Ree Drummond's Super-Thin Onion Rings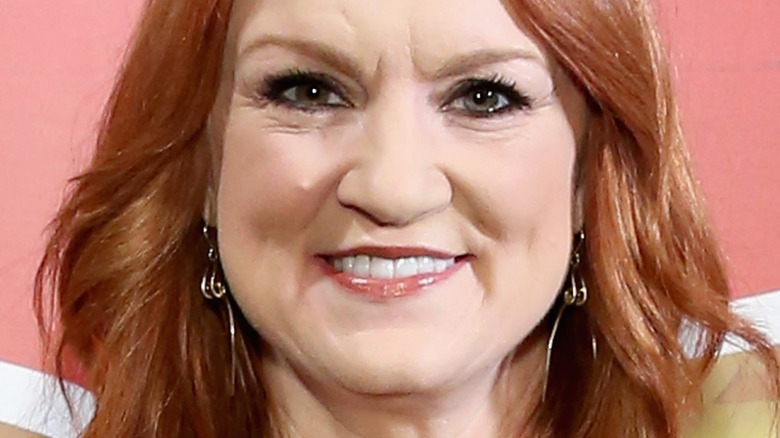 Monica Schipper/Getty Images
There are a lot of different ways to make and enjoy crispy fried onion rings. If you're not in the mood for something hot, you could opt for a bag of Funyuns; if you need a garnish for your famous green bean casserole, you can always go to the store and pick up a container of French's fried onions; and if you just want something to eat fast, then the rings at Burger King won't steer you wrong. You can even turn them into onion ring parmigiana, according to KCRW.
But everyone knows that nothing is better than freshly fried onion rings. It's the only way to ensure that your rings are hot and crispy when eaten. But how to choose a recipe? Bobby Flay's Spanish onion rings could hit the spot for those who like a big ring with a meaty bite of sweet onion inside, but those who live for the crispiest crunch might do better with Ree Drummond's super-thin onion rings, which she calls onion strings on her website. Luckily, she just shared a video showing how to make them on social media.
How The Pioneer Woman makes onion rings
The first thing you'll notice about Ree Drummond's onion rings in her Instagram video is that she slices her onions very thin, almost as thinly as you'd slice them to make pickled onions. She dredges the onions first in buttermilk, then in a seasoned flour mixture. The onions go into a pot of hot oil next, and The Pioneer Woman fries them until they're crispy and lightly golden. A pinch of salt when they're done frying perks up the flavor even more. In her video, Drummond shared three different ways to enjoy these thin and crispy onion rings: eating them with a dipping sauce as a snack, adding them to a salad instead of croutons, and topping off a burger with a mound of the rings.
In the comments, fans had a lot of positive things to say about Drummond's recipe. "What is this onion-y wizardry that I just witnessed?" asked one fan. Another fan joked that no one would want to eat a whole onion — until it's soaked in buttermilk and fried, that is. The overall consensus seemed to be that Drummond's thin and crispy onion rings "look amazingly good," and one fan who said they tried her recipe years ago commented, "I haven't made them in a long, long time — time to fix that tonight!" Hungry fans who want to try the recipe can find it on The Pioneer Woman website.