Instagram Is In Love With Bobby Flay's Spanish Onion Rings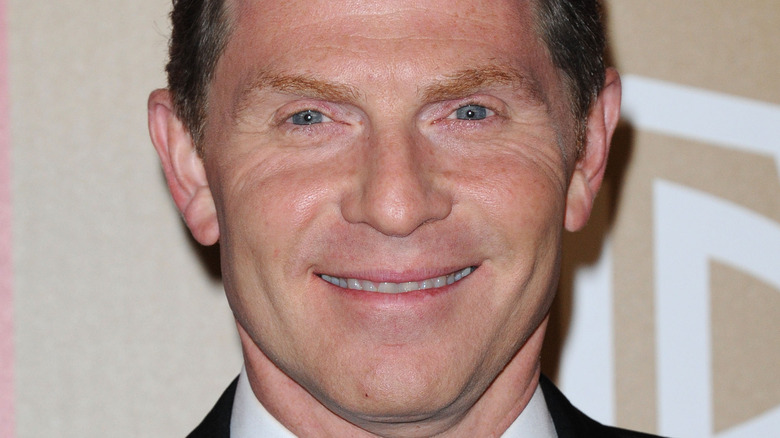 DFree/Shutterstock
Bobby Flay is widely known for his expertise in Southwest cuisine, being a culinary competition icon, and owning a burger empire. Flay's burger restaurants, dubbed Bobby's Burger Palace, are known for serving an array of burgers, shakes, and fries. According to Eater Las Vegas, one of Flay's signature moves is encouraging patrons to "crunchify" their burgers, which is a fancy way of saying you can add Lay's potato chips to any burger you order for no added cost.
Of course, you can't own a burger restaurant without having some killer side options, and Flay doesn't disappoint in that department. He serves up the classics: french fries, sweet potato fries, and onion rings. The fries are made fresh, never frozen, and are double fried. Sauce lovers can choose BBP's signature fry sauce, which according to Bobby's Burger Palace's Facebook, is made from mayo, roasted red pepper, and chipotle in adobo. The restaurant's sweet potato fries are served with a honey-mustard horseradish sauce (via Bobby's Burger Palace).
Even with all the delicious burger and fry options, it's the buttermilk fried onion rings that have taken the internet by storm.
Bobby Flay's onion rings earn high praise
When Bobby Flay posted a picture of his buttermilk fried onion rings on Instagram, fans lost their minds. One commenter wrote, "Damn @bobbyflay those onion rings are a golden dream, and always love a good burger!!" Fellow Food Network star Sunny Anderson wrote, "The pixels are exquisite...I zoomed in HARD😍😍😍"
Loyal Instagram fans aren't the only ones who love Flay's buttermilk onion rings. In 2016, the "Beat Bobby Flay" star put his onion rings to the test by challenging Bon Appetit's Andy Baraghani to an onion ring throwdown. Baraghani's onion ring batter combined beer and club soda, while Flay relied on his double dredge method. Ultimately, Flay's onion rings won (via Bon Appetit).
The method for Flay's perfect onion ring is no secret. To accompany the onion ring challenge video, Flay's recipe was published on Bon Appetit's website. The chef uses thickly sliced rings of Spanish onions that he soaks in a buttermilk and cayenne marinade for at least 8 hours. His secret is to double dredge the onion ring before frying. This means he dips the marinated onions in seasoned flour, taps off the excess, then returns it to the marinade and the flour mixture before frying. This creates the perfect onion ring that Flay calls "addicting."