How To Get Free Onion Rings At Burger King
It's the most wonderful time of the year again, Thrillist reports, a day that's sandwiched between National Cookie Dough Day and National Porridge Day. You got it — it's National Onion Ring Day.
Let's face it, we've never really needed a special occasion to eat onion rings. They're the perfect crispy, savory side dish. Onion rings highlight all the best qualities of an onion and build on their natural, beautiful flavor with deep-fried breading. The onion ring's versatility alone is enough to celebrate. Enjoy them with a burger. Order them as an appetizer. Use them as a vessel for your favorite condiments. Make them an entire main course. There's no wrong way to eat one. Onion rings are so good that multiple countries claim to be the original origin.
But if these reasons aren't enough for you, use National Onion Ring Day as an opportunity to enjoy a celebratory freebie from a popular national chain.
Thank You, BK!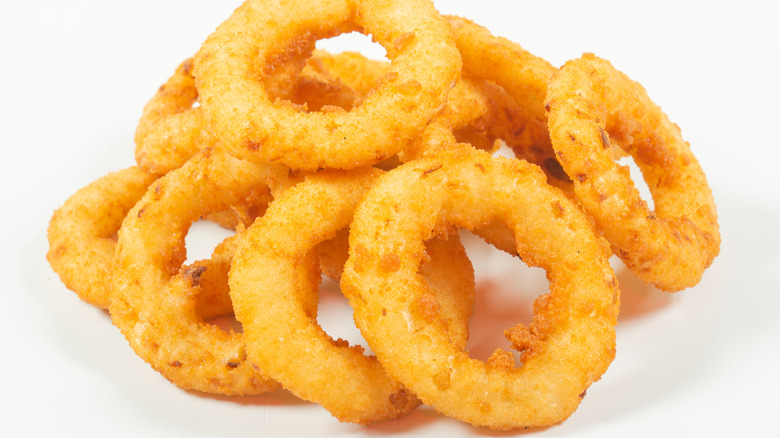 kurganskiy/Shutterstock
If you haven't received an invitation to an exclusive onion ring bash, you can still take part in the spirit of the holiday. Burger King will offer a free order of onion rings with every purchase of at least $1, according to Thrillist. The purchase must be made through the app or website. Mass Live reports that you also have to be a part of the Burger King's Royal Perks program to cash in on this promotion.
Burger King's onion rings may not be your first choice. In fact, they came in dead last on the Mashed list of the best Fast Food Onion Rings, ranked worst to best. Some people are skeptical about whether they actually contain onions, and they were once called them "supremely unpleasant" and "an abomination." One commenter on Chick Advisor said they "hated the taste from the first time I tried them." Another wrote, "How are these even considered onion rings?" 
But today, they're FREE. 
An onion ring is delicious even at its worst, and on this day, there's an unspoken "no onion ring left behind" policy. Plus, when you purchase something online at Burger King and bite into the savory side, you're automatically part of the celebration.