Pumpkin Spice Pudding From Jell-O Is Officially Back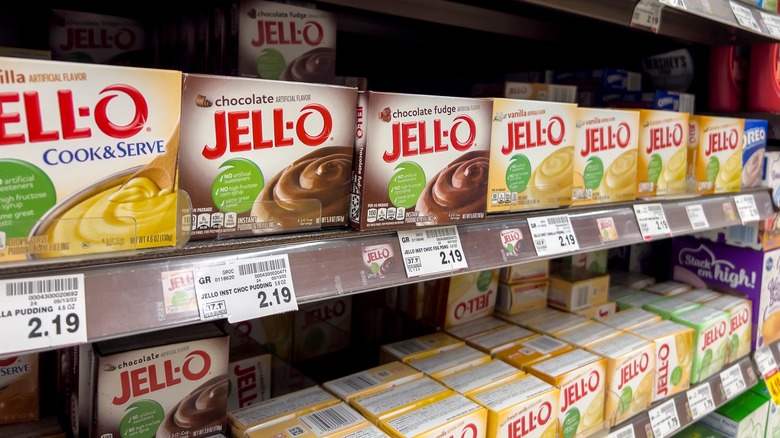 Colleen Michaels/Shutterstock
We may receive a commission on purchases made from links.
Pumpkin spice season is unofficially here and it seems fall fanatics are being treated to every pumpkin spice-flavored food they can possibly imagine. Goldfish that taste like a Dunkin' pumpkin spice donut? Covered. Almonds dusted with decadent pumpkin spice flavor? Done (per Amazon). And, perhaps someone out there's favorite, pumpkin spice Spam? Check. And one of the companies beloved for making at-home baking a breeze is also returning a pumpkin spice edition of its product to stores across the Nation.
While Jell-O is primarily known for helping cooks with its classic vanilla and chocolate flavored instant pudding, it has also branched out its flavor collection to please customers looking for a bit of holiday twist over the years — though many of these limited edition puddings did not return after their initial launch. And while Jell-O's 2012 Christmas gingerbread and candy cane flavors didn't stick (per FoodBeast), its pumpkin spice Jell-O pudding has become a staple for those who love building autumn-inspired desserts. Now the cooking and snack-time favorite has quietly become available for fall lovers once again.
What you need to know about Jell-O's Pumpkin Flavored Instant Pudding & Pie Filling
Jell-O's easy-make Pumpkin Flavored Instant Pudding & Pie Filling is back, and according to the company's website, it tastes like it was made by your grandma with love. Each package contains 24 grams of ready-to-make pudding and offers four servings. Like Jell-O's other instant puddings, its Pumpkin Spice flavor will only take around five minutes of your time and two cups of cold milk to make. 
Aside from being an easy way to create the filling for a classic pumpkin pie recipe, Jell-O's pumpkin spice flavor can be used to make an array of pumpkin-perfect treats. Spaceships And Laserbeams recommend making a batch of white-chocolate chip pumpkin spice cookies with your fall-influenced Jell-O pudding. And if you're looking for an even faster way to whip up a pumpkin spice-inspired pie, Just a Pinch reported that Jell-O itself has provided its customers with a recipe for a no-bake, pecan-topped dessert.
Amazon states that Jell-O's fall favorite flavor will only be available for a limited time. And judging by the review section of its Amazon listing, pumpkin spice lovers may want to get their hands on the pudding and pie filling mix as soon as possible — many reviewers through the years noted that this fall treat can be difficult to find in stores.