The Mishap Bobby Flay Says He'll 'Never Live' Down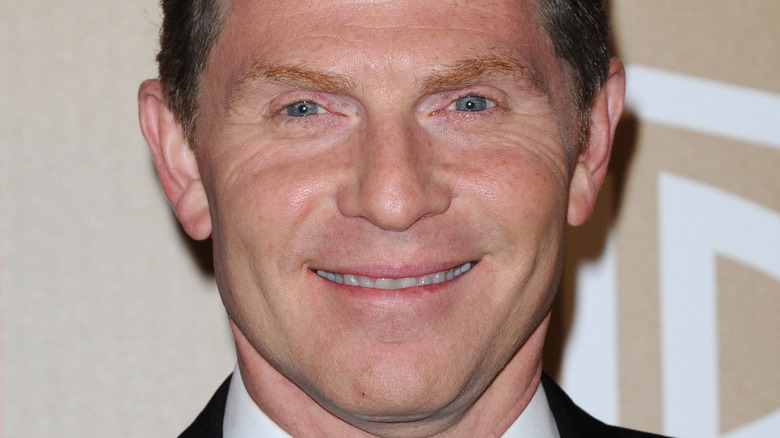 DFree/Shutterstock
Bobby Flay is a successful restaurateur, Food Network star, and competition chef extraordinaire. Over the years, he has competed on "Iron Chef America," "Throwdown with Bobby Flay," and "Beat Bobby Flay." His accomplishments and talents as a chef come across in competition, as he wins more than he loses. In fact, some "Beat Bobby Flay" fans wonder if the show is rigged based on his performance. Cheat Sheet reports that the chef wins about 66% of the time. While this is a majority, it certainly doesn't mean he's guaranteed to win.
Part of what makes Flay so successful in his cooking competitions is the choices his competitors make. Alex Guarnaschelli says that chefs need to stay true to themselves and their cooking style in order to come out on top. If that doesn't work, competitors can challenge Flay with desserts or Indian food, as food blogger Alex Cates calculated that those who chose Indian food win 73% of the time.
Even when Flay does win, it doesn't mean his cooking process is always smooth sailing.
Bobby Flays homemade pasta debacle
In a season 6 episode of "Beat Bobby Flay," the host made the unfortunate mistake of getting his knife stuck in a Kitchen-Aid stand mixer. Flay was competing against chef Bruce Kalman, cooking spaghetti carbonara. In his attempt to make homemade pasta, Flay got his chef's knife stuck in the pasta attachment of the mixer.
His good friend Sunny Anderson was a judge on that episode and certainly can't forget what transpired. When Flay posted a photo on Instagram of his homemade pasta, Anderson lovingly reminded him of the knife incident. She joked, "Remember that one time (at Beat Bobby Flay camp), when you were trying to make pasta and got your knife stuck in the stand mixer attachment?" And went on to exclaim, "You've come a long way, baby! (laughing emojis)." The Iron Chef proved to be a good sport, as he replied, "I'll never live it down."
Fans were quick to notice the witty banter between the two, with some noting that they seemed like family members, rather than friends, while others seem more familiar with Anderson's frequent trolling of Flay on Instagram. On Flay's birthday, Anderson posted a throwback photo of Flay in a Smokey Bear Ranger costume. While she teased that he was making his "I just made crispy rice" stance!" she ended her post showering him with love and affection.