Sunny Anderson Just Trolled Bobby Flay On Instagram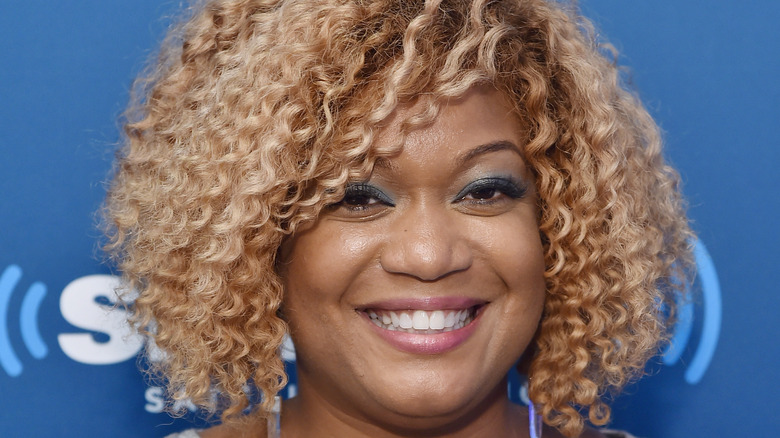 Mike Coppola/Getty Images
It's hard to scroll through Sunny Anderson's social media without noticing how she likes to give fellow Food Network chef Bobby Flay a hard time whenever the opportunity presents itself. Whether Anderson is wishing her buddy a happy birthday with a post that includes an adorable picture of Flay as a child, or is dishing out her wisdom about Flay's contract negotiations and leaving Instagram cracking up, "The Kitchen" co-host loves a little banter with her friend. 
Anderson is at it again, and we think this time might be even funnier than when she poked fun of Flay's hat choice with a hilarious meme of the "Throw Down" host who was giving off a vibe that resembled "Fat Albert" character, Rudy Davis. In fact, it's worth noting, Anderson's playful jab this time around is a little different than in previous interactions. Honestly, Flay made the job a little easier for Anderson. Instead of creating her own post, Anderson is trolling Flay on his own Instagram account, and followers are loving it. After Flay shared a photo of a stone crab claw and wrote, "Class and quality go hand in hand," Anderson was not impressed and suggested a witty alternative.
The claws have it
As seen in Flay's Instagram post, the celebrity chef was in Miami and had dined at the famous 108-year-old Joe's Stone Crab Restaurant, enjoying their speciality dish of crab claws. Flay clearly wanted to "unshellfishly" share the experience with his fan base and heap some praise on Joe's at the same time. But friend Sunny Anderson was the perfect foil and hilariously assumed the role of the antagonist when responding to Flay's post by writing, "Is that your idea of a clever caption Bobby? You could've put some hip hop on it ... 'Started from the bottom, now we're here @joesstonecrab.'" 
Anderson has quite the sense of humor, and a Flay fan lauded the chef adding, "@sunnyanderson you're like a firecracker, love it!!!!" While another made a caption suggestion of their own, typing, "Or claw in claw." And still another commented, "Haha good one @sunnyanderson How about 'pinch me, I must be dreaming.'" 
We probably would have gone with a Disney reference and riffed on the aliens' line from "Toy Story": "The claw chooses who will go and who will stay." But, regardless of the caption, Joe's definitely sounds like the place to enjoy stone crabs. Plenty of other responses noted this eatery serves "the best," and one summed up the overall sentiment of Flay's fans by sharing, "Instant drooling when I saw this pic." Us too.