Cracker Barrel Just Announced Some Major Menu Changes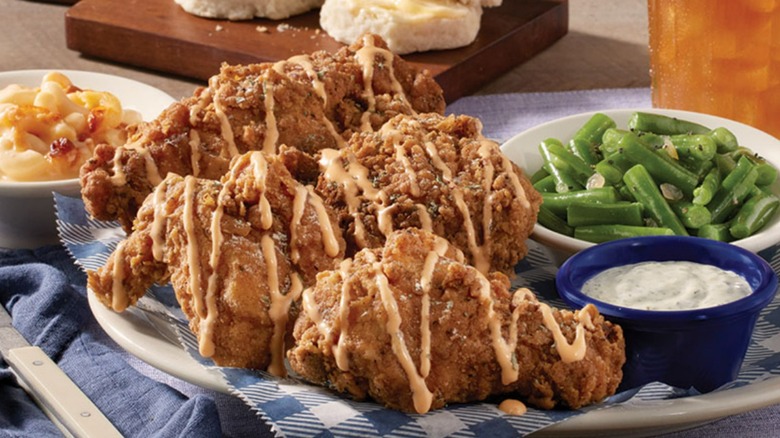 Cracker Barrel
Back in 1969, the Cracker Barrel Old Country Store was founded by Tennessee's Dan Evins to meet a need that, at the time, seemed almost impossibly modern (via About Cracker Barrel). A little more than a decade prior, U.S. President Dwight D. Eisenhower signed legislation making the American interstate highway system a reality, per The United States Army. Eisenhower wasn't the architect of the vision, nor of the highway, but his having greenlit the funding of what would eventually make today's nearly 50,000-mile network of federally maintained roadways happen (via Federal Highway Administration) was a dream come true for many Americans. 
Nevertheless, as the Cracker Barrel website tells it, something seemed missing to Evins. And that was home-cooked food. Or, at least, food that tasted as good as mom's and for a reasonable price without having to veer too far off the highway. Accordingly, Evins' vision of Cracker Barrel as a homey country store where one could find an affordable filling meal was both new-fangled and steeped in tradition (via Cracker Barrel). Other than that time Cracker Barrel scandalized its customers by introducing plant-based meats, the popular chain has stayed pretty true to said vision. True to form, Cracker Barrel appears to be taking no major chances with its latest menu changes.
New, but not too-new
On August 23, Cracker Barrel announced promising new fall recipes that are, essentially, twists on existing menu items (per PR Newswire). According to Sarah Breymaier, Cracker Barrel's director of menu strategy, the chain is, "always exploring opportunities to offer guests new and flavorful twists on our traditional, made-from-scratch homestyle meals." And in this case, it would appear that the aim is spot on. We're talking about the Kick'n Ranch Fried Chicken (which is a twist on Cracker Barrel's bone-in Southern Fried Chicken), and the white cheddar cheese bites and country fried pickles that comprise the new sharable Barrel Bites items. It's available starting now and through October 9. 
In addition, the beverage menu will now be offering a boozy twist on a traditional sip: Jack Daniels Country Cocktail Southern Peach. And also for a limited time, the chain is introducing the "quintessential" side of broccoli cheese casserole. Cracker Barrel will also serve up new treats with an apple streusel pie and a Peanut Butter Cup Mocha with chocolate whipped cream and chocolate and peanut butter sauces. While that last one isn't exactly a riff on a tradition, the stats on America's love for lattes suggests it could be a hit anyway. And if it doesn't work for you, there's always our best peanut butter latte recipe.