Is The Plant-Based Meat Trend On The Decline?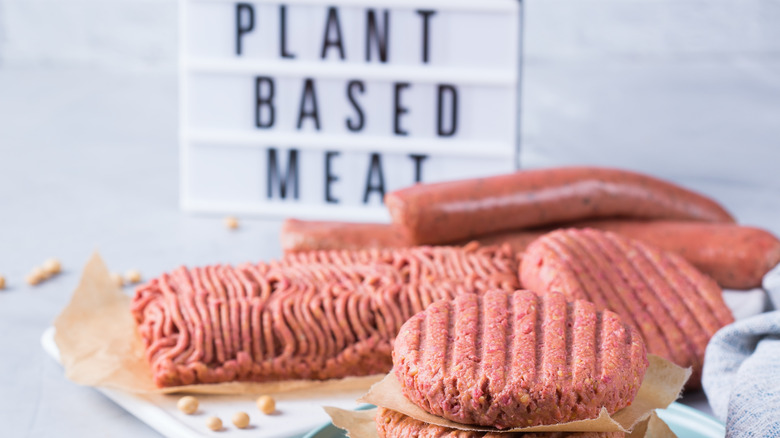 Antonina Vlasova/Shutterstock
In the not-too-distant past, it looked like much of America was open to jumping on the plant-based meat bandwagon. Global Citizen reports that back in 2019, plant-based meat made up only about 1% of meat sales across the country, but it seemed that number would increase thanks to the advent of better products, massive cash influxes to plant-based meat companies, and a push by chains like Burger King to promote the protein. Others argue that the meat alternative provides a healthier alternative to beef, pork, and other animal meats, emphasizing that vegetable-based meats use less water and land than raising livestock, per Unilever Food Solutions.
Good Food Institute found that this protein continued to pick up momentum over the course of the pandemic. Sales of plant-based meat trended upward during 2020 and even overtook some other traditional food markets. In 2021, the sales didn't surpass those of the previous year, but it didn't look like vegan protein would go anywhere anytime soon.
Recent numbers now indicate that the alternative meat momentum might be slowing down. According to Food & Wine, sales of vegan protein have continued to drop to a near standstill, and are struggling. It has also failed to breach the traditional meat market in the way some analysts may have hoped, and at least one big name in the field has recently released some disheartening financial numbers.
There are mixed predictions of how plant-based meats will fare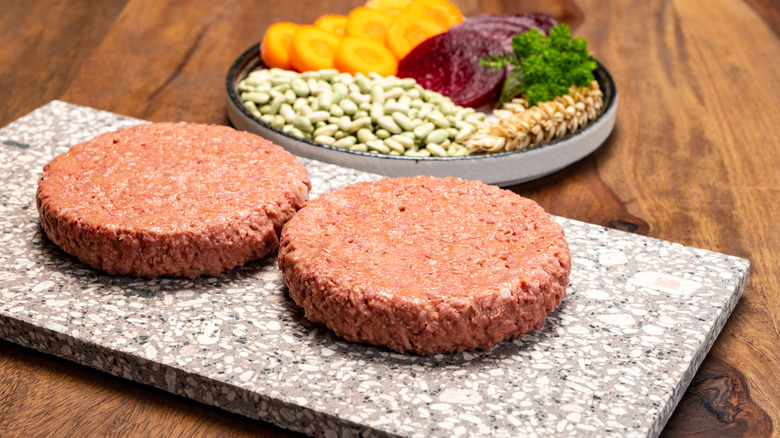 barmalini/Shutterstock
Beyond Meat released its first-quarter earnings and the numbers don't look promising. The company reported a net loss of $100.5 million, equating to a 91.8% net drop in total revenue. Despite this drop, executives remain optimistic, defending their decision to partner with PepsiCo and stating that the road bump is a temporary issue that the company will soon overcome. 
According to PR Newswire, the Center for Consumer Freedom launched an advertisement campaign in the six-digit figure range that takes aim at alternative proteins. The ads, which ran in the New York Post, call out the vegan meats for containing chemicals and processed ingredients the average consumer might not recognize. Smear campaigns and poor earnings suggest that the tide might be turning on plant-based meat, at least when it comes to public support.
But it's not all bad news. A new study reveals that plant-based meats are, in fact, on the rise. Good Food Institute found the investment in vegan meats shines in the big picture and moving forward, the proteins will be as ubiquitous as foods marketed as natural or organic. The success of the field, like any other, isn't guaranteed, as companies need to keep producing alternative proteins that taste great, have a good price, and appear at enough stores and restaurants in order to make it. It seems only time will tell how the plant-based meat industry will fare.