The Unexpected Food Combo That Will Majorly Upgrade Your Taco Tuesdays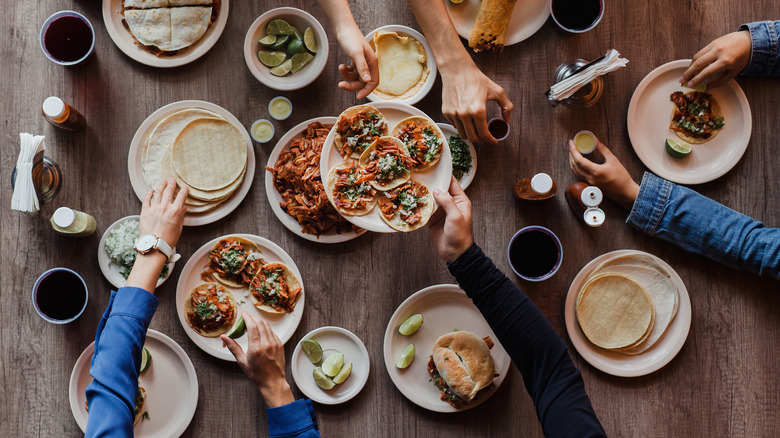 Marcos Castillo/Shutterstock
Cream cheese on pepperoni pizza, or pickle and peanut butter sandwich anyone? All of us have strange food combinations we swear by, with some tasting surprisingly delicious, but there are some controversial combos we wish would go away entirely. Regardless of whatever combination of foods you secretly love to enjoy, certain unusual food pairings have been added to our culture's everyday food offerings without a second thought, such as mashed potato pancakes or salted chocolate chip cookies.
With all the many food fusions out there, the options are endless, especially when it comes to tacos. As far as foods you should be putting on your tacos but aren't, apart from papaya and kimchi, there are restaurants all over the U.S. taking the proverbial taco game up a notch. Guerilla Tacos in Los Angeles offer a pork belly taco served with pickled asparagus, and cacao and hazelnut salsa on its present dinner menu. Torchy's Tacos, a fast-casual restaurant chain with various locations around the U.S., regularly features a taco of the month — currently, it's a breaded fish taco served with Thai basil, mint, and sriracha mayo.
All of these tasty additions and unique combinations don't end at tacos, though. There is one chef that's changing the makeup of a traditional Mexican dish ever so slightly by creating a combination of foods that even less adventurous eaters are likely to appreciate.
A new take on Sopa Seca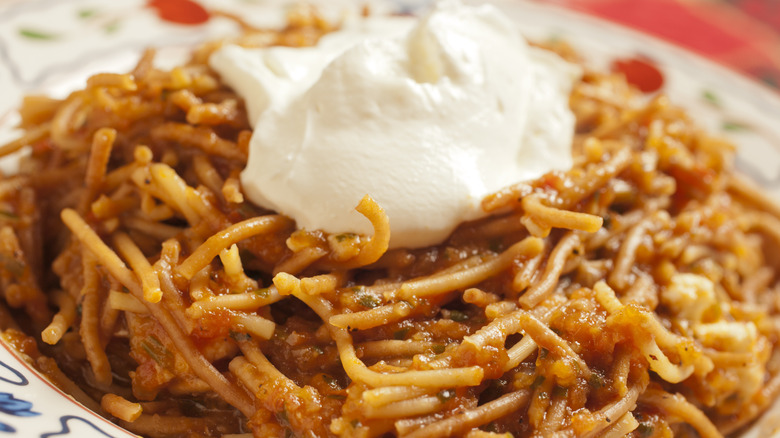 Brian Yarvin/Shutterstock
If you're at all familiar with traditional Mexican dishes, then you've probably heard of Sopa Seca. In central Mexico, the dish means "dry soup," and it's served as a light midday meal of either toasted rice or chopped noodles cooked in a light tomato broth with onions. It's meant to prepare palates for the main course (per Mexico Cooks).
Recently, Grant Melton, a culinary team member and recipe developer on "The Rachael Ray Show," combined his love for traditional taco fillings with the toasted noodles of traditional Sopa Seca to make one unique dish. A few weeks ago, the recipe for "Taco Pasta Casserole" went live on Ray's website, and this new take on an old staple contains everything you love about tacos piled onto one heaping bed of toasted noodles.
While traditional Sopa Seca is made with a simple tomato broth and toasted vermicelli noodles, Melton fuses the best of both worlds: tacos and pasta. While the chef does, in fact, toast the noodles and use a tomato broth, he then adds black beans and ground beef to the mixture. Once the casserole is done baking, Melton adds other infamous taco toppings, like Monterey Jack cheese and sour cream (per Rachael). This recipe proves that combining two ordinary favorites can create a new tasty family dish that most Mexican food lovers would have no problem enjoying.