12 Things You Should Be Putting On Your Taco, But Aren't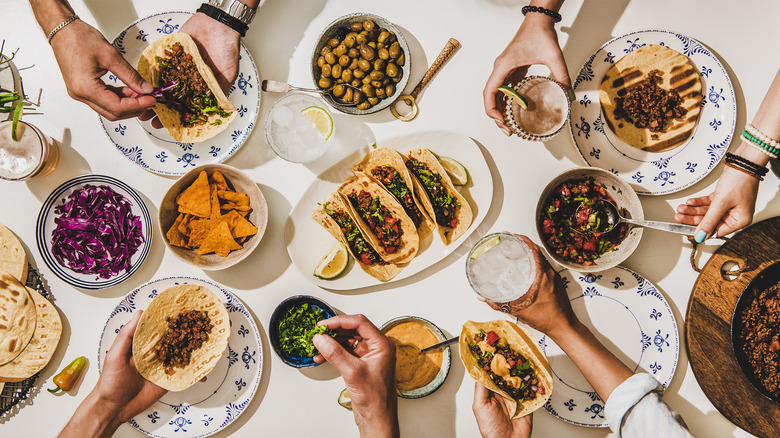 Foxys Forest Manufacture/Shutterstock
We may receive a commission on purchases made from links.
Tacos are one of America's favorite foods, and that's not really surprising to most — even if their history is. While tacos originated in Mexico, every single state in the United States has great taco offerings. The format of the taco lends itself to endless innovation and creativity, depending on personal tastes and local availability. Even the great classic taco recipes can use a new ingredient or topping from time to time. Making tacos shouldn't be a stressful ordeal, even though there are a few key mistakes you should avoid. 
The next time you are thinking of making tacos, whether it's just for a simple weeknight meal or a gathering of friends, try thinking outside the box. We've rounded up a few surprising things you should put on your taco — toppings that you may not have thought of before. Get ready to take taco night from basic to bangin'!
Crispy shoestring potatoes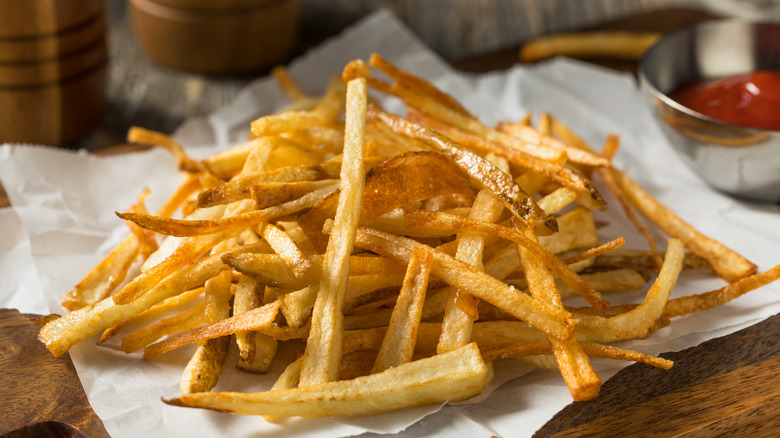 Brent Hofacker/Shutterstock
Potatoes on a taco are hardly new, and even huge chains like Taco Bell offer potato tacos for vegetarians or those just looking to skip meat for a meal. The way that those potatoes are cut and prepared can make a huge difference in the final taste and texture of a dish. 
In Denver, a local breakfast restaurant is serving up breakfast tacos with a surprising twist. At Onefold, the chefs fry shredded shoestring potatoes in duck fat fresh to order before popping them onto organic, handmade flour tortillas laden with eggs, salsa, and griddled mozzarella cheese. The result is a satisfying crunch in every bite. To recreate this at home, either cut (or buy) some shredded potatoes or shoestring fries and fry them up in regular cooking oil until golden brown and crisp. If you can find duck fat, swap that out for the cooking oil to kick it up a notch.
Sesame oil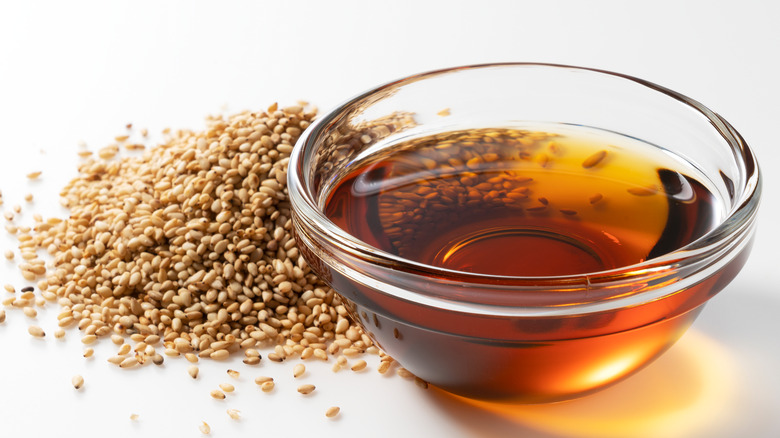 masa44/Shutterstock
In Mexico City, there's a legendary Michelin-starred restaurant called Pujol that offers a multi-course taco menu. Chef Enrique Olvera is known for his innovative takes using traditional Mexican ingredients. While we may associate sesame seeds and sesame oil with Asian cooking styles, sesame has been an important part of Mexican cuisine since the seeds were first brought over by the Spaniards, and remains a key ingredient in mole poblano. At Pujol, Chef Enrique dresses a scallop tostada with lemon and sesame oil. A quick drizzle of sesame oil on your next taco could bring a new and interesting flavor. 
Fish and citrus are natural friends of nutty flavors like sesame, so try sesame oil on a fish taco. Toasted sesame oil has a richer, deeper flavor than regular, so look for that if you can find it. Since you are only using a small drizzle, it pays off to spring for the good stuff!
Fried chicken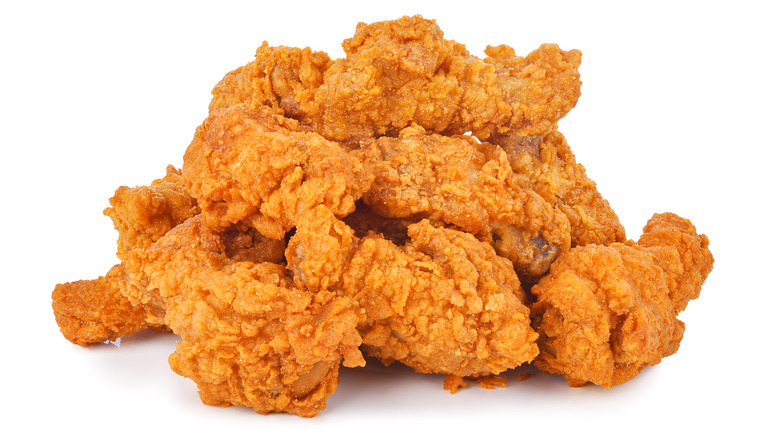 PotaeRin/Shutterstock
Crispy, fried items (like white fish) are great when nestled in the soft, fluffy embrace of a hot tortilla, and chicken remains one of the most popular proteins in Mexican cuisine. But what about a fried chicken taco? Texas-favorite Torchy's Tacos has been serving up Tex-Mex delicacies to the hungry masses since 2006. One of their most popular tacos is called the Trailer Park and features crispy fried chicken paired with green chiles, lettuce, salsa, and sharp cheddar jack cheese. You can even "Get It Trashy" to swap the lettuce out for hot melted queso. 
It may not be a heart-healthy option, but the crispy crunchy chicken goes perfectly with classic taco toppings. If you would like to consider a healthier option, try baking chicken tenders in an air fryer and using those instead. A tangy buttermilk ranch would be the perfect finishing sauce for this Mexican American fusion taco.
Cocoa nibs
Africa Studio/Shutterstock
Cocoa nibs (sometimes called cacao nibs) are the dry, crumbled bits of cacao beans. They have all the rich, nutty flavor of chocolate with no sweetness or sugar added. Because of the lack of sugar, they can be enjoyed in sweet and savory applications equally. At famed Southern California restaurant Taco Maria, a confit duck leg dish is served up with date mole, almonds and cocoa nibs. 
The nutty, rich flavor of mole is a natural bridge between fatty duck and the soft tortilla it all gets eaten with. For an easy way to try this at home, braised mole chicken legs are a simple substitution for the confit duck legs. If you can't locate cocoa nibs, some finely chopped unsweetened chocolate could work.
Kimchi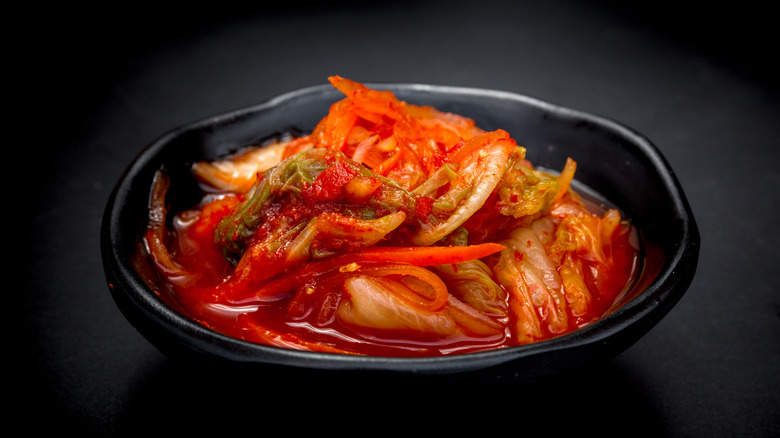 Photour.1904/Shutterstock
Another great taco topping idea comes to us by way of Cosme, in New York City. Chef Enrique Olvera brings us more great and innovative taco ideas from his upscale Mexican restaurant where guests book reservations months in advance to try the blend of local organic ingredients and traditional Mexican techniques. At Cosme, elegant plated dishes come out of the kitchen delicately crafted, along with a basket of piping hot, fresh, handmade tortillas. One of their late winter dishes comes with a Swiss chard kimchi. Kimchi is an ingredient known best in South Korean cooking, and describes a process of fermenting produce (usually cabbage leaves). 
The process can be used on dark leafy greens like Swiss chard with great results. If you want to try some of this sour, spicy, funky flavor on your next taco, you can pick up cabbage kimchi at any Asian grocery store and in the refrigerated section at many national grocery stores as well. Give this interesting topping a try on your next taco — you won't be disappointed!
Smoked salmon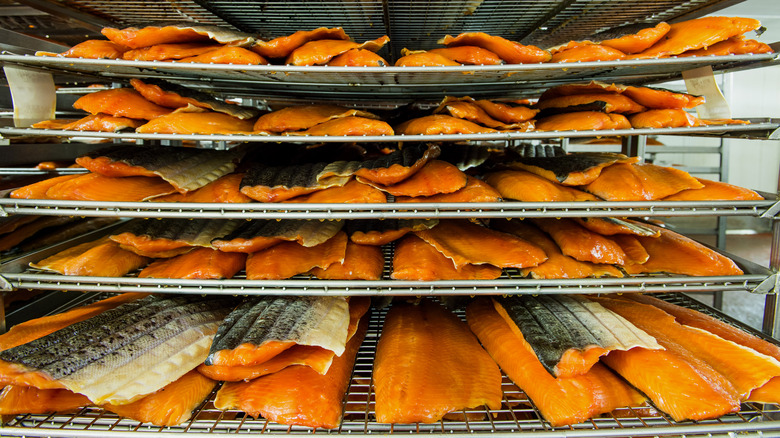 Bloomberg/Getty Images
Even though Ruddell's Smokehouse in Cayucos, CA is now closed, locals and tourists alike can still remember their killer smoked salmon, ahi, and albacore tuna tacos. It's important to keep in mind that this isn't cured salmon or lox like you would have on a bagel — here's how to make smoked salmon. Think thick slabs of fresh fish dry rubbed with a mix of salt and brown sugar and lightly smoked. 
Chunks of the hot smoked fish are loaded onto tortillas then topped with tomatoes, lettuce, and an unusual mixture of apples and celery. The sweetness and crunch of the apples and celery go perfectly with the smoky, fatty fish. If you want to try this taco yourself, look for high quality smoked salmon — of course, the fresher the better. You could pair it with a shaved apple and celery slaw like Ruddell's, or experiment with your own toppings. 
Bacon jam
DronG/Shutterstock
Who doesn't love the taste of crisp smoked bacon? While it's great on its own, there are so many, often surprising, ways to use it in cooking as well. Perhaps one of the greatest modern inventions has to be bacon jam, an otherworldly combination of chopped bits of bacon, some kind of sugar product, and spices. Since smoky pork is right at home in a variety of Mexican dishes, why not try it on a taco? You could buy a jar for convenience, follow a recipe, or come up with your own new creation. 
You could even try pairing the bacon jam with something tropical, like pineapple or mango. With all that sugar, make sure to also include a tart and citrus-y topping as well, like lime and cabbage slaw. Moderation is key with this topping, as the sugar in bacon jam can quickly overwhelm the dish.
Spicy mayo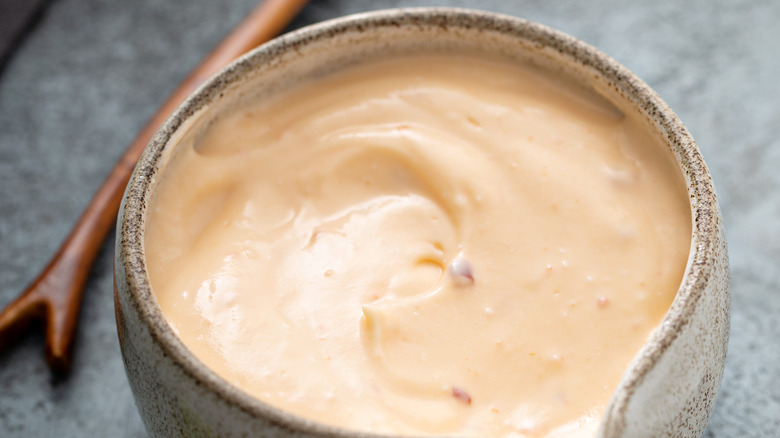 Elena Veselova/Shutterstock
A classic topping for sushi, specifically tuna sashimi, is a dollop of spicy mayo. The creamy, spicy texture works great with the salty, clean flavors of great fresh fish. At Takumi Taco in New York City, they take it one step further with a spicy tuna taco. Sashimi-grade big eye tuna is topped with crisp jicama, rich avocado, fresh cucumber and a swathe of spicy mayo. Diners all over the city flock to one of their three locations to try the unique blend of eastern and western flavors.
Want a taste without buying a plane ticket? The easiest way to make spicy mayo at home is to just mix a little bit of mayonnaise with a chili or hot sauce (like Sriracha). And it works really well on a crispy fish taco with a citrus-y cabbage slaw.
Feta cheese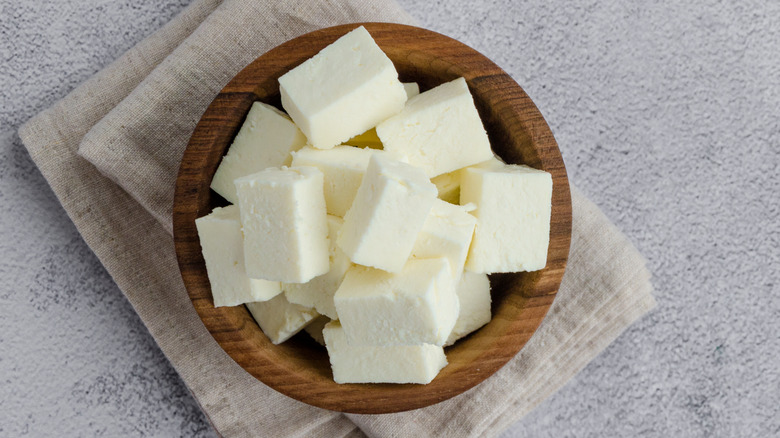 irina2511/Shutterstock
Many cheeses used commonly in Mexico are based off cheeses made in similar climates in Europe. The Spaniards brought cheese to Mexico and a dry, salty cheese (like feta from Greece) was ideal for the arid, mountainous climate. Thus, cotija cheese was born and eventually became a fairly common taco topping around Mexico and the United States. That's why topping your next taco with crumbled feta cheese isn't such a crazy idea. 
Salty, crumbly feta is similar to cotija. At Guerrilla Tacos in Los Angeles, a wildly popular sweet potato taco gets finished with crumbled feta cheese, sweet corn, and crisp green onion. This great taco spot is known for their innovative yet approachable toppings and combinations. If you ever need an idea for switching it up on taco night, head to their website for the latest menu to see what kinds of inspiration they have on tap.
Papaya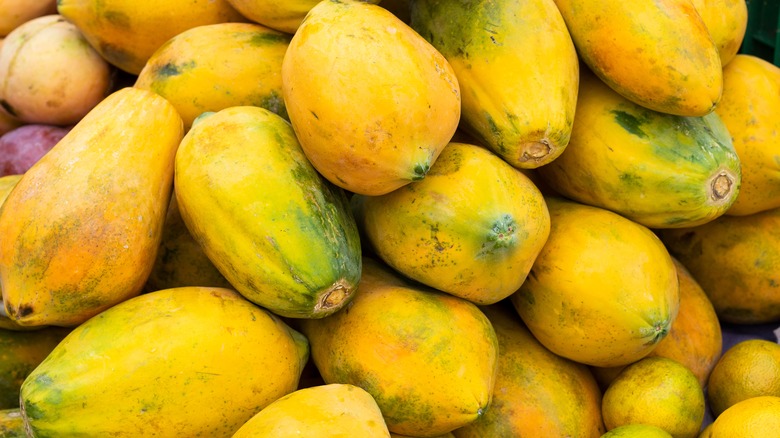 JhonatanPati29/Shutterstock
Fusion tacos have become a popular culinary adventure in recent times, and one of the newest pairings to hit the streets is the Thai taco. A classic Thai restaurant called Anajak Thai in the San Fernando Valley in Southern California sought to draw a crowd by starting a Thai Taco Tuesday. They drew on their existing expertise in Thai cookery and called on some of their Mexican-born chefs to invent tacos with toppings like fish sauce, marinated ikura, chili oil, and green papaya salad.
If you can't get your hands on crunchy green papaya, any papaya you can find will do. To recreate the same effect, look for firm, unripe papaya. Use a sharp knife to julienne the fruit as thin as possible, then mix it with chopped cilantro and lime juice. The sweet and tart slaw pairs perfectly with smoky, rich taco meats. At Anajak, the papaya salad gets paired with rich braised pork carnitas. At home, it works well with pork, grilled beef, or spicy chicken.
Squash blossom
Shaiith/Shutterstock
We sometimes think of squash blossoms as an Italian delicacy, where the flowers are stuffed with seasoned ricotta cheese and fried as an appetizing snack. What many people don't know is that squash was first cultivated in Central America and Mexico, where people have been using the squash blossoms (flowers) as a culinary ingredient for thousands of years. At trendy Brooklyn restaurant Oxomoco, they serve up a lamb barbacoa taco topped with watercress, salsa verde, and squash blossom. The squash blossoms lend a delicate floral taste and texture to the heavy-hitting flavors of the lamb and salsa verde. 
Barbacoa is a word for the technique of braising and is usually used for beef. Next time you whip up a batch of braised beef barbacoa or carnitas, look for squash blossoms at your local store to try this fun taco topping. Squash blossoms can also be paired with grilled zucchini for a vegetarian alternative.
Barbecue sauce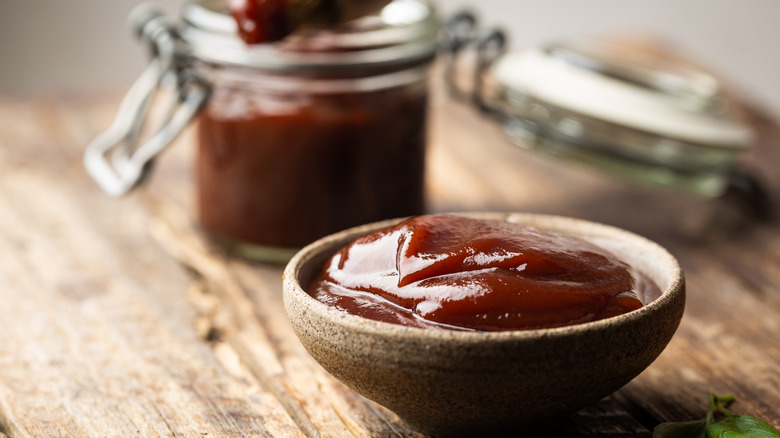 Goskova Tatiana/Shutterstock
Tex-Mex is a term to describe the specific fusion of flavors that occurs along the Texas border with Mexico. With more than 1,200 miles of shared border, it's no wonder there's a blending of cuisines and cultures in the state. Texas is also known for a long history of ranching that gave way to a rich tradition of hill country barbecue. So, it's not too surprising that someone thought to blend barbecue with Mexican food. There's a lot of overlap in ingredients and techniques between barbecue and traditional Mexican cuisine. 
Braised and wood-fired meats get topped with smoky sweet sauce. Is barbecue sauce really so different from mole? Family recipes for either are preciously guarded and both feature a blend of regional ingredients cooked low and slow. For a fun alternative on taco night, try topping your grilled or slow-cooked meat with tangy barbecue sauce. A crunchy cabbage slaw and a nicely charred tortilla complete the whole dish.