Guy Fieri Responded To A Diners, Drive-Ins And Dives Fan Theory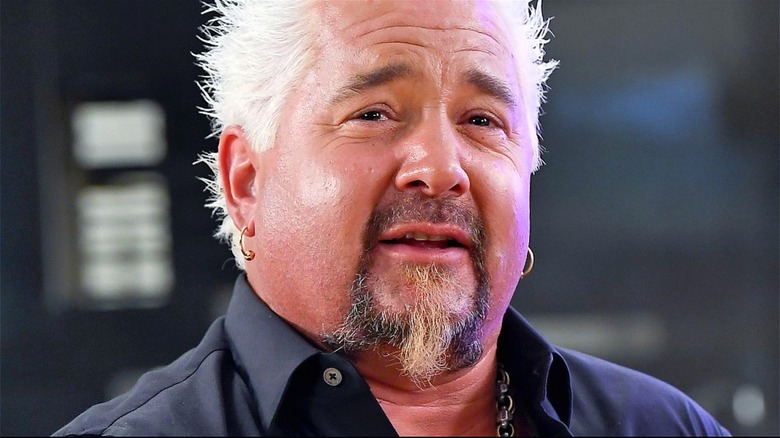 Steve Jennings/Getty
When you think of Guy Fieri, you probably picture the outspoken chef with frosted tips and sunglasses secured to the back of his tanned head while driving a flashy convertible to his next destination restaurant. Who envisions the star chef without directly thinking of his popular show "Diners, Drive-Ins and Dives?"
While Fieri's hit show has been on Food Network since 2006, airing over 400 episodes (per IMDb), Fieri got his big break by working hard, which is obvious when you know how much the famous chef has in his bank account. According to data analytics firm Kantar via Forbes, Fieri's earnings are now over $20 million per year since in 2020 alone, "Triple D" earned roughly "$230 million in ad revenue" for The Food Network.
The show is clearly popular — so much so that "Diners, Drive-Ins and Dives" now runs for a large portion of the day every Friday. While some people don't love the back-to-back episodes, the hashtag "tripledfriday" has been a staple on Instagram for years and some Fieri fans are clearly loving the extra time they get to see their favorite chef road-tripping across America.
With so many episodes under his belt, there really are some of the best restaurants from "Diners Drive-Ins and Dives" in every state. Yet, some fans speculate the food may not be as tasty as Fieri advertises on camera.
Fieri's honesty gives fans another reason to love him
In the past, "Diners, Drive-Ins and Dives" watchers have speculated over whether or not the restaurants featured on the popular show actually serve good food. While some social media users on Reddit had mixed reviews for certain spots, in a recent episode of "The Late Late Show with James Corden," Fieri debunks the myth of him lying about the quality and taste of the food he eats at these local eateries.
Fieri stated firmly, "If I don't like it, I'm not going to tell you to go there." Beyond the foods Fieri just can't eat, he won't allow a restaurant on his show unless the food meets his quality standards.
While this may warm the hearts of "Triple D" fans, it may in fact be old news to diehard Fieri followers. Three years ago, the famous chef admitted to People that "not every dish is A+. But if I don't like it, you won't see it." Some continue to speculate about Fieri's facial expressions when eating, but what makes "Diners, Drive-ins and Dives" a fan favorite is the positivity and essence of home the show brings to its many viewers across America (via The Atlantic). You will never see Fieri talk trash about a featured restaurant, which may be why 56% of fans wish to be a part of his popular Food Network program.