The Pumpkin Spice Breakfast Item That's Finally Back At Trader Joe's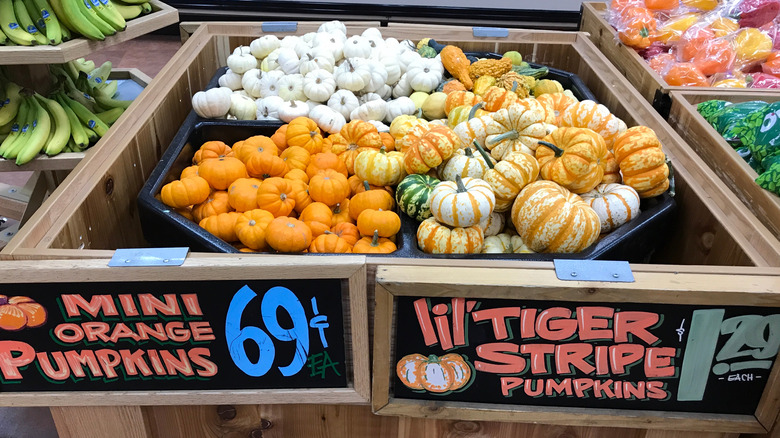 Jeff Bukowski/Shutterstock
Although the leaves might not have changed color yet, fall is in full swing in grocery stores, and people are clamoring over Trader Joe's latest seasonal foods. Instagram got a sneak peek at Trader Joe's fall items, which include products like caramel apple mochi, cinnamon roll blondie bars, and Brussel sprouts and bacon ravioli. While we don't know when all of these items will be available, some products have already started popping up on social media, and one fan-favorite pumpkin item has just been spotted back in stores. Although Trader Joe's has plenty of other fall flavors besides pumpkin, there's no denying pumpkin's popularity this time of year.
Instagram user @traderjoeslist posted a photo of Trader Joe's latest returning pumpkin product, "this pumpkin walks into a bar...," which is the store's line of fruit-filled cereal bars. Like other bars, these could be eaten as a quick breakfast, a snack to take on the go, or even a dessert. The photo shows that the price is $1.99, although prices could vary across stores, and each box has six pumpkin cereal bars.
Here's what Trader Joe's customers are saying about this pumpkin cereal bar
Like with many other seasonal items, Trader Joe's fans are taking this opportunity to stock up on these pumpkin cereal bars. In the comments of @traderjoelist's Instagram post, one person said, "I need to stock up and hoard forever," and another person wrote, "I grabbed a couple boxes yesterday but can't bring myself to eat them yet. It's too hot in Florida." For those in hotter states looking for cold pumpkin items, Dutch Bros. Coffee's fall menu features plenty of iced drinks. 
But for the most part, it looks like most people are ready to dive headfirst into pumpkin season, no matter the weather. One commenter enthusiastically said, "These are bomb!!" and another added, "Can't wait for all things pumpkin!!!"
Although there's definitely hype for these pumpkin cereal bars, Trader Joe's shoppers are also anxiously waiting for the brand's other pumpkin products. In the comments, people mentioned keeping an eye out for pumpkin waffles and the autumn pasta sauce. In fact, we ranked the Trader Joe's jarred pasta sauces, and the Autumnal Harvest Creamy Pasta Sauce came out on top, thanks to its tasty blend of tomato, pumpkin, and butternut squash. What fall product are you most looking forward to seeing on shelves?