The Best Lump Charcoals In 2022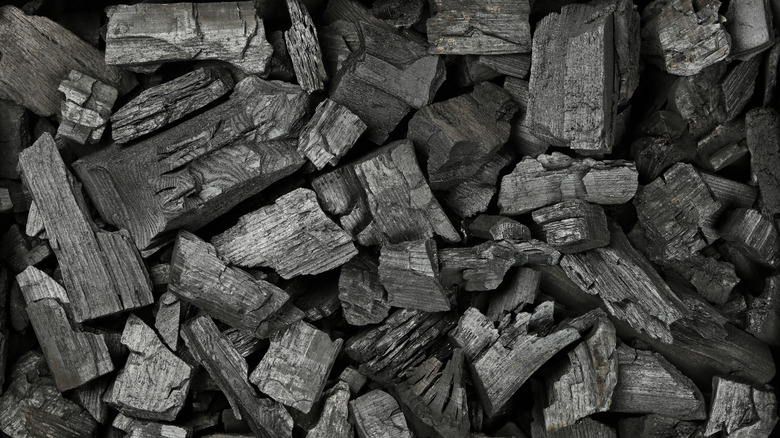 Breaking The Walls/Shutterstock
We may receive a commission on purchases made from links.
It's no secret that grilling with charcoal builds major flavor. As your food cooks over hot coals, fat drippings full of natural sugars drizzle downward, continually basting your dish in aromatic plumes of vapor until it reaches fire-kissed perfection (via WIRED). That said, different types of charcoal can have different effects on the food, and there are some important distinctions that give lump charcoal a few key advantages over briquettes.
While briquettes are cheaper, they're also more difficult to light and are typically made with sawdust and other additives that can potentially impart an unpleasant taste (via Smoked BBQ Source). Lump charcoal, on the other hand, is easier to light, produces less ash, burns hotter than briquettes, and is made with carbonized wood that doesn't contain any fillers or additives. Because lump charcoal burns at a higher temperature, it's also much better for searing, a technique that can add a much deeper flavor to your dishes through the Maillard reaction (the yummy browning that's achieved through higher heat). If you love to grill but you've never cooked with lump charcoal before, it's about time you changed that. You can now experience all of the blazing glory that these miraculous carbonized wood chunks have to offer.
How we selected products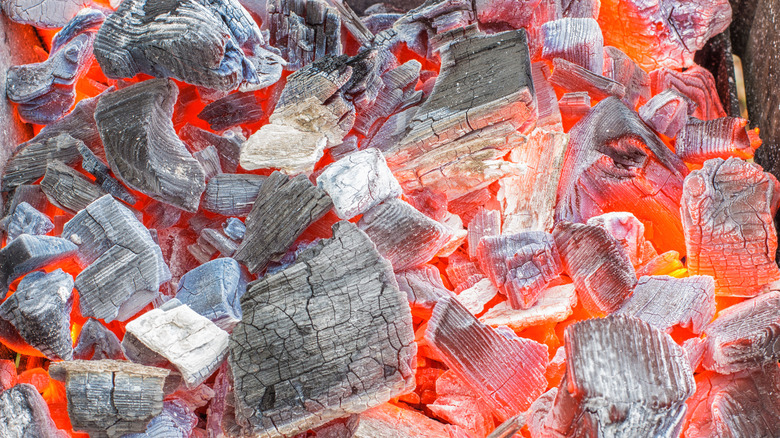 Natali _ Mis/Shutterstock
In order to offer you the best selection of lump charcoal brands on the market, we carefully evaluated some of the most popular options out there. There's no doubt that one of the best ways to get an honest review is through customer feedback. So, to get a comprehensive view of each item's performance, we took a look at many user reviews and especially customer feedback with verified purchases.
We also focused on providing a wide range of options so that you're bound to find a great lump charcoal brand that you can trust to deliver excellent results. Affordability was a top priority as well, so you're bound to find something to fit your cooking needs and budget. Whether you're a pro on the prowl for the best deal in bulk or a beginner looking to try lump charcoal out for the first time, rest assured that you will find an exceptional option here that best suits your needs. These are the best lump charcoal deals of 2022.
Best overall lump charcoal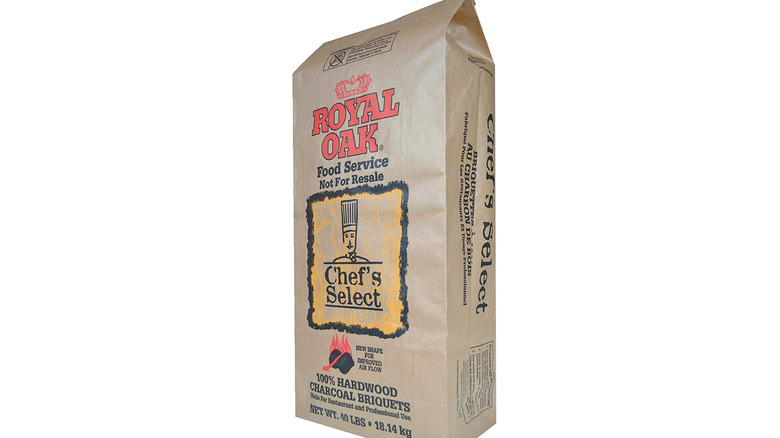 Royal Oak
If you're searching for a lump charcoal that has it all, this 40-pound bag of select premium hardwood from Royal Oak should do the trick. This lump charcoal is a wonderfully useful mix of American oak and hickory, which work together to create an optimal temperature and distinct flavor profile. While oak is known for its subtle sweetness, hickory has a more assertive character that tends to lend a bolder flavor and aroma to whatever you're cooking (via MasterClass). Of course, if you want to add even more smoky flavor, you can always throw some wood chips in the mix such as mesquite, cherry, or maple (via Oklahoma Joe's).
This bag of Royal Oak lump charcoal is sustainably sourced in the United States and produces minimal ash, which means less mess and quicker cleanup. On top of all of this, this particular brand of lump charcoal has earned a nearly perfect rating from satisfied customers after more than 1,200 user reviews on Amazon. Fairly priced and with a good reputation, it's clear that Royal Oak charcoal offers one of the best deals on the market.
You can buy Royal Oak premium hardwood lump charcoal on Amazon for $55.
Best budget lump charcoal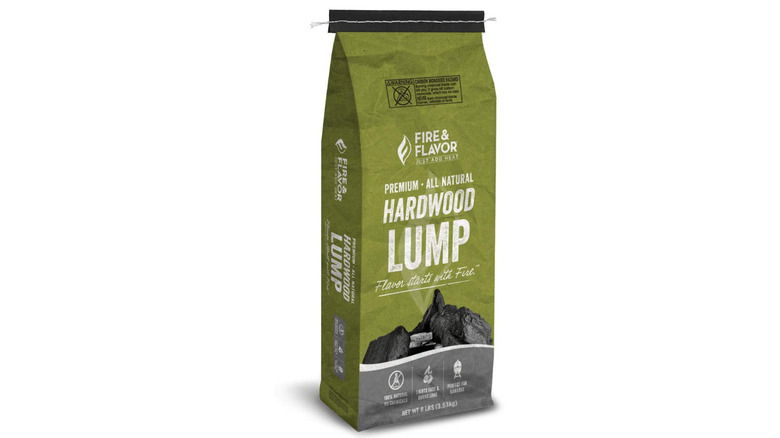 Fire & Flavor
When you're on a budget, it's clear that every dollar counts. While it's true that lump charcoal tends to be a little pricier than briquettes, there are still some great bargains on lump charcoal out there that won't break the bank on your quest for grilling greatness (via Smoked BBQ Source). This eight pound bag of premium hardwood lump charcoal clocks in at only 12 bucks, making this a great match for anyone looking for a dirt cheap deal while still upping their charcoal grilling game. But don't mistake the low price for a lack of quality. As it turns out, this lump charcoal has quite a lot to offer.
The pieces of charcoal from this brand are carefully selected to ensure consistency in size, ranging anywhere from two to four inches and helping to ensure more even cooking. Made with a blend of mesquite and oak, this lump charcoal is all natural, hand-picked, kiln-fired, and burns nice and clean. Whether you're looking to cook up some burgers, grill some chicken, or whip up any of your favorite flame-roasted dishes, this low-cost lump charcoal will deliver big flavors at lower cost.
Purchase Fire & Flavor's eight pound bag of lump charcoal on Amazon for only $12.
Best lump charcoal for smoking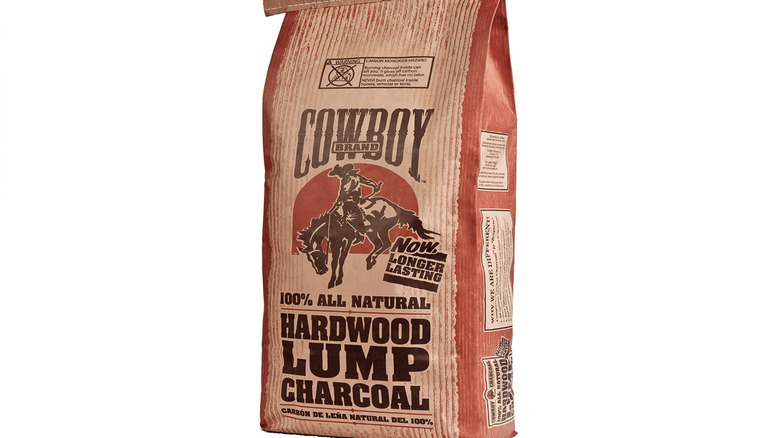 Cowboy
There's a good chance that if you're into grilling, you also dabble with smoking. With that in mind, there are a few special features about this lump charcoal from Cowboy that make it ideal for producing a delicious piece of smoked meat.
For one, this lump charcoal is known for its longevity, maintaining its heat for the long burning sessions necessary for smoking. After all, smoker recipes typically call for low and slow cooks that require an extended period of time on the grill. Using a lump charcoal that can endure a little longer than briquettes allows the food to smoke undisturbed for longer periods of time and with minimum fussing from you. Beyond this, Cowboy lump charcoal uses a special mix of oak, hickory, and maple, all of which have their own unique aromas and flavor profiles that will give your final dish a unique character (via MasterClass).
This lump charcoal is 100% natural, lights very quickly, doesn't require lighter fluid, and doesn't produce much ash. Since lighter fluid can impart an unpleasant, chemical taste to food, it's best to avoid it on the grill when you can. With this all natural lump charcoal, there are no additives, so all you get is pure flavor. Saddle up with Cowboy lump charcoal and see what you've been missing out on.
You can buy Cowboy lump charcoal on Amazon for $38.
Best natural lump charcoal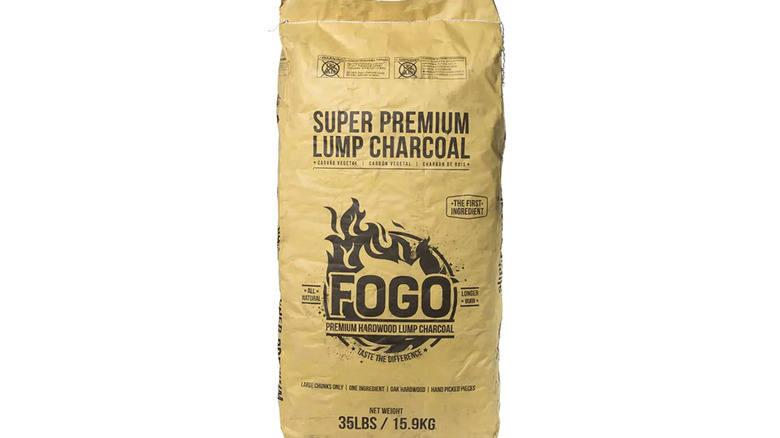 Fogo
One of the major advantages of cooking with lump charcoal is that it tends to be made from all natural carbonized wood (via Smoked BBQ Source). Often, this results in a much better process than cooking with briquettes, which are often made with sawdust and contain other additives. If you're looking for an all natural option that's sustainably sourced, then look no further than this bag of Fogo super premium lump charcoal.
This hardwood charcoal is carefully selected from tree trimmings and trees marked for removal in areas that ensure reforestation. That's possible because Fogo lump charcoal comes from Inga trees in El Salvador, which require regular pruning. The company also plants more Inga trees around the country, with a goal of planting at least one million new trees as part of its sustainability efforts. Another bonus: this charcoal is slightly larger than other brands, since each piece is actually measured. Every piece selected for use is over four inches long (via Fogo). Bigger pieces of charcoal means a longer burn, which allows you to focus on the art of cooking rather than worrying about the fire dying down.
Purchase Fogo super premium lump charcoal on Amazon for $55.
Best long-lasting lump charcoal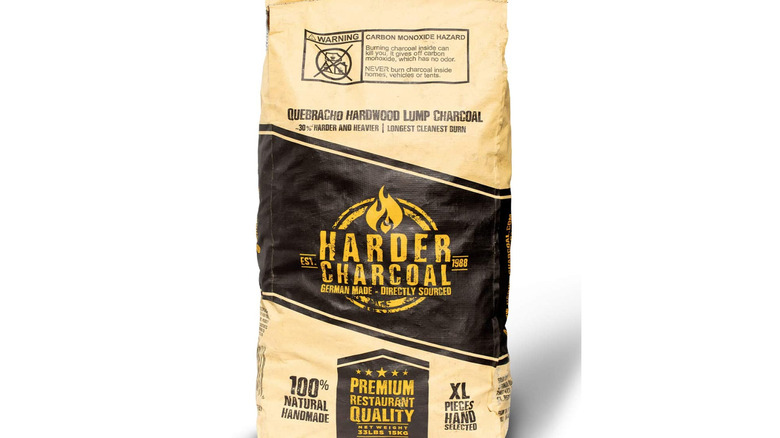 Harder Charcoal
Harder Charcoal is another brand known for its product's longevity, but in this case, its impressive endurance is partly due to the tree the charcoal is sourced from rather than solely the size of the pieces. Taken from South American quebracho trees, the wood from these trees is well-known for its resilience. In fact, the word quebracho literally translates to "ax breaker," which should give you a good indication of just how strong this stuff is.
Because quebracho trees are some of the strongest in the world, its wood is also used in the construction of hard-wearing, long-lasting products like wheels and furniture. Given its strength and usefulness, some areas that produce these trees have local management laws that protect quebracho forests to ensure that cutting is highly regulated. What this all adds up to is a lump charcoal made from a prized wood that has an impressively long burn time. So if you have any recipes that require an extra long ride on the grill, then it doesn't get much better than this.
You can buy Harder natural lump charcoal on Amazon for $48.
Best mild flavor lump charcoal
Depending on what's on the menu, using a lump charcoal with a more mild flavor can really enhance your food, allowing its mellow flavor to meld with your meal's natural taste. The blend used in Rockwell lump charcoal is a versatile mix of maple, pecan, oak, and hickory. Since maple, pecan, and oak make up the majority of this mix, it should impart a more sweet and delicate flavor profile to whatever is spending some time above it on the grill. We think this lump charcoal is great for grilling dishes that include more subtle flavors like those found in chicken, fish, or vegetable kabobs (via MasterClass).
Another cool feature about this charcoal is its packaging. No, really! The bag is recyclable, safe for the landfill, and can also be burned without fear of any harmful fumes. It's all natural and sourced from American trees in a manner that's ethical and sustainable for the environment. 
Inherently flavorful, free from chemicals, slow burning, and easily lit, this lump charcoal has just about every quality you want in a dependable and reasonably priced package. What are you waiting for? Score yourself a bag of this amazing stuff and take your grill game to a higher level.
Purchase Rockwood hardwood lump charcoal on Amazon for $37.
Best bold flavor lump charcoal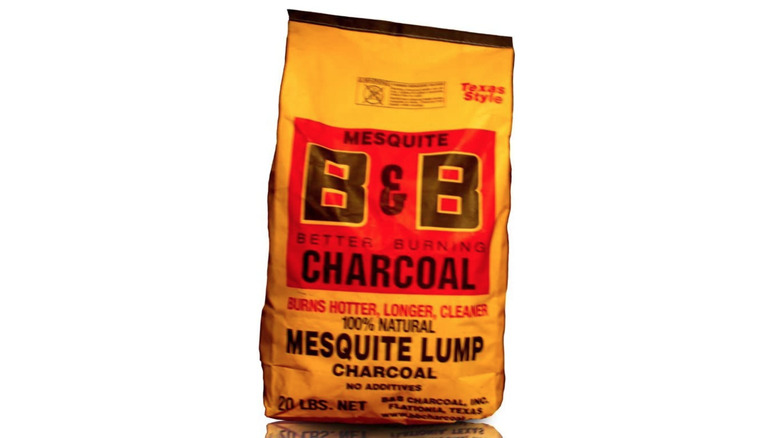 B&B Charcoal
When you want to go for big, bold flavors, it doesn't get much better than mesquite. Mesquite is often considered the strongest and most intense wood to grill and smoke with due to its natural, robust earthiness that can't be mistaken for anything else (via Oklahoma Joe's). If you're on the prowl for a pile of embers that are 100% mesquite, then this bag of lump charcoal from B&B was made with you in mind.
Sustainably harvested from private farms, this mesquite lump charcoal can infuse deep flavors and work wonders on a wide range of dishes such as smoked brisket, pulled pork, deer, and even cheese (via B&B Charcoal). And because there are no added chemicals, you can truly enjoy every bite of your food knowing that all of its bold flavor is coming from all natural wood. Once you taste the superior quality of 100% mesquite lump charcoal, not to mention its bold and unmistakable taste, then you'll never look back.
You can buy B&B mesquite lump charcoal on Amazon for $38.
Best bulk lump charcoal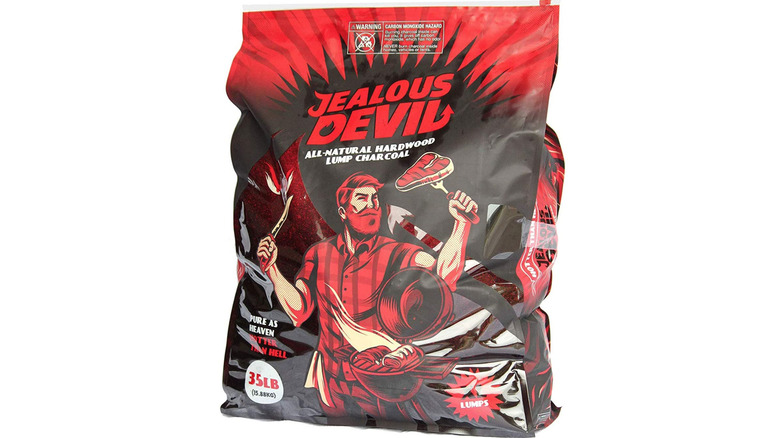 Jealous Devil
Depending on your needs and circumstances, buying in bulk can end up being your best option. Whether you run a business in the restaurant industry or just need a big personal supply for a large private gathering, having a huge batch of lump charcoal at the ready can be a really smart and practical move. This immense package from the colorfully-named Jealous Devil comes with two 35-pound bags of lump charcoal, for a grand total of 70 pounds.
One feature of this particular brand of lump charcoal that makes it so suitable for bulk is that it comes in a waterproof, resealable bag. This means that, even if you're faced with a little bad weather during the big cookout, your lump charcoal should stay dry and snug as a bug. But it's the bag's ability to be resealed that truly makes it shine. Too often, large bags of charcoal can't be closed again, which can add some extra work by complicating the storage process. But with this bag, you can simply remove as much charcoal as you need and seal it right back up with ease. It doesn't get much easier than that!
Purchase 70 pounds of Jealous Devil lump charcoal on Amazon for $105.
Best lump charcoal bundle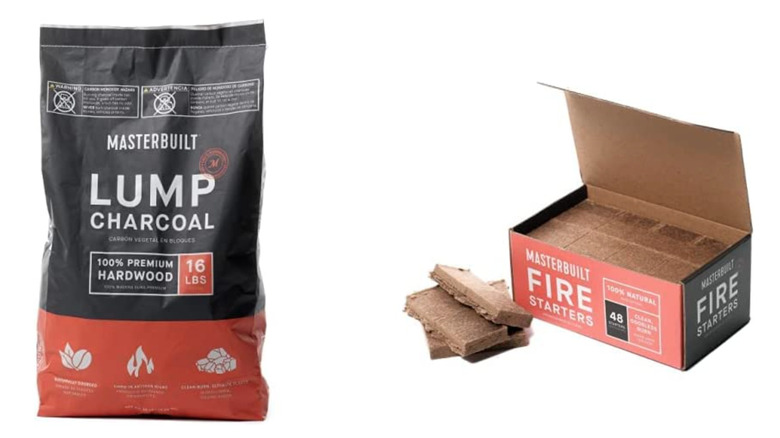 Masterbuilt
Maybe you're in the market for a little more than just some lump charcoal. Maybe you're looking for a bundle package that can resupply your stock with some essential grill goodies in one fell swoop. If that's the situation you're finding yourself in, then this bundle package from Masterbuilt that comes with a 16 pound bag of charcoal and a box of 48 fire starters is a great choice.
Even though lump charcoal is typically easy to light, firestarters still come in handy for those days when you're working with briquettes or when you need to get a campfire or fire pit started up (via Smoked BBQ Source). These firestarters are totally odorless and smokeless and burn at a smoldering 1300 degrees Fahrenheit. All things considered, this lump charcoal bundle deal is a solid score that will provide you with a basic setup to get a good pile of heat going, no matter what kind of charcoal you're working with.
You can buy the Masterbuilt lump charcoal and fire starter bundle on Amazon for $22.
Best lump charcoal for beginners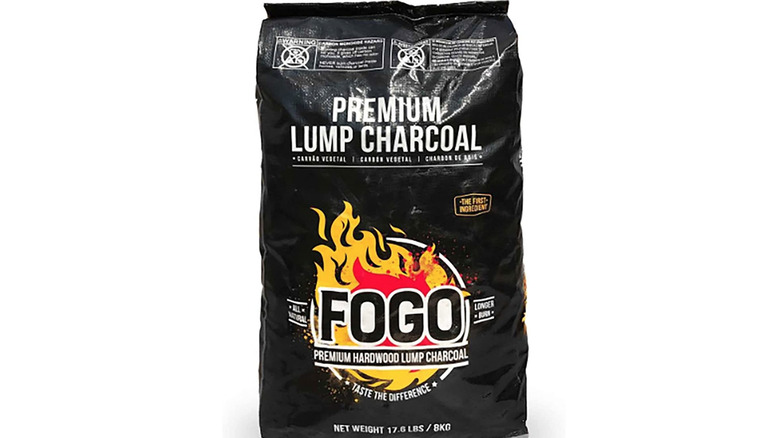 Fogo
Plenty of lump charcoal brands light fairly easily, but we must admit that some light better than others. When you're first starting out on the grill, it's a good idea to keep things as simple as possible. That means finding a product that is easy to light, because the last thing you need is a prolonged battle trying to get your coals glowing while everyone around you waits with growling bellies. This bag of premium hardwood lump charcoal from Fogo is exceptionally easy to light, making it a great choice for beginners.
Unlike some other lump charcoal brands, this lump charcoal comes with smaller to medium pieces that range anywhere from a little over an inch up to three inches in size. Using a pile of lump charcoal that's broken up into smaller pieces will make it easier for the whole pile to catch on fire, since those are about the same conditions that make for a good pile of kindling (via Fireplace Universe). If you're a beginner or you just need to get a quick fire going, it doesn't get much better than a bag that'll deliver a mini inferno in only about 15 minutes.
Purchase Fogo premium oak lump charcoal on Amazon for $25.
Best lump charcoal for Big Green Egg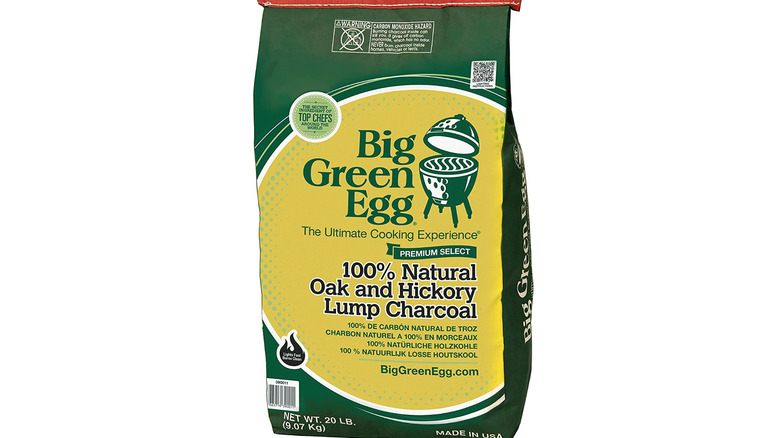 Big Green Egg
It's no wonder that people rave about the Big Green Egg as much as they do. Made with a heavy-duty ceramic, the Big Green Egg is remarkably durable and excels at heat retention, making it a versatile vessel that can smoke and sear to produce extraordinary results. Fan of the B.G.E. may be pleased to know that the company also markets its own lump charcoal designed for its grills.
In fact, the company actually advises customers against using briquettes, lighter fluid, and other quick-light charcoal products in its Big Green Egg models. Presumably, this has to do with the fillers, chemicals, and other potentially harmful additives that briquettes and lighter fluid often contain. According to the BBQ Guys, using lighter fluid and other flammable liquids in a ceramic grill is a bad idea, since it can soak into the ceramic and impart some yucky flavors and chemicals to later meals. With this all natural lump charcoal from Big Green Egg, you can stay focused on grilling, knowing your food is being cleanly cooked over premium carbonized hardwood.
You can buy Big Green Egg lump charcoal on Amazon for $56.
Best big block lump charcoal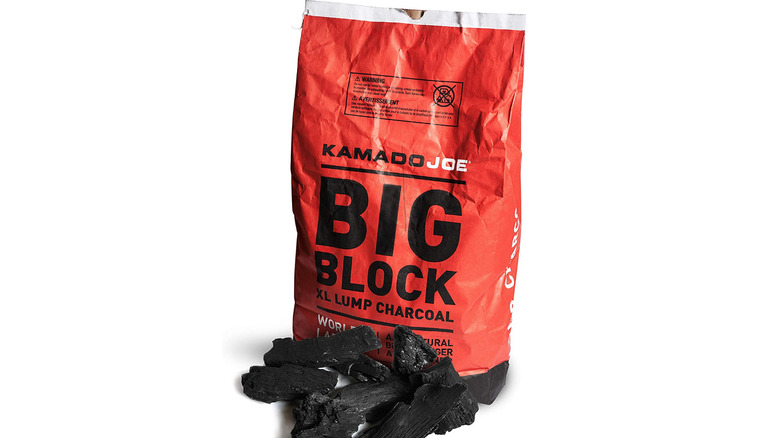 Kamado Joe
Big block lump charcoal has its advantages. For bigger grills and longer cooking sessions, those hefty pieces of big block lump charcoal can come to the rescue and deliver an incredibly long burn. And while this option is admittedly on the pricier side, if you're in need of the bigger stuff, it really doesn't get much better than this lump charcoal from Kamado Joe.
Amazingly, this lump charcoal isn't just a one-and-done affair. Instead, it can be used up to three times and can last for as long as 27 hours. Made from natural Argentinian hardwoods, this big block charcoal imparts a smoky, wood-fired flavor that's sure to have your mouth watering in ravenous anticipation as things cook on the grill. 
Because these pieces of charcoal are so generously sized and burn for so long, this package is another good option for those recipes that require some good old-fashioned low-and-slow smoke action. And with a nearly perfect rating after more than 4,500 Amazon reviews, there's no shortage of customers who are very happy with their purchases. You're just a few clicks away from joining the club.
Purchase the 30 pound bag of Kamado Joe lump charcoal on Amazon for $80.