Classic Smoked Brisket Recipe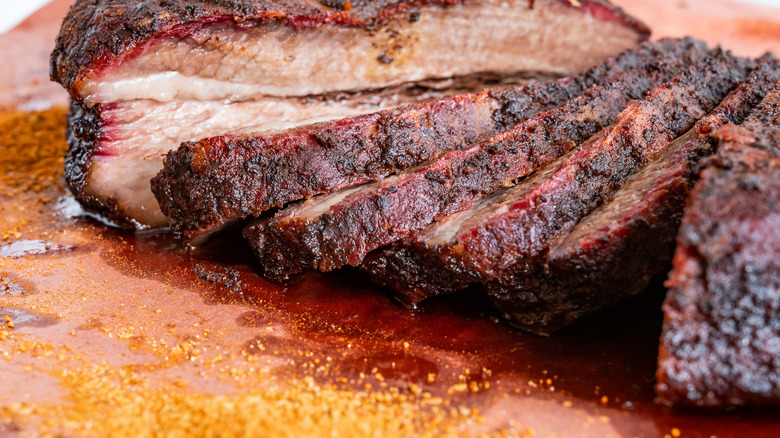 Petar Marshall/Mashed
There are so many cuts of meat to choose from when it comes to beef. From New York steaks and flank steak to round roast. Another one of the most popular choices? None other than the brisket. But when it comes to cooking brisket, there is definitely an art to it.
Brisket is considered a tough cut of meat, due to its location on a cow, along with how much tissue it has. And because of that, it's best to use a low and slow approach when cooking brisket for the tastiest meal. "Cooking brisket, especially on a smoker, takes hours," says recipe developer and food photographer Petar Marshall. "But all of that patience makes it so worth it once you take that first bite."
Smoked brisket is becoming increasingly popular because of its charred bark exterior, paired with a tender interior. It's perfect for slicing up and enjoying on its own, or serving on a sandwich. And Marshall is here to walk you through just how to pull it off at home.
Gather the ingredients for classic smoked brisket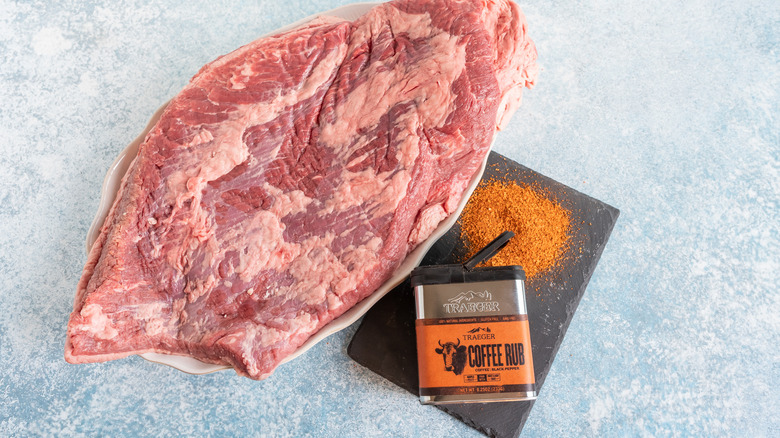 Petar Marshall/Mashed
To make this brisket recipe, you'll only need two ingredients. Grab a brisket, along with a container of rub from Traeger. According to Marshall, you could also mix your own rub by combining sugar, garlic powder, onion powder, and paprika. "The rub you choose is entirely up to you," says Marshall. "This is what creates the incredible bark of flavor." 
Season the brisket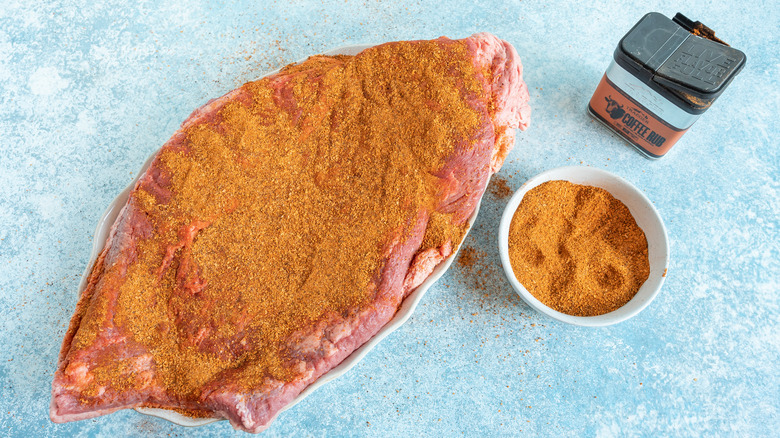 Petar Marshall/Mashed
To get started, turn your Traeger, or other type of smoker, on to 225 F.
While it warms up, trim the fat off the brisket and season the meat. Rub the seasoning all over both sides of the meat. 
Smoke the brisket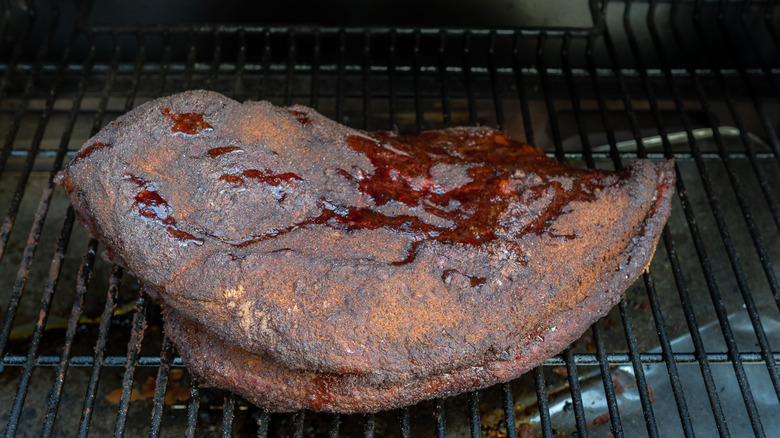 Petar Marshall/Mashed
To start cooking the brisket, put it on the grill and let it smoke for five hours. You'll want to allow it to reach an internal temperature of 165 F. Be sure to check it with a meat thermometer. "This [first smoke] creates the tasty baseline of flavor," says Marshall. 
Wrap the brisket in paper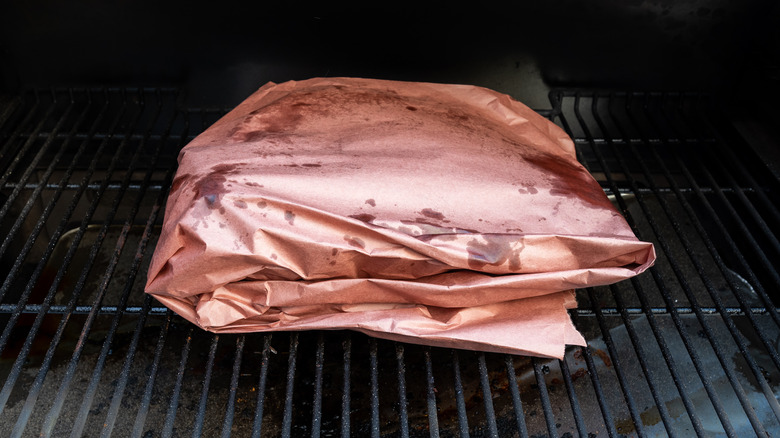 Petar Marshall/Mashed
After the brisket has reached 165 F, remove it from the smoker and wrap it in butcher paper. "Be sure you're buying specific paper for this process. It must be food-safe," says Marshall. 
Wrap the brisket in the paper and put it back on the smoker for another three hours. Allow it to finish cooking and reach an internal temperature of 205 F. 
Let the brisket rest before slicing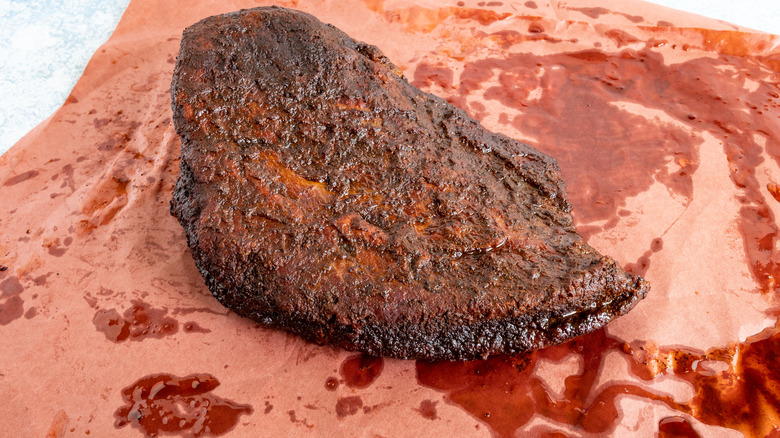 Petar Marshall/Mashed
Once the brisket is done cooking, it's important to let it rest. Transfer the wrapped brisket to an empty cooler and close the lid. Let it rest for one hour.
Unwrap the paper, slice the brisket, and serve it with white bread and sliced pickles to build the perfect brisket sandwich. 
Classic Smoked Brisket Recipe
"Low and slow" is the way to go when you're smoking brisket, and with the right recipe you can have the perfect classic brisket ready to eat in about 8 hours.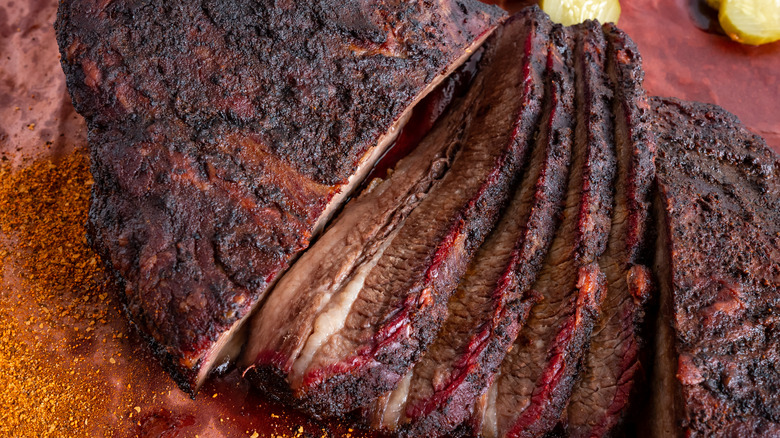 Ingredients
1 8-pound brisket
8.25-ounces dry meat rub
Directions
Turn the Traeger, or other smoker, on to 225 F.
Trim the fat on the brisket, if needed. Generously season the meat with all of the store-bought rub.
Put the brisket on the smoker and smoke for 5 hours until the internal temperature reaches 165 F.
Remove the brisket from the smoker. Wrap in food-safe butcher paper. Place the brisket back on the smoker at 225 F. Cook for 3 more hours, until the internal temperature reaches 205 degrees.
Once cooked, remove the brisket from the smoker. Transfer it to an empty cooler, or similar vessel, to rest. Allow it to rest for at least 1 hour before slicing and eating.
Nutrition
| | |
| --- | --- |
| Calories per Serving | 1,720 |
| Total Fat | 136.2 g |
| Saturated Fat | 55.0 g |
| Trans Fat | 0.1 g |
| Cholesterol | 593.1 mg |
| | |
| --- | --- |
| Total Carbohydrates | 0.0 g |
| Dietary Fiber | 0.0 g |
| Total Sugars | 0.0 g |
| Sodium | 381.6 mg |
| Protein | 115.9 g |