Wingstop Is Already Sold Out Of Its New Chicken Sandwiches
Just as restaurants and fast food chains were getting back on their feet following the losses caused by the COVID-19 pandemic, news of the record high food inflation in the U.S. presented a new set of challenges. The prices of chicken breasts were the highest they had been since 2000 and that meant more bad news for fast food chains (via Gro Intelligence).
It doesn't come as a surprise then that Wingstop, a fast food chain that dishes out all-things-chicken, reported a dip in sales in its second quarter reports (via QSR). For a chain that has been through several troubling years of financial difficulties including the Great Recession, however, Wingstop had a few trusty strategies to help it get back on its feet. That meant attractive meal deals, convenient combos, and new items to give loyal customers something to look forward to.
Earlier this month, Wingstop announced that it was ready to roll out its brand new chicken sandwich nationwide following a successful test run at 60 stores. The new sandwiches are made with crisp chicken breasts available in 12 of the chain's popular chicken wing flavors. While Wingstop seemed like it was ready to enter the chicken sandwich wars as a big player with a selection of 12 flavors, fans have a bone to pick with the chicken chain. It seems Wingstop has already run out of its chicken sandwiches a mere few days into launching them (via Eat This, Not That!).
The chain sold out a month's worth of chicken sandwiches in six days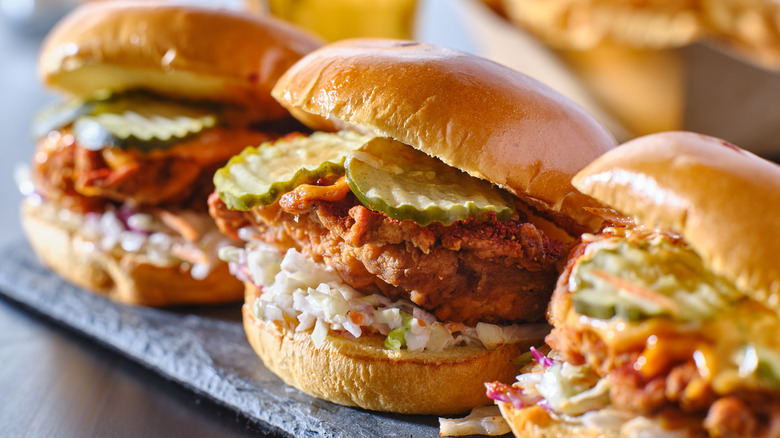 Joshua Resnick/Shutterstock
Wingstop launched its new chicken sandwich with a clever marketing campaign. A tweet on August 30 promised free chicken sandwiches in exchange for 5,000 retweets and soon, Wingstop had given out 100,000 free sandwiches in a day (via Restaurant Business). The chicken sandwiches became so popular following the campaign that sales exceeded the chain's expectations by nearly 300%.
Per Restaurant Business, in a statement from Wingstop's CEO, Michael Skipworth says that although the chain was prepared for double the sales from market test runs, no one had anticipated the demand to be quite so high. In fact, Wingstop's transaction levels on the first Friday since the launch beat even the sales from Super Bowl Sunday. The result? Wingstop was out of a month's worth of supply in a matter of six days of its launch.
Customers weren't happy with how soon the chicken sandwiches were sold out. "Where the damn chicken sandwich go? I got more flavors to try," wrote one fan on Twitter as another took a cheeky dig at the chain's competitor stating "@wingstop man I really wanted a chicken sandwich today but there all sold out so I had to settle for @ChickfilA sandwich instead." 
While Skipworth says that Wingstop is working on bringing its chicken sandwich back as soon as possible, there's no report on when that will exactly be.