What TikToker Alejandra Tapia Actually Cooked For Lizzo - Exclusive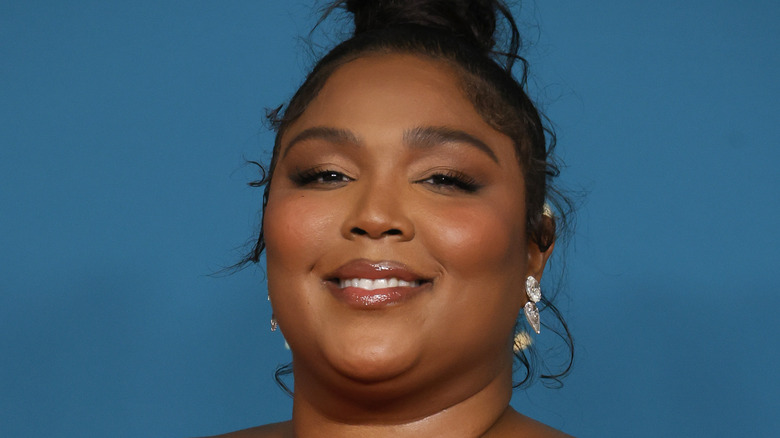 Frazer Harrison/Getty Images
When the queen of pop asks you to cook for her, you do it. Not only has her latest album been making waves, but Lizzo has also been taking TikTok by storm by sharing her most unique eats and trying out the most viral food trends — does anyone remember the Oreo mustard combination circulating the internet? But when Lizzo fell upon TikToker Alejandra Tapia's page, she immediately wanted to invite Tapia to her kitchen. The Latina influencer, now with 6.3 million followers and about 239 million likes, made her way by sharing the lunches she made for her husband online.
Tapia focuses on Mexican cuisine and has a liking for spice, which she talked about in an exclusive interview with Mashed. Tapia, or "Nanajoe," rose to TikTok fame as she shared her culinary creations online, from copycat fast food recipes to a fried turkey. While the foodie revealed to us the most underrated Mexican cuisine (mole), she also explained what she cooked for the world-famous Lizzo. If you have any guesses — now's the time!
Tapia made birria for the music star
It's no secret that Lizzo is vegan. Since the lifestyle change in 2020, the singer has continued to share her favorite vegan snacks on TikTok. That's why when Alejandra Tapia created a recipe for her "vegan audience," it got Lizzo's attention right away. Tapia explained, "Her assistant reached out to me because Lizzo wanted to try my birria tacos. I went to LA and cooked for her. Not just birria. Her menu was huge. It was a huge menu, but she ate birria tacos from me."
Although birria normally consists of beef, veal, lamb, or pork, Tapia made the menu entirely vegan. According to the viral video, Lizzo also tried vegan ceviche and vegan pupusas paired with Mexican rice (don't worry; our mouths are watering too).
While the TikToker can now cross cooking for Lizzo off of her bucket list, she can also cross off being named a 2022 TikTok Latina Trailblazer. The honor was awarded to Tapia for spreading content creation and joy throughout the Latinx community. All that's left is for the food influencer to make dinner at our house.
Head to Alejandra Tapia's TikTok page to keep up with her latest projects, and check out TikTok's press release to learn more about the 2022 Latinx Trailblazers.