The Perfect Fall Ingredient To Add To Your Morning Mimosa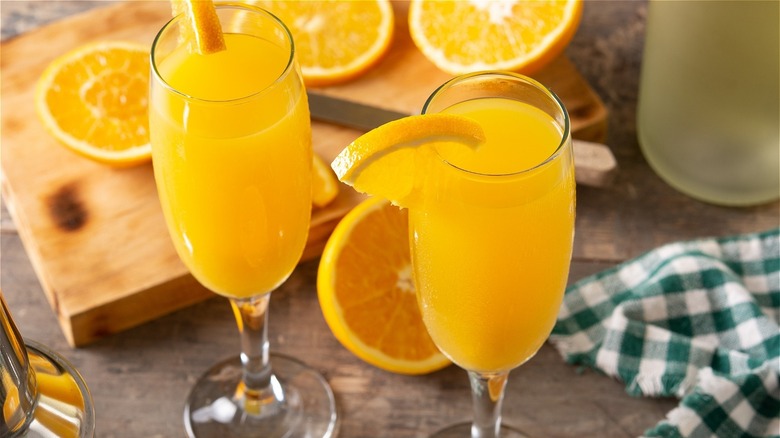 etorres/Shutterstock
Though it might seem like everyone is obsessed with Emma D'Arcy's viral cocktail nowadays, there is another trend that is taking the bartending world by storm.
Traditional fall beverages such as eggnog martinis and hot toddies can move aside, because this fall is all about apple-flavored drinks. This trend is already apparent in seltzers, refreshers, and other caffeinated beverages. People have even started to get creative with adding an apple flair to their traditional cocktails, leading to videos such as this one for a "Crisp Apple Tea Mule" going viral on Instagram Reels. While these spicy, cinnamon-y drinks may be best for enjoying on a cool, autumn evening, there is still a way to fit apples into popular morning beverages.
That's right, mimosas can actually be made to include a splash of apple. Though many people associate orange juice as the main ingredient for mimosas, here's exactly how the popular breakfast cocktail can be made with a touch of fall flavor.
Apple Cider makes the perfect addition in mimosas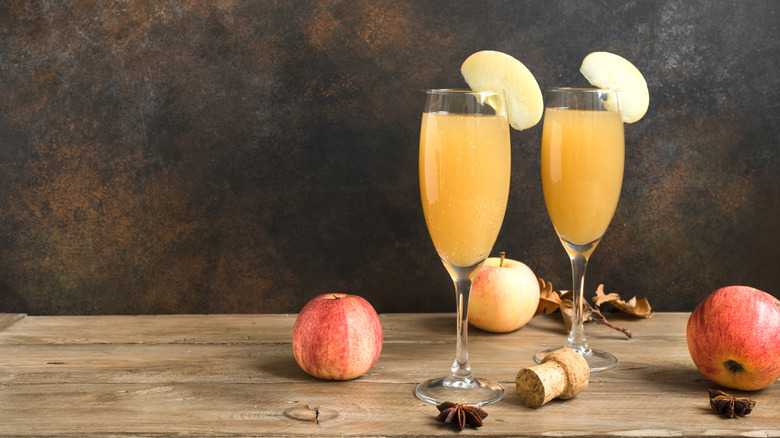 Oksana Mizina/Shutterstock
Apple cider mimosas are not only delicious, but are easily assembled, requiring only a few substitutions from the original recipe. For reference, a typical mimosa typically only contains orange juice and champagne (via Cookie and Kate).
The Cookie Rookie details one example of how to make this fun fall drink. All the mixologist needs are apple cider, champagne, apple slices, and the optional edible glitter. Though this recipe directly substitutes apple cider for the body of the drink, citrus lovers can definitely still include orange juice in this beverage, just mixing it with this new liquid. Orange and apple make a great combination — in fact, Food Network utilized both (plus cranberry juice) in its recipe.
Finish off the drink with an apple slice and edible glitter for garner, and voila, the perfect fall beverage. An apple cider mimosa is perfect to enjoy with other treats such as these apple pie waffles or this overnight apple French toast.