Dunkin's Fall Menu Has Reportedly Been Leaked On Reddit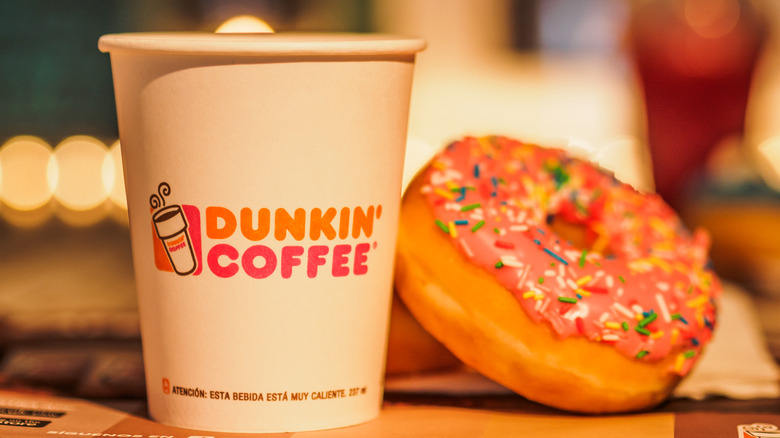 Pere Rubi/Shutterstock
Fashion isn't the only thing that goes in and out each season: Coffee chains are famously known for keeping an eye on the changing weather and upping their menus according to fluctuating temperatures. And when it comes to seasonal menus, Dunkin' fans in particular have had an exciting year so far.
In November of last year, the coffee chain introduced limited-edition hot cocoa bombs which were quickly followed by peppermint mocha and toasted white chocolate lattes. Valentine's Day at Dunkin' saw new heart-shaped donuts paired with two new drinks. Fans then found that the butter pecan coffee was returning with the chain's spring menu, which also featured a brand new cornbread donut. Besides, it feels like only last week when Dunkin' gave fans stuffed mini bagels and a brand new brown sugar cream cold brew to sip on in the summer heat!
If rumors are to be believed, Dunkin' seems to have sniffed a change in seasons once again and is gearing up to prepare for fall and all the festive flavors that come with it. According to Instagram account @markie_devo's leaked menu on Reddit, secret intel from Dunkin' employees reveals that the chain's fall menu may be less than a month away, and much to the delight of fans, it features a returning favorite: the iconic pumpkin spice latte!
Missing favorites and new additions
Dunkin's fall menu supposedly launches on August 17 and will see the return of several favorites. According to @markie_devo's Instagram post, the menu not only indicates that the signature PSL will be back, but that it may be joined by the pumpkin cream cold brew, pumpkin donuts (and muffins and munchkins), as well as the maple sugar snackin' bacon and sammy. That's not all: The leaked menu also reveals that Dunkin' may be launching a brand new blood orange refresher and a nutty pumpkin latte with a shot of hazelnut this fall.
As thrilled as Reddit is about the return of several coveted pumpkin-spiced drinks, fans can't help but notice the absence of certain well-liked drinks from previous years. If the leaked menu is any indication, the cranberry apple refresher, maple sugar cold brew, and apple cider donuts may not be back this year.
The leaked menu on Instagram also claims that Dunkin's Halloween menu will drop on October 12 with a peanut butter cup macchiato, spider donuts, and filled donuts shaped like pumpkins. However, some fans aren't too thrilled about the pumpkin-filled months coming up. "The pumpkin trend is so f***** overrated," complained one fan. Another hoped for more from Dunkin': "I wish they'd get more creative with flavors. Partner with a candy company and do a candy ice coffee. Caramel apple flavor. Too dependent on that pumpkin." While leaked menus have historically been fairly spot-on, fans will just have to wait for Dunkin' to officially announce its fall items and confirm the news.