Why Steak 'N Shake Is One Of The Best Chains To Eat On A Budget
Who doesn't love a good old-fashioned burger and fries? This all-American meal can even be enjoyed by vegans thanks to the increasing popularity of plant-based meats. But with food inflation impacting the nation, the price of a quality burger has skyrocketed. According to the National Restaurant Association, fast food prices are 7% higher than they were this time last year. Adding to the woes is "shrinkflation," a recently coined term used to describe shrinking portion sizes despite rising prices. Less food and more money? Sounds like an economic nightmare. So where you can you get a well portioned burger for a decent price? 
Enter Steak 'n Shake, the Illinois-founded steak burger franchise with a no-frills menu. The aptly named restaurant offers exactly what you'd think: steak burgers and milkshakes. An original Steak 'n Shake burger features a smashed beef patty with American cheese topped with your choice of fixings and paired with thin, crispy fries. The chain also offers a variety of milkshakes spanning classic flavors like chocolate and vanilla in tandem with specialty flavors like birthday cake and cookies and cream.
But it's not just Steak 'n Shake's menu that sets it apart from other chains, it's also its competitive prices that keep customers from overspending. Whether or not the burger chain's relatively low menu prices have something to do with an unfortunate decline in sales and widespread store closures seen in recent years, they certainly make for an affordable dining experience.
Happy hour and $4 meals at Steak 'n Shake are budget-friendly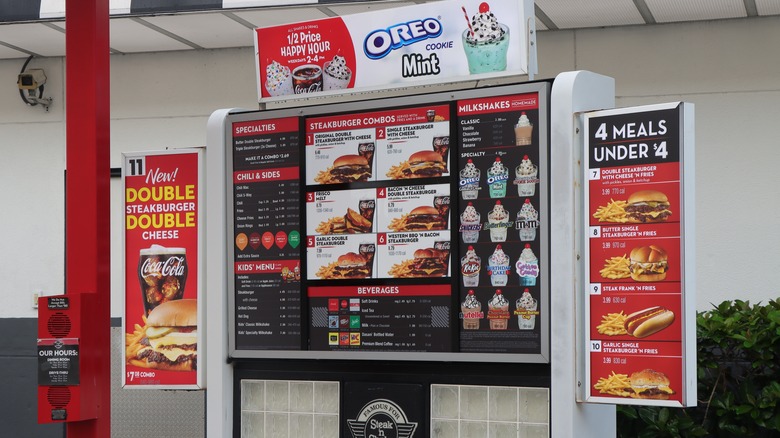 Deutschlandreform/Shutterstock
Even if you're not pulling up to a Steak 'n Shake happy hour, you'll still be getting some great deals. Finding a double-stacked, smash-style steak burger that tastes good and doesn't break the bank is a rare feat. But at Steak 'n Shake, a double meat and cheese burger only costs $4.39, per Thrillist. While the chain's regular menu is already pretty affordable, the franchise also offers budget-conscious diners some special-occasion deals.
According to its website, Steak 'n Shake operates a weekday happy hour between 2 and 4 p.m., when all drinks and milkshakes are half-price. (Afternoon date, anyone?) The burger joint also boasts a discount menu that features $4 entrees served with fries. To make things even more affordable, the restaurant has a rewards program, and the deals start as soon as you sign up: Upon registration, customers immediately qualify for a free milkshake.
In essence, Steak 'n Shake makes it almost impossible to overspend while eating out. Considering the chain just made a profit for the first time in four years after a steak of financial hardships, Steak 'n Shake seems poised to continue these low-cost perks in the years to come.