The Best Tongs Of 2022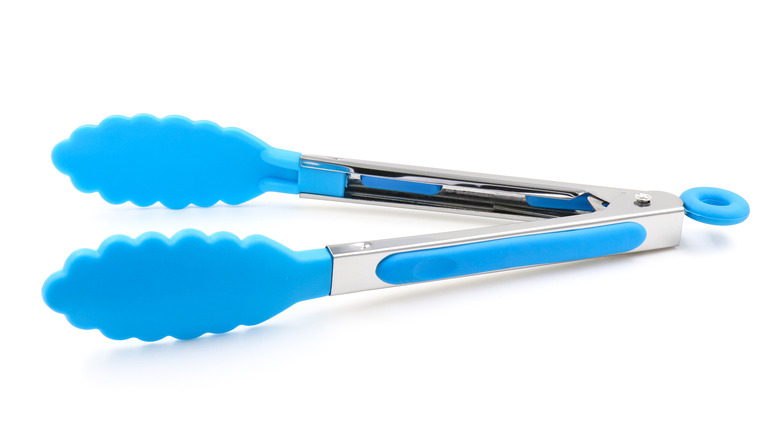 pisanstock/Shutterstock
We may receive a commission on purchases made from links.
A high-quality set of tongs is absolutely essential for every kitchen. Unless you were born with superhuman fireproof hands, there's a good chance that you need a reliable set of tongs while you're cooking and handling hot food. Keep in mind that tongs aren't just for grilling: Whether you're plucking delicate bread from the toaster, grabbing crispy onion rings out of your air fryer, or lifting freshly boiled pasta out from a hot pot of water, there's a tong for every task. Just like with any other project or undertaking, having the right tools while you're cooking can make all the difference.
That said, tongs come with a variety of features that make them suited for different functions. While you're grilling, you'll want an extra long pair of tongs to keep a safe distance from the heat, and you'll want to make sure they have metallic tips that can handle high temperatures and direct flames. On the other hand, silicone-tipped tongs are great for working with food that's more delicate, since their soft edges are far more gentle than the abrasive, angular structure of metallic designs. No matter what kind of tongs you're in need of at the moment, rest assured we've hunted down a high-quality pair that should do the trick.
How we selected products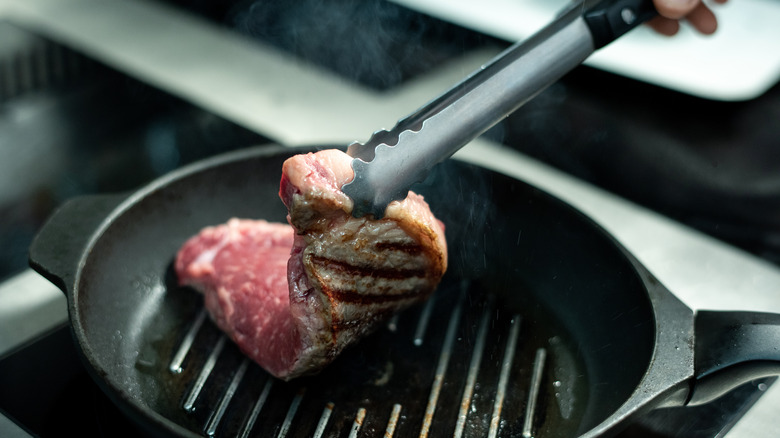 Pressmaster/Shutterstock
We took a number of factors into consideration in order to provide you with the best top-notch tongs on the market right now. As always, we closely evaluated customer reviews, since user feedback is an indispensable tool that provides honest insights about a product's level of quality. Taking note of each tong model's particular strengths and weaknesses, we narrowed down our list to only include tongs with the best features and highest ratings.
Variety was another top priority during the selection process. In order to ensure that we were catering to a wide range of needs, we were mindful to include a diverse assortment of tong models. Fortunately, since tongs are one of the simplest tools on the planet, most of them tend to be priced quite affordably. As such, you'll still be pleased to know that all of the tongs on this list cost under $20 (all prices were accurate as of this article's publishing date). If you're on the prowl for a high-quality pair of food-grade pincers to assist you in your culinary pursuits, you've come to the right place. Here are the best tongs of 2022.
Best overall tongs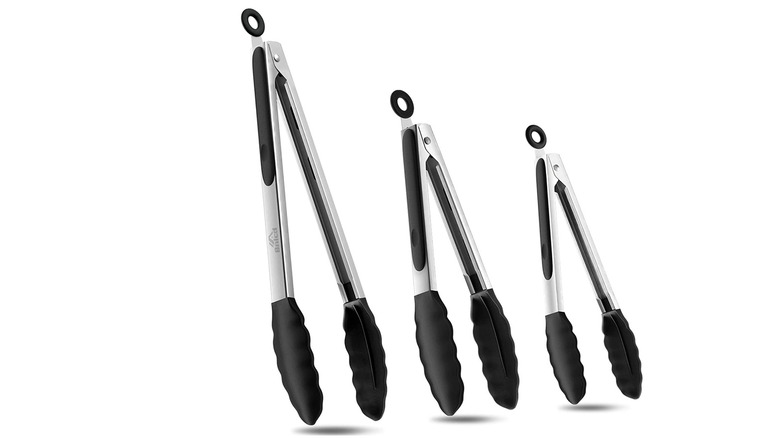 Bnlcd
If you're looking for some top-notch tongs that can handle most everyday tasks in the kitchen, we have a great deal for you. This set of tongs comes in three different sizes (7, 9, and 12 inches) to provide you with a range of options. The smallest tongs are intended for lower-temperature tasks like serving vegetables or salads, while the longer tongs can be used for searing, grilling, or frying.
Made with thick, durable stainless steel and equipped with silicone tips, these tongs are heat resistant up to 480 Fahrenheit. They also come with an easy-to-use pull ring that can lock them into place — and the ring can be simply slid through a hook to hang the tongs for easy storage. The handles of these tongs also feature a soft strip of silicone to improve grip and maximize comfort. With a four-and-a-half star rating and thousands of glowing reviews, it's clear that this set of tongs is a real crowd-pleaser. Affordable, practical, and well-designed with high-quality features — what more could you ask for?
You can buy the Bnlcd premium locking kitchen tong set on Amazon for $13.99
Best budget tongs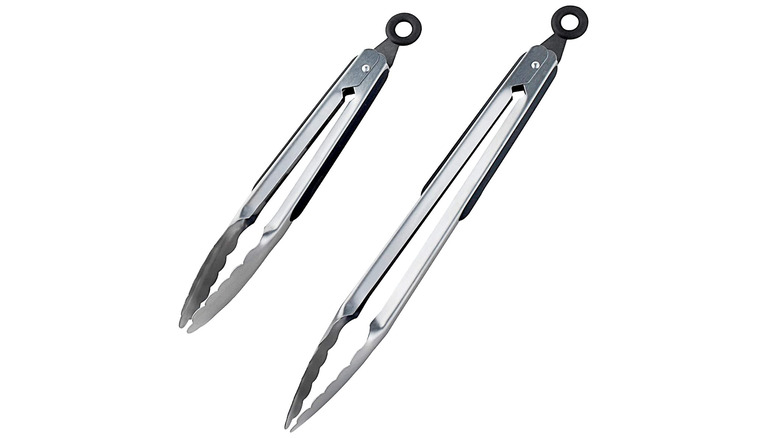 DRAGONN
The truth is that tongs really aren't all that expensive to begin with, but that doesn't mean you still can't save a few bucks. At just under six dollars, these tongs are about as cheap as it's ever going to get. What's truly mind-blowing about this deal is that price doesn't get you just one pair of tongs, but two. That's right — for just under six bucks, you can score a premium set of two different tongs that come in two different sizes.
Made with sturdy stainless steel that's brushed for a beautiful finish, this package comes with a pair of 9-inch tongs and a pair of 12-inch tongs. These tongs have a locking mechanism that keeps them closed and also simplifies storage by securing them into a sleek, narrow form. They are both dishwasher safe, which makes cleaning as easy as possible. They've even earned a nearly perfect rating after more than 4,300 positive reviews from customers with verified purchases. You might be surprised that a tong deal could generate so much enthusiasm, but this pick's popularity is a testament to its superior quality and low price tag.
Purchase the DRAGONN premium set of two tongs on Amazon for only $5.99
Best long tongs for grilling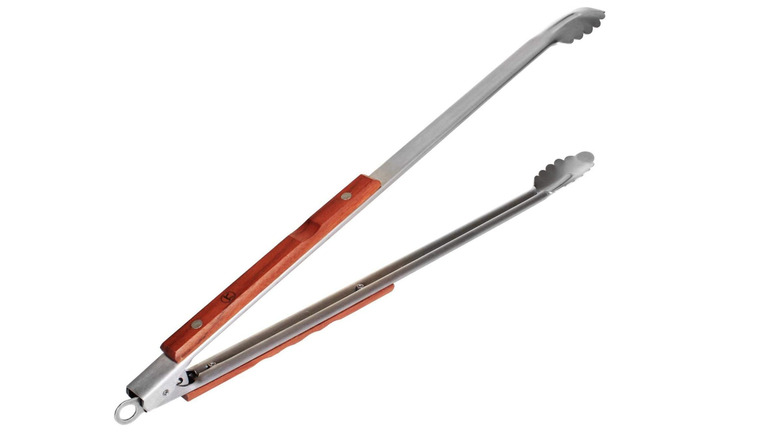 Outset
Grilling is one of life's greatest joys. That said, it's important to have the right set of tools to make sure that you're protecting yourself from harm — and that means using a pair of tongs that are long enough to establish a safe distance from hot surfaces. You also want to make sure that you're using a pair of tongs that can withstand the intense heat and flames of your grill. While silicone-tipped tongs are great for pulling hot food out of pans, pots, and toaster ovens, we prefer to stick with metal-tipped tongs when it comes to grilling, just in case we graze a stray flame or two along the way.
At 22 inches long, these stainless steel tongs give you some extra space to safely work without having to worry about potentially burning your hands. Weighing just under a single pound with smooth rosewood handles, these tongs are also very lightweight and comfortable to handle. They also feature scalloped tips that make them great for grilling since they're designed to delicately grip food without tearing into it. Still not convinced? You might want to take a peek at their four-and-a-half-star rating and more than 2,400 reviews. You're just a few clicks away from kicking your grill master game up a notch.
You can buy the Outset rosewood locking 22-inch tongs on Amazon for $14.63
Best silicone tongs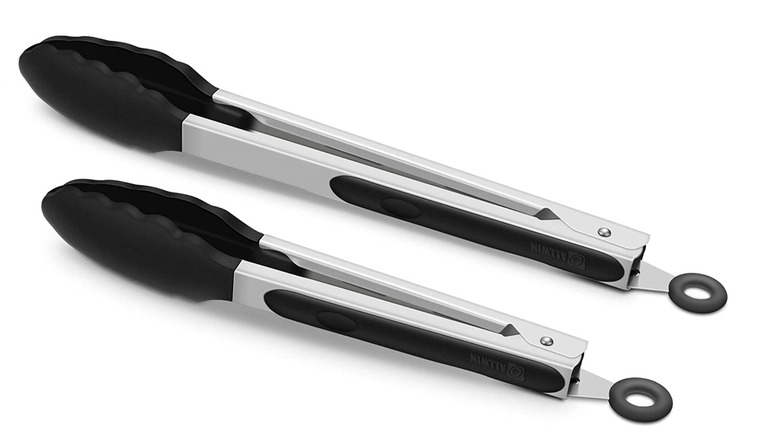 ALLWIN
Just as metal-tipped tongs have their time and place, so do silicone-tipped tongs. Because silicone is softer than metal, these are ideal when you need to gently move more delicate food items. Maybe you want to make sure that the deliciously crispy yet fragile fried skin on your chicken doesn't crack apart. Or maybe you just need to move a loaf of banana bread without ripping it open. The bottom line is that the gentle grip that silicone tongs provide makes it a highly versatile tool that can be used for a seemingly endless amount of tasks in the kitchen that might require a little extra care and finesse.
This set of tongs comes with two different sizes: 9 and 12 inches. They also happen to come in a surprising amount of color options (11 in total) that span the spectrum of color, including colors like turquoise and wine red. They are heat resistant up to 500 Fahrenheit and offer a firm yet comfortable grip. Don't Waste Your Money gave this set of tongs an exceptionally high rating, noting its comfortable control and resistance to rust. It should come as no surprise that these tongs have earned the highly-coveted distinction of a perfect five-star rating after nearly 28,000 reviews. If you're looking for a great set of tongs with a gentle touch, the stars have aligned to deliver the goods.
Purchase the Allwin two-pack of premium silicone tongs on Amazon for $11.99
Best tongs for toast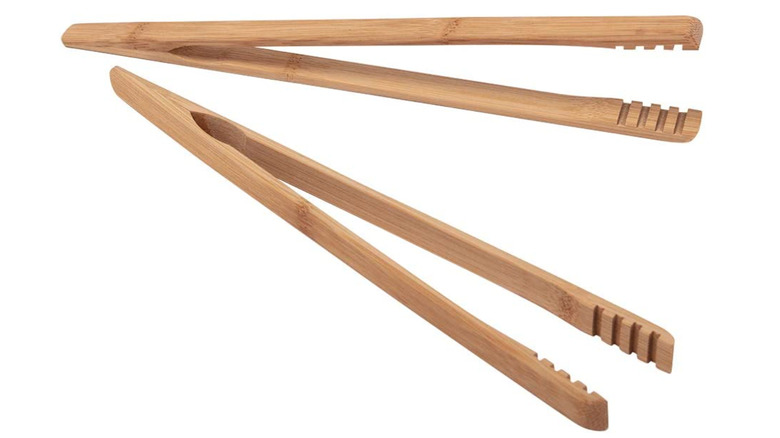 DUJEN
If you're anything like us, you're a big fan of toast in the morning. Whether it's smeared with some strawberry jam or just ready for a little homemade honey butter, toast is the perfect vessel for all kinds of delicious breakfast fare. But if you don't have the right set of tongs to retrieve that elusive English muffin from the inner hellscape of heating elements that it's trapped inside of, you might end up using a fork and risking a serious electrical shock. It doesn't matter how hungry you are — no piece of toast is worth riding the lightning for. Do yourself a favor: Spare your bloodstream the extra voltage and hook yourself up with some toast tongs that are up to the task.
This deal comes with two bamboo tongs that are each just over 10 inches long. This length makes them the perfect size for safely plucking toast, English muffins, and bagels out from the toaster. These solid bamboo tongs feature grooved tips for extra grip and are also extremely lightweight, making them very easy to lift and maneuver. At the end of the day, these tongs mostly have just one simple yet commendable purpose: rescuing toast from the depths of your toaster. Do the right thing and help these tongs meet their destiny.
You can buy these Dujen solid bamboo two-piece toast tongs on Amazon for $4.99
Best serving tongs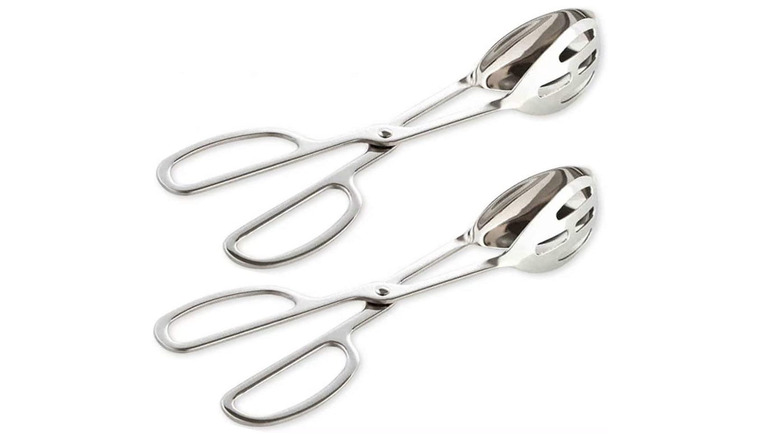 KEBE
When it comes to serving food for guests, do you have a set of tongs that can do the trick? Some people might just set out a big spoon and call it a day, but that can cause some awkward fumbling or lead to a messy aftermath. Having a set of proper serving tongs on hand is ideal for these situations since they're specifically designed to grip a bundle of food from the larger serving plates and big trays of food that often accompany gatherings and parties.
This deal comes with a pair of identical serving tongs made from high-quality polished stainless steel. At 10 inches long and weighing only 4.6 ounces, these serving tongs are the perfect size and very easy to handle. These tongs are heat-resistant and non-toxic, making them suitable for serving all kinds of hot and cold dishes. Meatballs, salad, grilled sausages, or coleslaw — these serving tongs can handle them all with ease and grace. Best Views Reviews also gave this deal a solid rating for its sturdy design and good value. With four-and-a-half stars after more than 2,200 customer reviews, it's clear this deal has a lot to offer.
Purchase the Kebe stainless steel serving tongs on Amazon for $16.99
Best salad tongs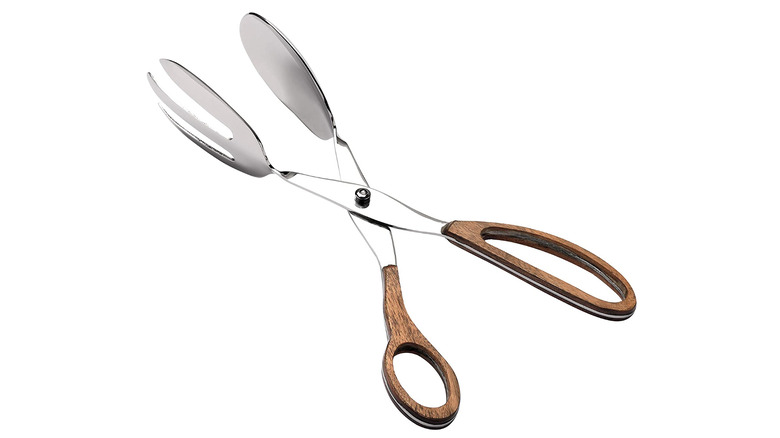 Folkulture
When you take the time to prepare and serve a fresh salad, it's good to have the right pair of tongs to plate it up. Because salads often contain delicate fruits and vegetables, you want to have a set of tongs that can smoothly scoop them up without pulverizing everything into a gnarled ball of mush. This set of salad tongs from Folkulture is a top-tier choice thanks to its simple yet efficient design and inexpensive price tag.
This handcrafted pair of stainless steel tongs is 11.5 inches long and features a solid spoon shape on one side and a thick-pronged fork on the other, which gives it some impressive multifunctional range. Equipped with a scissor grip and wooden handles, these tongs feature smooth edges that have a luxurious feel. Rust-resistant with a non-slip design, there's no doubt that these tongs are built to last and worth every single penny.
You can buy the Folkulture salad tongs on Amazon for $19.99
Best tong set for pasta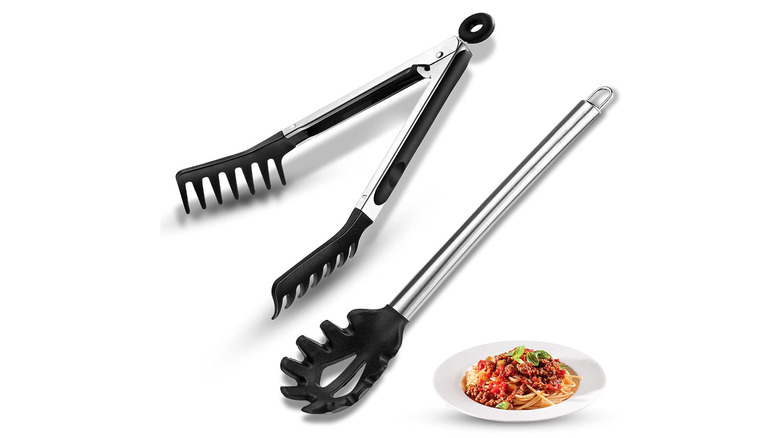 Newrgy
Fettuccine alfredo, spaghetti bolognese, linguine with clam sauce — there are countless comforting pasta dishes out there that can be whipped up in a jiffy for an easy dinner. But once the pasta is finished, you'll need the right tools to give it a toss or plate it up. This two-piece package is ideal for pasta since it comes with a pair of spaghetti tongs and a spaghetti spoon.
The spaghetti tongs are made with a high-grade blend of stainless steel, nylon, and silicone. This mix of materials provides the perfect balance of durability, heat resistance, and comfort. The tips of the spaghetti tongs feature elongated teeth that make it practically effortless to grip a pile of pasta. The tong handles are lined with a strip of silicone to improve grip and there is also a ring pull to lock the tongs into place.
The spaghetti spoon is constructed with the same high-quality materials as the spaghetti tongs. With its simple yet efficient design, this spaghetti spoon makes retrieving pasta from a hot pot of water a breeze. Between these well-designed spaghetti tongs and the accompanying spaghetti spoon, there's no doubt that you'll have the tools you need to comfortably handle all kinds of delicious pasta in your kitchen.
Purchase this two-piece spaghetti tongs and spaghetti spoon set on Amazon for $11.99
Best multifunction tong set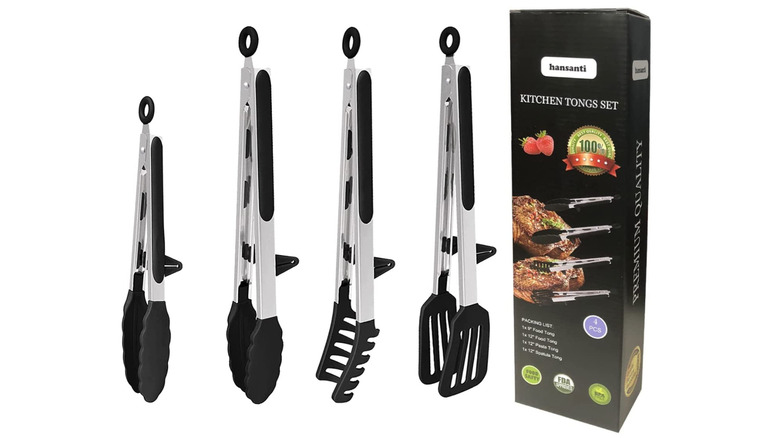 Hansanti
If you've suddenly found yourself profoundly tongless and looking to fill the void, this top-notch tong set is right up your alley. This four-piece set from Hansanti comes with a diverse mix of different tongs to handle a wide range of dishes. It also happens to be available in four different colors. Each piece is dishwasher safe and constructed with food-grade silicone and premium stainless steel to maximize durability.
This set comes with two pairs of standard tongs: one is 9 inches and the other is a bit bigger at 12 inches long. Having these two different sizes provides some versatility so that you can have the right set of tongs for the right job. The smaller tongs are best for low-temperature jobs like mixing salads, while the longer tongs can be used to handle hotter dishes that you need to keep more distance from. But this deal doesn't stop there: It comes to the rescue to hook you up with two more specialized tongs. A 12-inch pair of steak tongs with spatula-like pincers and a pair of pasta tongs with silicone teeth also come included. Altogether, this four-piece set of tongs covers a lot of ground and feels extremely generous given its low price point.
You can buy Hansanti's four-piece kitchen tong set on Amazon for $17.99
Best stainless steel tongs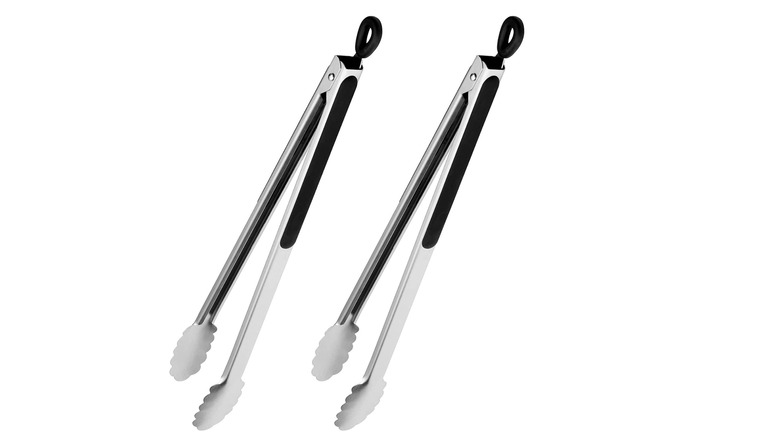 DAILY KISN
Stainless steel tongs come in handy whenever you're handling anything exceptionally hot or anything with a firm exterior that can handle being gripped by a tool with metal edges. Just keep in mind that while stainless steel tongs are great for tougher jobs, it's best not to use metal utensils in nonstick pans since they might scratch up the surface. That might not seem like a big deal, but those scratches can slowly destroy your nonstick pans and end up flaking pieces of Teflon coating off into your food. Where stainless steel tongs really excel is plucking piping hot ingredients out of frying oil or handling food on intensely hot surfaces like the grill.
This set of stainless steel tongs comes with two 17-inch stainless steel tongs that have earned over 4,500 great reviews and a perfect 5-star rating. 17 inches should provide a good amount of distance between your hands and whatever hot food you're handling. They are lockable, dishwasher safe, and also feature non-slip silicone grips. All in all, these stainless steel tongs are durable, dependable, and easy to use.
Purchase this Kisn two-piece 17-inch stainless steel tong set on Amazon for $16.99
Best scissor tongs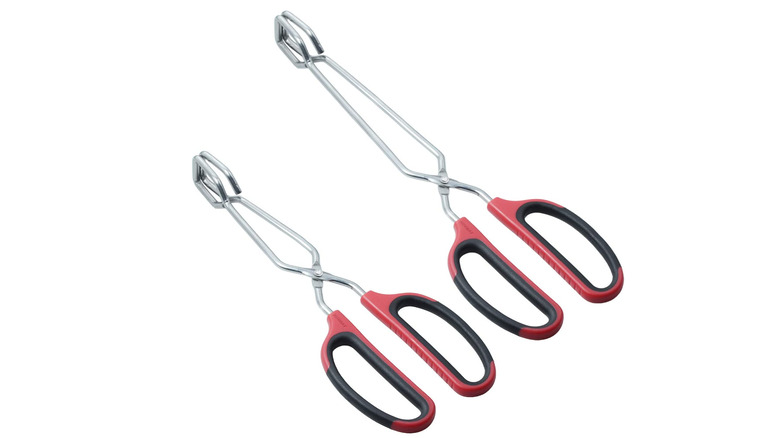 HINMAY
No tong list would be complete without a pair of scissor tongs. While these tongs might get their name from the scissor-like handles that adorn them, make no mistake: these tongs are not intended for cutting. Just like other tong models, these are merely meant to safely transfer food from one place to another. What sets scissor tongs apart is the way they open and close, which some people find preferable to standard spring-loaded tongs. Heat resistant up to over 1000 Fahrenheit, these tongs can bravely venture where no fingers dare delve into.
This deal comes with two different pairs of tongs in two different sizes. One pair is 10 inches while the other is just a bit longer at 12 inches. Secured with stainless steel rivets and equipped with wide handles that are designed for comfort, these tongs are great tools for a wide range of tasks in the kitchen. The tips are equipped with an imprint to enhance grip. Practical, lightweight, and very affordable, this two-piece tong deal with thousands of glowing reviews is clearly a great choice. These tongs also received a high rating on Best Views Reviews for value and design quality.
You can buy these Hinmay two-piece scissor tongs from Amazon for $16.88