Whipped Honey Butter Recipe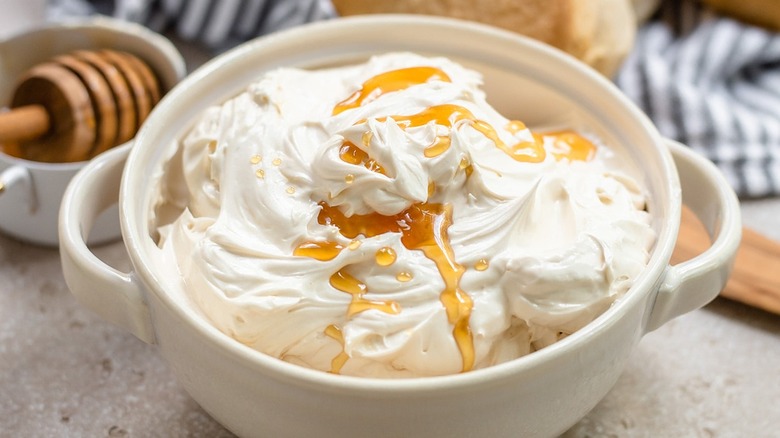 Jaime Shelbert/Mashed
Honey butter, at first glance, may seem a bit perplexing. After all, butter is quite savory and, moreover, often used to start the cooking process in savory dishes. That said, you unlock a whole new world when you look at butter in a sweeter light, and that's exactly what this honey butter recipe accomplishes. 
Recipe developer Jaime Shelbert has created this simple but sweet recipe, one that she says "levels up any breakfast spread and is so easy to make." When you follow this recipe, Shelbert says that "the result is a smooth, whipped, melt-in-your-mouth butter," and in this case, it has a perfect touch of sweetness, too.
If you've never ventured into the world of whipped or compound butter, fear not — it really couldn't be easier to make. You don't need a special type of butter or any kind of special tools, just some good old unsalted butter and a stand mixer. Long gone are the days of trying to smear cold, rock-hard butter on your morning toast — upgrade in a breeze with this spreadable, whipped honey butter.
Grab the right ingredients to make whipped honey butter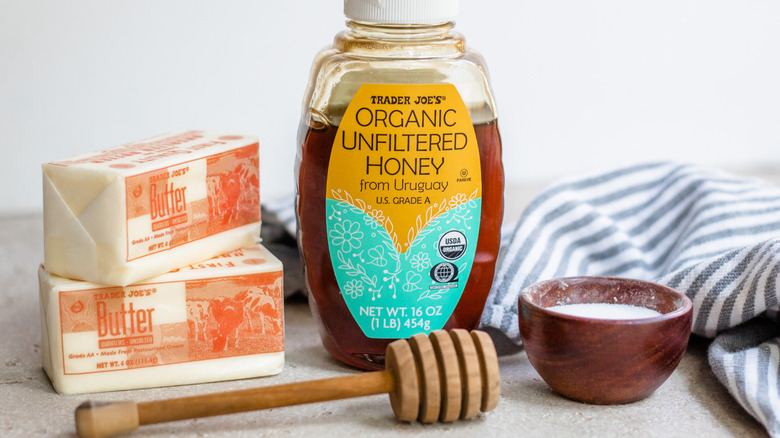 Jaime Shelbert/Mashed
To make this whipped honey butter, you'll need the namesake honey and butter (unsalted), and the only other ingredient you'll need is a pinch of salt. Optionally, you could also add cinnamon to the mix, and it's your choice where you want to throw it in. "You can opt to lightly sprinkle it on top or whip it into the butter," Shelbert says.
Whip together the butter, honey, and salt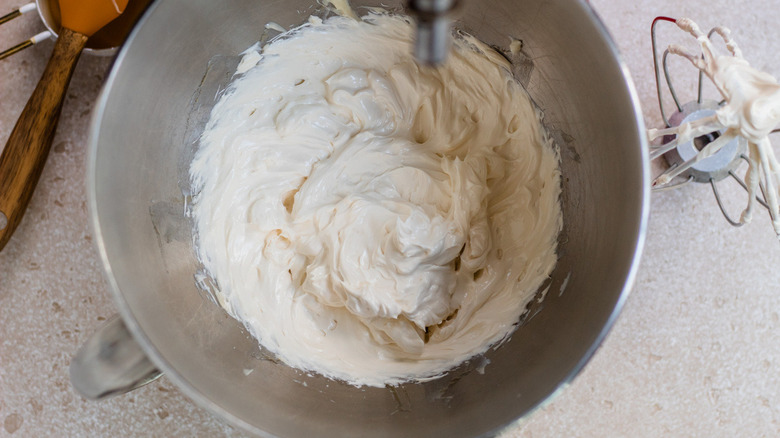 Jaime Shelbert/Mashed
Not only is the ingredients list minimal, but so are the steps in this recipe. Simply add the unsalted butter (which should be at room temperature), the honey, and a pinch of salt to the bowl of a stand mixer. And, if you want to whip cinnamon in, now would be the time to add that, too. Then, simply mix, mix, and mix — for a whole 3-4 minutes. "[This] honey butter recipe utilizes a good 3 to 4 minutes of whipping time so that you achieve the lightest, fluffiest texture," Shelbert explains. 
Use this honey butter on toast, biscuits, or rolls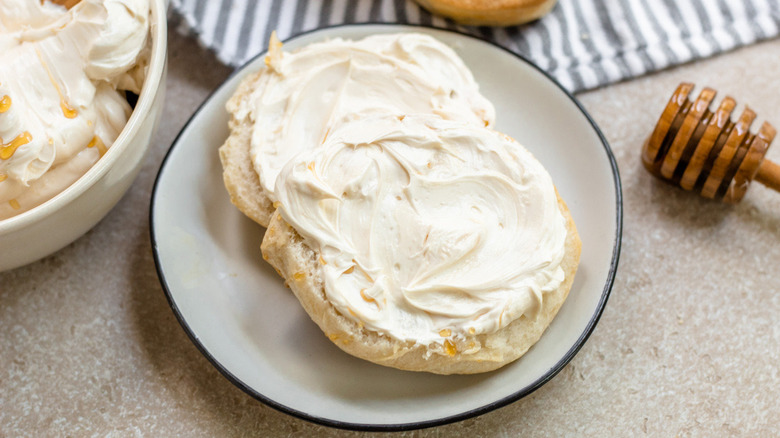 Jaime Shelbert/Mashed
Once you've finished whipping the butter, you're ready to enjoy the fruits of your labor. Luckily, there are countless ways to enjoy this stuff: "Honey butter is delicious on rolls, croissants, biscuits or any other baked bread," Shelbert says. "It takes waffles and toast to the next level and is equally delicious atop a baked sweet potato, acorn, or butternut squash." Also, feel free to sprinkle some cinnamon on top of your butter-adorned creation, and maybe even drizzle on some extra honey — there's really no going wrong here.
Whipped Honey Butter Recipe
When you want a smooth, sweet topping for your favorite bread, biscuit, or waffle, this simple and sweet whipped honey butter recipe can be ready in 5 minutes.
Ingredients
1 cup unsalted butter, room temperature
⅓ cup honey, plus more for garnish
pinch of salt
Optional Ingredients
Directions
Place the butter, honey, and a pinch of salt in the bowl of a mixer.
Mix on medium-high speed for 3-4 minutes, scraping down the sides of the bowl occasionally, until whipped, smooth, and creamy.
Nutrition
| | |
| --- | --- |
| Calories per Serving | 329 |
| Total Fat | 30.7 g |
| Saturated Fat | 19.4 g |
| Trans Fat | 1.2 g |
| Cholesterol | 81.3 mg |
| | |
| --- | --- |
| Total Carbohydrates | 15.5 g |
| Dietary Fiber | 0.0 g |
| Total Sugars | 15.5 g |
| Sodium | 29.5 mg |
| Protein | 0.4 g |