Stanley Tucci And S.Pellegrino Collab Just Launched An Italian-Inspired Home Meal Kit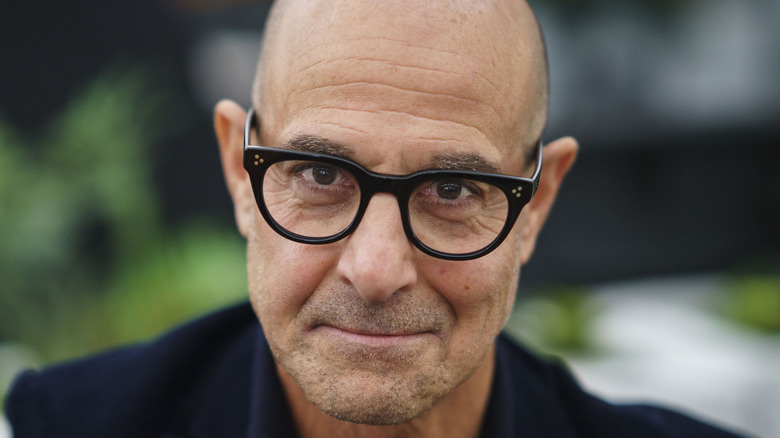 David Levenson/Getty Images
Cooking for the holidays can be a stressful experience. From hosting friends and family to planning meals and shopping for gifts, there's so much to do before the actual cooking and eating. If you want to take on the burden of preparing a holiday meal, then actor Stanley Tucci and San Pellegrino's latest offering may solve some problems. In a press release, San Pellegrino announced that fans will be able to buy a meal kit with all the ingredients for a Tucci-approved dinner.
While this isn't the first collab between Tucci and S.Pellegrino, it's certainly the tastiest yet. This home meal kit features one of Tucci's signature recipes, Gnocchetti con Salsiccia e Broccolini, which is a pasta dish with Italian sausage and vegetables. While we know the foods Tucci can't live without, this meal kit shines another light on his family traditions and beloved recipes. In the press release, Tucci says, "We have a saying in my family that there is always room for pasta, and the holidays are no exception. Gnocchetti con Salsiccia e Broccolini is the perfect dish to share with loved ones this holiday season."
What comes in Stanley Tucci and S.Pellegrino's meal kit?
According to the press release, many of the ingredients in this meal kit collab between Stanley Tucci and San Pellegrino come from Italy. If you decide to order a kit, you'll get a delivery that includes gnocchetti sardi, crumbled Italian sausage, broccolini, fennel, Pecorino Romano, and extra virgin olive oil. You can also expect a bottle of sparkling San Pellegrino water to pair with your meal.
You can order the meal kit online at World Chef for $120. Each meal kit makes about four to six servings of food, and customers can choose for the box to be shipped as soon as November 16 and as late as December 21. So whether you want to buy this kit for an intimate Thanksgiving dinner or as a Christmas gift, or even for a cozy winter date night, you have options.
If you're interested in more inspiration from Tucci, you might want to check out how to make his specialty orecchiette pasta, or look to some of the foods that filled his childhood summers. You may walk away with a new favorite!