Avocados From Mexico Has An Epic Guac Giveaway For World Cup Fans
If you're looking forward to watching the World Cup this year, don't forget to have some snacks on-hand to munch on during the games. In honor of the World Cup, Frito-Lay launched limited-edition chips for fans, with these new flavors inspired by foods from different countries, including the United States and Mexico.
But for people who prefer a full spread of dips over a variety of chip flavors, there's another way to stay satisfied. We've rounded up the best dips to make for gatherings like watch parties, and of course, guacamole made the list. And Avocados from Mexico has an exciting announcement about this fan-favorite dip.
According to a press release sent to Mashed, Avocados from Mexico is teaming up with Landon Donovan and Rafael Marquez for the #AlwaysGood Guac Giveaway. The giveaway will offers fans the opportunity to win free guacamole, as well as two signed mini soccer balls, based on the official giveaway rules.
How to enter Avocados from Mexico's giveaway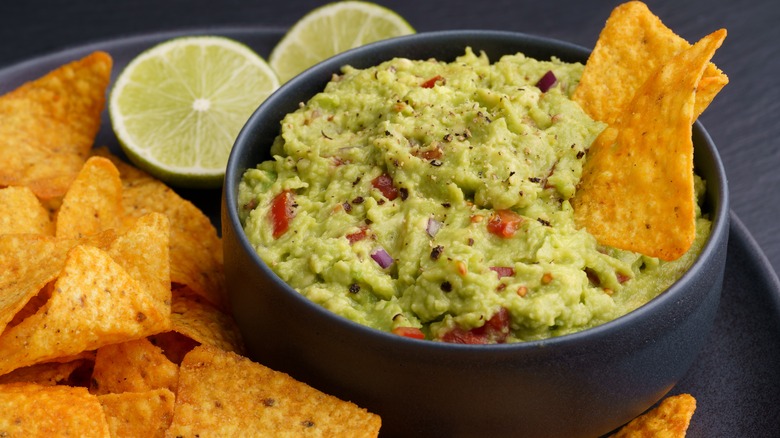 Creative Cat Studio/Shutterstock
Avocados from Mexico's guacamole giveaway starts on November 15 and runs until December 15. You don't have to make a purchase to enter the giveaway, and purchasing any products from Avocados from Mexico won't increase your chances of winning. If you're hoping to get some free guac, all you need to do is fill out a form on the company's website. If either the United States or Mexico soccer teams make it to the finals of the World Cup, the brand will be giving away free guacamole to the winner.
Although you do have a wide window of time to fill in the form, it's best not to wait until the last minute if the thought of free guac is incredibly enticing. According to the official rules, the first 10,000 participants are eligible to win. The winner of the guac can expect to hear from Avocados from Mexico on December 16. To enter the giveaway, participants must be a resident of the United States, and in most states, participants need to be at least 18 years old.
Can't wait one month for guacamole? This quick and easy guacamole recipe is sure to be a crowd pleaser, or you can save the extra add-on at Chipotle by following this copycat recipe for Chipotle's guacamole. And for anyone who hates the taste of cilantro, this guacamole recipe is completely cilantro-free.