Here's When Bobby Flay's Food Is Used In One Delicious Christmas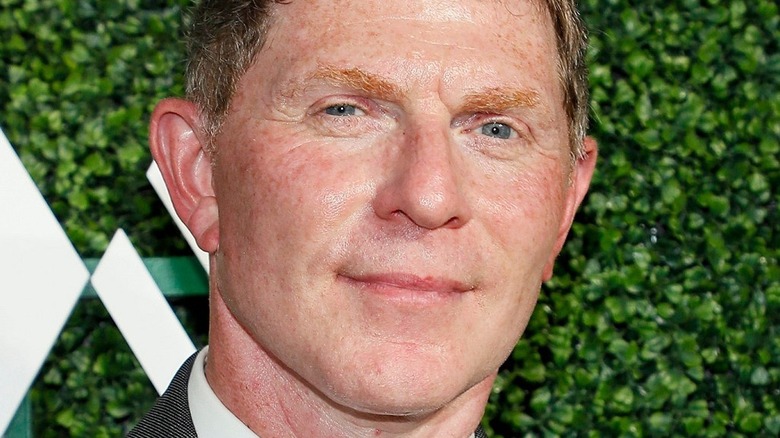 Paul Morigi/Getty
If you're a fan of the Food Network, then chances are you love the channel's programming during the holiday season. After all, it's a great place to find meal inspiration, from Giada De Laurentiis' Thanksgiving dessert recipes to Sunny Anderson's Thanksgiving hacks. But lately, Food Network stars have been popping up in a more unexpected place: scripted holiday movies.
Ree Drummond's Christmas movie, "Candy Coated Christmas," came out last year, and in 2022, there are even more cameos from celebrity chefs in holiday movies created by Food Network, HGTV, and Discovery+. Duff Goldman stars in a holiday movie called "A Gingerbread Christmas," and Bobby Flay plays a food critic in the just-released "One Delicious Christmas," a holiday rom-com about a restaurateur's quest to save her restaurant in Vermont. 
Flay's character, Tom Kingsley, has exacting standards for the restaurant's owner and chef to live up to, People reports. While it's fun to see Flay act, what many of his fans probably want to know is this: Did his food or any of his recipes inspire the movie? In an interview posted to Food Network's Twitter, Flay revealed just how much influence he had on the food viewers see in "One Delicious Christmas."
Flay's food does make an appearance
One of the interesting things about Bobby Flay's role in the new Food Network holiday movie "One Delicious Christmas" is that he's playing a food critic, not a chef. "I've always been on the opposite end of food critics my entire life," Flay shared in an interview posted to Twitter. "You're making and breaking careers and lives," he said of the career choice. But even though Flay doesn't play a chef in the film, his food does make a cameo. 
Flay shared that there is a scene where one of his recipes is featured, and it happens while his character is talking to the restaurant chef on the phone. The scene begins about 47 minutes into the movie, which can be streamed on Discovery+. Flay is seen cooking a meal for himself in a snazzy modern apartment. The camera shows Flay ladling broth, or some sort of sauce, over a beautifully cooked piece of fish. As he talks on the phone, he sits down, adds a sprinkle of salt over his bowl, and pours himself a glass of wine, which he carefully sniffs before taking a sip. Viewers can decide for themselves if Flay's acting in the scene is convincing, but we definitely believe that the fish he was eating tasted as good as it looked.