Giada De Laurentiis' Thanksgiving Desserts Are Giving Instagram Serious FOMO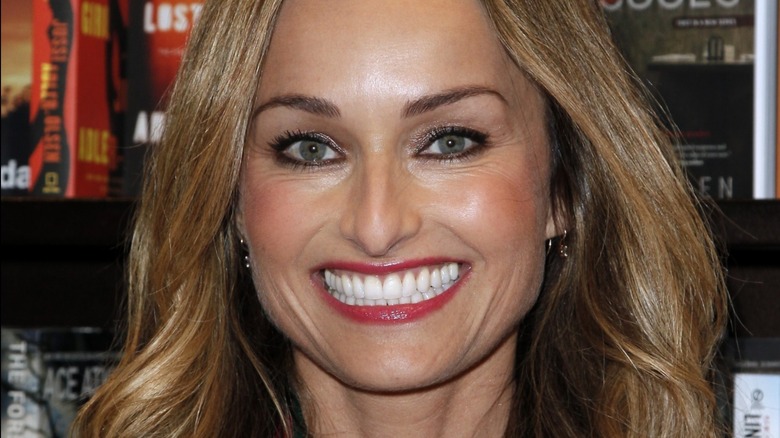 Tibrina Hobson/Getty Images
Famed chef Giada De Laurentiis knows how to make delicious Italian delicacies, like her easy bolognese and Roman-style chicken. Even though she was raised in Rome, Italy, she has called America home since she was 7 years old. Her cooking style remains true to her classic Italian roots, but she does embrace American traditions, like a huge Thanksgiving feast. According to Cheat Sheet, De Laurentiis and her family have spent almost every Thanksgiving as guests of her Aunt Raffy. Whether she is a guest or cooking the meal herself, De Laurentiis always has to have a side of buttered cornbread.
In 2021, she shared her Thanksgiving menu and it was full of dishes that fused her Italian heritage with American classics. On Food Network, she shares her Thanksgiving recipes with everything from her bacon onion dip appetizer to crispy truffled turkey. Of course, she has all the fixings for a complete and filling meal, but what is Thanksgiving without delectable desserts? De Laurentiis isn't shy about sharing her love for desserts, as her childhood favorite is an Italian classic called struffoli. When it comes to Thanksgiving, she plans to have plenty of desserts for her family and guests.
Why have one dessert when you can have three?
Chef Giada De Laurentiis shared some mouth-watering Thanksgiving desserts on her retail Instagram account, Giadzy, to help get everyone into the holiday spirit. Because one dessert is never enough, De Laurentiis shared photos of her chocolate hazelnut tart, pumpkin persimmon pie, and Italian apple cake. Positive comments flooded her posts, with several people eyeing the hazelnut tart and apple cake. One person wrote, "Apple cake gang represent" while another wrote, "The Chocolate Hazelnut Tart and Italian Apple Cake look amazing."
Luckily for fans, she shared a link to her website, where each dessert recipe is listed in its entirety. For her 2021 Thanksgiving menu, she shared a recipe for chocolate almond cheesecake and pumpkin ricotta cookies. All of her desserts perfectly encapsulate her Italian-American fusion style of cooking. For those who feel overwhelmed by cooking so many dishes, De Laurentiis has a simple solution; let your guests cook a dish. She often assigns her guests a specific dish and even provides her sister with her cheesecake recipe to bake. Thanksgiving is all about enjoying food and company, and De Laurentiis' desserts can help with both.