Instagram Is Cracking Up At Duff Goldman's Daughter Sleeping Like A 'Dinosaur'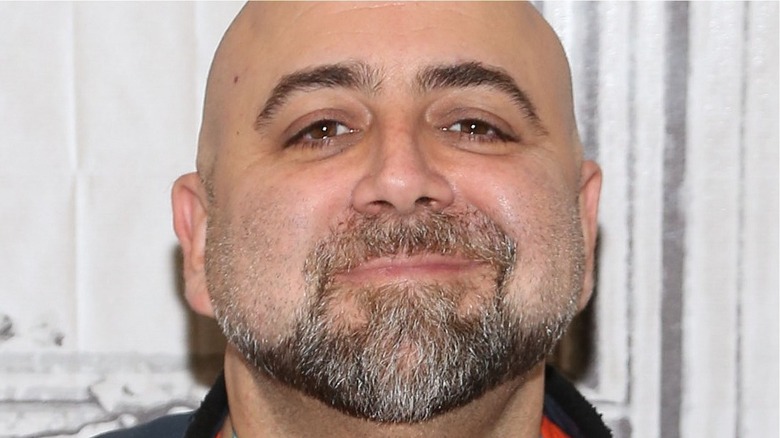 Manny Carabel/Getty
If you need some recipe inspiration, Instagram is a great place to look for some gorgeous dishes and creative baking ideas. Stumped at dinnertime? Just head over to social media accounts of celebrity chefs to find out what they cook at home and what culinary tips they have to share. For example, people loved Padma Lakshmi's homemade chutney tutorial, and Andrew Zimmern's chicken shears hacks could also work well on a Thanksgiving turkey.
Besides food highlights, celebrity chefs often give their fans glimpses of their personal lives and families. Sometimes, it's worth following famous people just to see how relatable they can be. Ree Drummond shared an honest anniversary tribute to her husband on Instagram, and her followers thought her caption about staying together through sickness and health was so real.
Duff Goldman, in particular, loves to share photos of his family on Instagram. Though the Ace of Cakes may be known for his incredible baked creations, he can also be counted on to share countless hilarious posts of his daughter, Josephine. Goldman's followers had a good laugh over a photo of Josephine sprawled out on a hotel bed eating breakfast, and he's also shared a heartwarming photo of his daughter watching him play the guitar. Recently, the proud father posted another adorable moment with Josephine — this time, comparing her to a dinosaur.
Here's what Instagram is saying about Goldman's daughter's dinosaur-like nap
Goldman's latest Instagram post features a collage of two photos: one of his daughter sleeping in a crib (in a very contorted position, might we add) and another of a dinosaur fossil. The caption reads, "Why does my daughter sleep like a dead dinosaur?" and Goldman leaned into the bit even more by putting his location as Jurassic Park.
Fans and followers thought this comparison was hilarious and started cracking jokes of their own in the comments. Baker and Instagram user @thepieous commented, "Maybe live dinosaurs slept like that too? Either way, it's an homage." While we might never know how baby dinosaurs slept, Goldman's daughter is doing a great impression.
For adults, sleeping like this feels like an impossible task. An Instagram user said, "My back and neck just went out looking at her picture! I wake up sore if my pillow is out of place!" While most of us won't be comfortable without carefully arranged pillows, apparently, Josephine isn't the only kid who sleeps like a little dinosaur. One person shared their experiences with their own children saying, "OMG mine both did that! My oldest fell asleep in the full on splits mode and was out like a light! I don't know!"
Although it might not look too comfortable, Goldman's daughter looks like she's sleeping peacefully. If you have trouble sleeping like a baby, try having some walnuts as a bedtime snack for a great night's sleep.