Arby's Hugely Popular Waygu Steakburger Is Set To Return
If you love meaty fast food, there's a lot to be excited about right now. McDonald's is once again selling the McRib, and this return is an even bigger deal than usual because it's likely the last time McDonald's will be serving the boneless pork sandwich with pickles and barbecue sauce. And in other meat news, although Arby's is most famous for its roast beef, the fast food chain is currently offering a country-style pork rib sandwich in addition to its chicken and beef menu options.
But this isn't the only announcement Arby's has for customers this fall. According to a press release sent to Mashed, the meat-heavy chain is bringing back its Waygu Steakburger for a limited time beginning on November 21. This particular burger will be coming to select Arby's locations across the United States, and its 6.4-ounce burger patty is made with 52% American Wagyu and 48% premium ground beef. Since the burger is grilled to crisp the outside and then cooked sous vide, Arby's explains that customers can expect a "slightly pink center" with a classic browned exterior.
Here's what people have said about Arby's Waygu Steakburger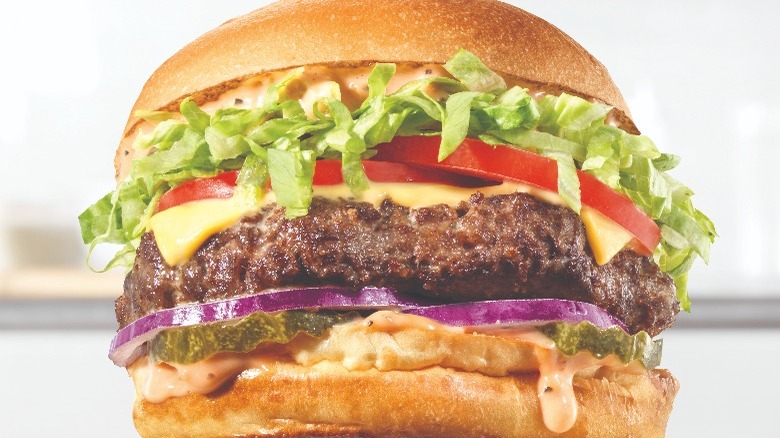 Arby's
It's fair to assume that the first launch of this premium, sous vide sandwich was a success if Arby's is deciding to bring it back to the menu. We initially tried Arby's Waygu Steakburger when it was first released in May and thought the taste of the generously sized burger was delicious, especially with the additional savory and slightly sweet flavors from the tomato, red onions, pickles, cheese, and Thousand Island-esque sauce.
Thrillist also had a rave review of the Waygu Steakburger, saying it has "a beefiness and char that you typically have to pay a few bucks more for from a fast casual chain." Though Arby's also offered a Waygu Steakburger with bacon last May (which some reviewers liked better than the original), Arby's hasn't specified whether this November's release will also include a bacon option. 
Past reviewers say you shouldn't try the Arby's Waygu Steakburger "expecting a restaurant quality burger," but at $5.99, it's definitely an affordable option for anyone making an entrance into the world of premium meats. Wagyu beef is notoriously expensive due to the special breeds of cows required to produce it, as well as the impressive marbling of the meat. Besides the Wagyu hybrid option at Arby's, though, Michael Symon also has a budget-friendly alternative to Wagyu if you want quality without breaking the bank.