We Tried The New Arby's Wagyu Steakhouse Burger. Here's How It Went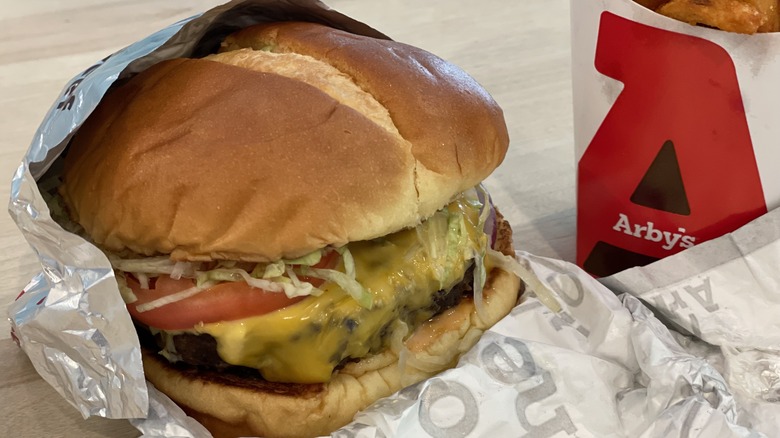 Steven John/Mashed
When you think of Arby's, you surely think of sliced roast beef, "horsey sauce," and that punchy current slogan: "We have the meats!" What you have not thought of, if you know the chain's menu, is burgers. Because while famed for the meats, which come in the form of wings, chicken sandwiches, turkey wraps, and of course all those delightful roast beef (sorry... "slow roasted beef") sandwiches, Arby's has never before offered a burger. Until now.
Starting in the spring of 2022, for what is initially planned to be a limited run, Arby's is adding a burger to the lineup. And it's quite a burger — we know because we tried one. The new Arby's Wagyu Steakhouse Burger is not only a major departure for this nearly 60-year-old fast-food chain (Arby's was founded in 1964), but a potential disrupter for the whole fast-food marketplace. With more than 3,500 locations, Arby's is poised to place the new burger near an impressive number of customers, and any who try it may just ditch the Big Mac or Dave's Single.
How did a chain noted for sliced roast beef get it so right with a burger? Patience. This fast food menu item was in the works for the better part of a year, with the company conducting taste tests in several markets in the summer of 2021, according to Eat This Not That. Read on to see why it was worth the wait.
What's in the new Wagyu Steakhouse Burger?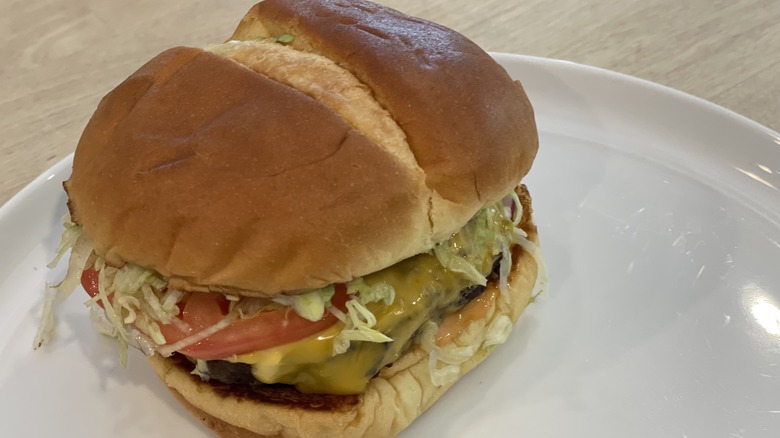 Steven John/Mashed
Arby's Wagyu Steakhouse Burger contains a lot of meat, really. The patty weighs a whopping 6.4 ounces prior to being cooked, which means it's 50% larger than the vaunted Quarter Pounder from Mickey D's. (And in case you were wondering, the Whopper from BK is a quarter-pound patty, too.) Also found on the burger — we tried the Deluxe Wagyu Steakhouse Burger, FYI, and rumor has it there will also be a Bacon Ranch Wagyu Steakhouse Burger — is shredded lettuce, a thick-cut slice of tomato, red onions, pickles, cheese, and a sauce that can be compared to a Thousand Island dressing or to the famed In-N-Out spread.
Those ingredients are housed between pieces of a soft, buttery bun. But of course, the star player here is the patty itself. It's made from a blend of American Wagyu beef and what Arby's is simply calling "ground beef," which of course means a lower-quality meat. Given the 52% American Wagyu/48% ground beef blend, you really can taste and appreciate the marbled, flavorful high-quality beef. And with the addition of a dab or two of horsey sauce and Arby's sauce to each bite? Overall, you'll want to taste this burger again and again. More on that in a minute.
How much does the new Arby's Wagyu Steakhouse burger cost?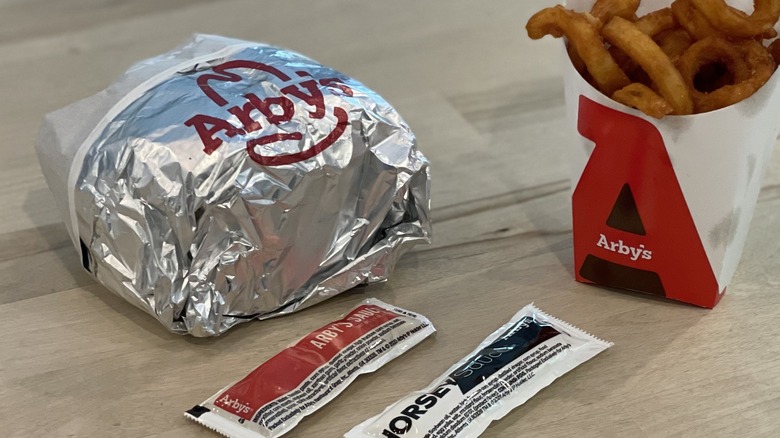 Steven John/Mashed
For what really is a top-quality burger for a fast food restaurant, the Arby's Wagyu Steakhouse Burger is a great price. It will sell for $5.99, which is quite comparable to the average price of a Big Mac these days, which as of April 2022 is selling for just under $5.99 nationally, according to Axios. (Prices vary based on location.)
Of course, it will cost more if you want to add curly fries and a beverage to make things a meal, which you're well-advised to do. When we did that, it was a great meal. Notably, despite being a premium menu item and a large (dare we say beefy) burger, according to information from All Menus, the Wagyu Steakhouse burgers are priced just the same as Arby's signature menu item, the Classic Roast Beef Sandwich, which is also $5.99. 
It's available nationwide, but only until midsummer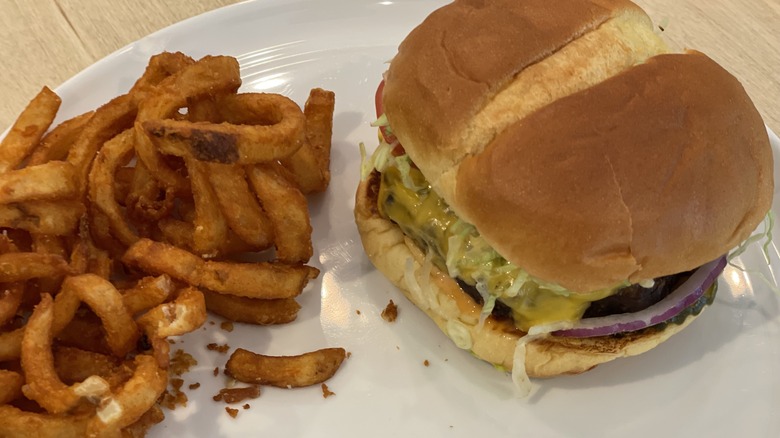 Steven John/Mashed
According to a press release shared by Arby's, the new Wagyu Steakhouse Burgers are not going to be around for all that long; the chain says: "From May 23 to July 31, the Wagyu Steakhouse Burger will be available at participating locations nationwide." So that's a mere two months and one week during which you can sink your teeth into these hefty new burgers. But we have a sneaking suspicion — and it is just that, no official information on wider plans have been released — that these burgers will end up being permanent menu items ... or at least pop up on a regular basis as limited-time offers at Arby's.
Why? Because spending more than a year developing and testing a new menu item only to release it for just over two months seems like a waste, especially when all the effort resulted in a solid burger.
How does it compare to other items on the Arby's menu?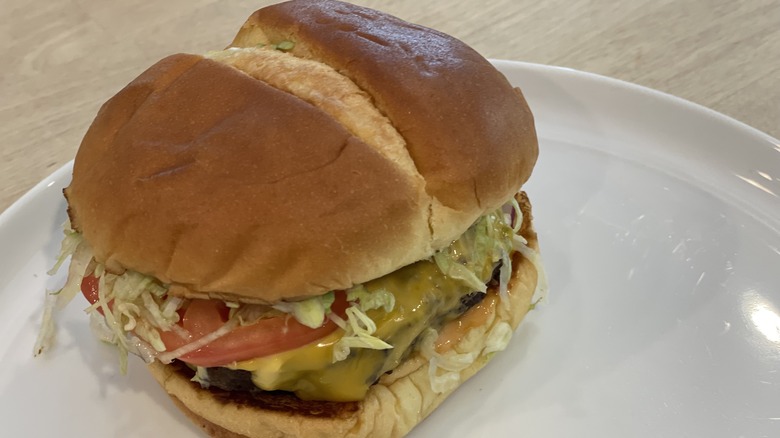 Steven John/Mashed
This steakhouse burger doesn't compare to other Arby's menu items, really. Such a comparison would be a sort of "apples to oranges" situation, given that this solid, hefty burger is such a departure for the fast-food chain long associated with sliced-meat sandwiches. In as much as it packs a lot of meat between two buns, you can note a bit of similarity there, but this really is more than just a new menu item for Arby's — it's a new menu category.
If you want to compare this burger to something, it really is fair to match it up against a cheeseburger you'd get at a sit-down restaurant. It's got the heft and feel that steakhouse burgers provide, and at least in the case of the Wagyu Steakhouse Burger we tested, it was well-constructed and its ingredients didn't slide around or slip out as so often happens with fast food burgers.
What's the nutrition info?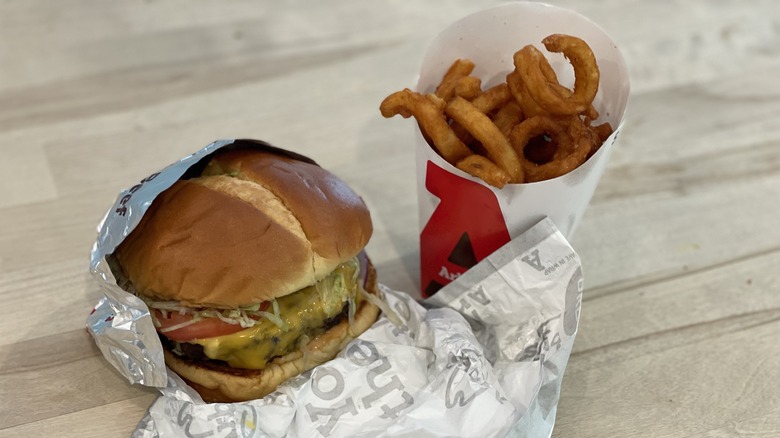 Steven John/Mashed
The burger with its standard toppings packs in a hefty 710 calories, of which 380 are from fat. It has 43 grams of fat overall and 17 grams of saturated fat, plus 1,570 milligrams of sodium. So it's not exactly what you might call a health food item, but that's not exactly a surprise, right? And hey, at least you'll get 39 grams of protein, and protein is essential stuff.
If you do add in some curly fries (let's say a medium-sized order like we went with) that will add 550 calories with 260 of those being from fat, with a hefty 29 grams of fat overall. Also watch out for 1,250 milligrams of sodium. A slightly better bet, health-wise? Order the crinkle fries, which rate at 530 calories with 230 of those from fat, and 26 grams of fat total. Not much better, except with much less sodium, at 630 milligrams for a medium order.
So, did we like the new burger?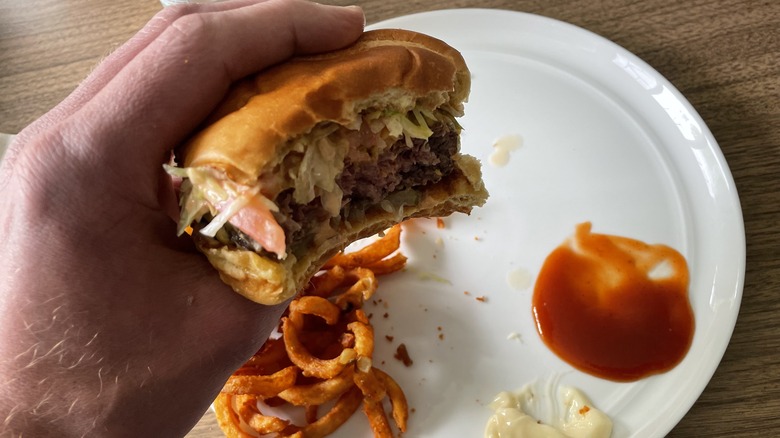 Steven John/Mashed
Is the new Arby's Wagyu Steakhouse Burger good? No. It's actually better than that — it's borderline excellent. The patty, as you have probably figured out by now, is large and thick, and has a superb texture thanks to the quality of the beef blend and due to the cooking method employed by the restaurant. Per Arby's own account, it "is cooked using sous vide style, a unique method that gives the juicy, savory burger a crispy outer edge and slightly pink center." (Candidly, it's our understanding the burgers are pre-grilled offsite and then heated sous vide-style, but the results are excellent either way.)
The vegetables and sauce add just enough complexity to the burger, with some savoriness and sweetness, thanks to the sauce, pickles, and onions, and some crunch and freshness from the lettuce and tomato. The lightly toasted bun is fluffy and warm. The burger is large enough to be a satisfying meal on its own, but with an order of fries, this burger makes for a great lunch or dinner — the kind that will leave you full enough, but not so stuffed you'll question your life choices. 
So there you have it, a new choice for a burger in town from May to July, 2022. Or maybe for longer, if this burger performs as well as it deserves to.