Instagram Is Divided Over Molly Yeh's 'Burnt' Cinnamon Rolls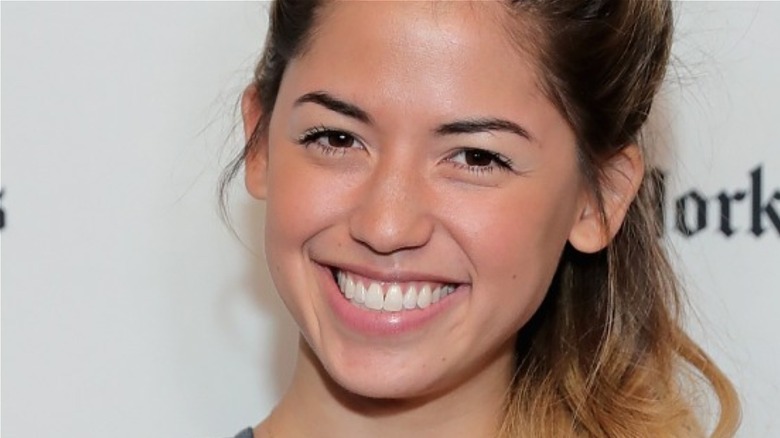 Neilson Barnard/Getty
Generally speaking, the good people of the internet are undivided when it comes to Molly Yeh. Polarizing figures come and go online, but the true blue celebrity chefs are forever, and Yeh has always been more cute and culinary than controversial and contrarian. Remember that time she announced her pregnancy by posting a cross-section of a babka loaf? Or when her "corny" Halloween costume took the internet by storm? To date, perhaps the most scandalous thing Yeh has ever done is turn a yellow cake into cookie bars, so we're not expecting riots in the comments section of the chef's Instagram account.
But then again, the good people of the internet DO take cinnamon rolls very seriously. Yeh's Food Network colleagues know the drill: Giada Di Laurentiis does her rolls to great aplomb as a tribute to a traditional Italian Easter treat, and Ree Drummond says her cinnamon roll recipe has "won friends and influenced people" (via The Pioneer Woman). Mario Batali even served up a side of cinnamon rolls with his apology for sexual misconduct, according to Time, proving once and for all that while the good people of the internet might hate a misogynist, they love a cinnamon roll recipe. So, why all the division surrounding Molly Yeh's brand of the pillowy sweet treat? Because the good people of the internet are also quite fickle.
A hunka hunka burnin' love...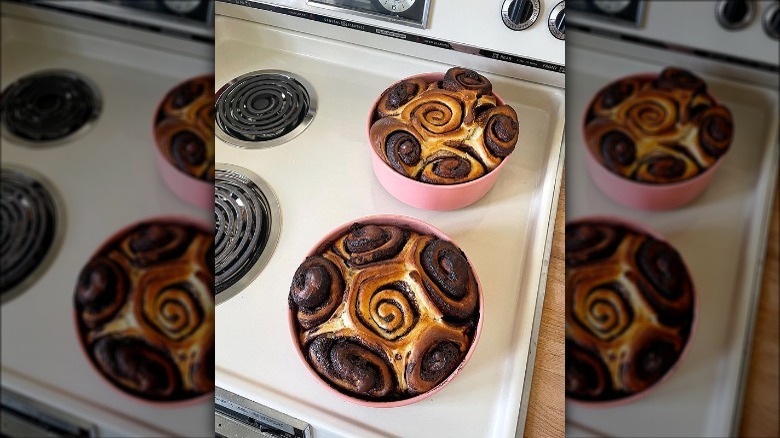 Instagram
"Workin on some chocolate swirly buns," Molly Yeh wrote innocuously on a recent Instagram post, "to eat during the parade." The Food Network host and Minnesota diner owner added a few charming emojis for good measure, and then shouted out Macy's, which sells her own Girl Meets Farm cookware line, which supplied the pink baking tins for said swirly buns. Given the timing of the post, Yeh was likely referring to the Macy's Thanksgiving Day parade, and the swirly buns she was referring to were probably the cinnamon rolls in the picture... But the internet was giving Yeh's rolls more "meh"s then "yeh"s.
"Looks burned," one commenter said on the Instagram post, getting a chorus of "likes" in the process. "Who still has a white electric stove?" wrote one kitchen elitist, following their rhetorical question with the savage observation, "those look burnt as hell." Indeed, Yeh's rolls are a bit on the brown side...but for a more considered (ahem, kinder) follower who said, "Always LOVE your dishes, but these look burnt? Or is that chocolate? Do tell," Yeh was more than happy to respond. "Yes, chocolate!" the chef replied to her fan regarding the (admittedly very dark) edges of her chocolate cinnamon roll spheres. No doubt the good people of the internet would be more than happy to try Yeh's darker rolls, produced on her white electric stove. Judgey commenter: ya burnt.